Biplane fighter aces

Italy

Maggiore Antonio Larsimont Pergameni Medaglia d'oro al valor militare
30 May 1912 – 26 June 1942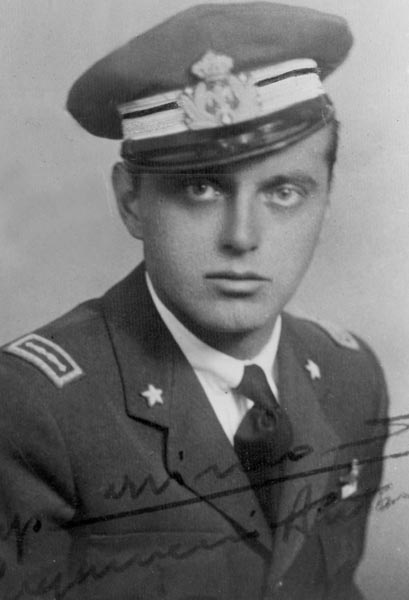 Image kindly provided by The Italian Air Force.
Antonio Larsimont Pergameni was born on 30 May 1912 in Villa D'Almè
He served as a volunteer in the Spanish Civil War using the nom de guerre "Laimo".
When Capitano Goliardo Mosca was wounded on 13 November 1936, command of the 3a Escuadrilla de Caza del Tercio was subsequently given to Tenente Larsimont, although Mosca eventually recovered, only to perish in a flying accident at Seville on 19 December.
Aniene delivered 12 more CR.32s during a voyage from La Spezia that ended on 4 February 1937. With this shipment arrived squadriglia commander Capitano Mario Viola ('Viotti') and an additional 11 pilots – five Sottotenenti and six Sottufficiali.
With the arrival of these new fighters there were now sufficient aircraft in-theatre to organise the CR.32 stormo into two gruppi of three squadriglie each. These took the form of the already established I Gruppo (formerly Gruppo Caccia di Torrijos) (CO Maggiore Tarcisio Fagnani) and including the reformed:

1a Squadriglia (CO Tenente Enrico Degli Incerti from 15 January)
2a Squadriglia (CO Capitano Guido Nobili)
3a Squadriglia (CO Tenente Corrado Ricci (followed by Capitani Luigi Lodi and Mario Viola)

The newly formed II Gruppo (CO Tenente Colonnello Alberto Canaveri) and including:

4a Squadriglia (CO Capitano Vincenzo Dequal)
5a Squadriglia (CO Capitano Armando François from 19 January)
6a Squadriglia (initially remained in reserve, although it was later commanded by Tenente Larsimont)

On 22 April 1937, the Aviazione Legionaria CR.32 units were reorganised and increased in size. I and II Gruppi were disbanded, re-designated and replaced by two Gruppi that each controlled three Squadriglie as before. A third new gruppo the VI, was also formed.
The XVI Gruppo Caccia under the command of Maggiore Giuseppe Casero ('Casetti') included:

24a Squadriglia (formerly 4a Squadriglia, CO Capitano Bruno Brambilla)
25a Squadriglia (formerly 5a Squadriglia, CO Capitano Armando François)
26a Squadriglia (formerly 2a Squadriglia, CO Capitano Mario Viola)
The unit adopted the name Gruppo Cucaracha, which it inherited from the first Tercio CR.32 squadriglia in Spain. Its insignia was a winged Moroccan cockroach (synonymous with a popular song of the period), which was applied to the fuselage sides of the gruppo's aircraft.
The XXIII Gruppo Caccia was formed under the command of Maggiore Andrea Zotti ('Biondi') and included:

18a Squadriglia (formerly 3a Squadriglia, CO Capitano Guido Nobili)
19a Squadriglia (formerly 1a Squadriglia, CO Tenente Enrico Degli Incerti)
20a Squadriglia (formerly 6a Squadriglia, CO Capitano Larsimont)
The gruppo was named Asso di Bastoni (ace of clubs) and its CR.32s were adorned with a marking adapted from Neapolitan playing cards showing a weapon used by the squadre d'azione fasciste (fascist action squads).

When the Republican offensive towards Brunete started on 6 July 1937, the defence of the central front was supported by just the two CR.32 squadriglie present in this area at Torrijos-Barcience; the 19a and 20a Squadriglie from XXIII Gruppo, commanded by Maggiore Andrea Zotti, with squadriglia commanders Capitani Enrico Degli Incerti and Larsimont.
Capitano Guido Nobili's 18a Squadriglia was transferred in from Soria to reinforce these units, thus completing the makeup of the gruppo. The XXIII Gruppo now had 29 CR.32s available, but only 17 of these remained serviceable following a series of actions on 6-7 July.
Maggiore Giuseppe Casero's XVI Gruppo (24a, 25a and 26a Squadriglie, led by Capitani Bruno Brambilla, Armando François and Mario Viola, respectively, although the latter was recalled to Italy and replaced by Tenente Corrado Ricci on 11 July) arrived at Torrijos-Barcience from Ávila three days later, as did six CR.32s from capitan Morato's Grupo 2-G-3.

After the end of the battle of Brunete on 26 July, the XXIII Gruppo Caccia was awarded the Medalla Militar Colectiva (Collective Military Medal) by general Franco following its performance during the first few days of the Republican offensive. Two pilots from the unit had lost their lives in combat and three had been wounded, yet the gruppo continued to engage a numerically superior enemy until reinforcements were brought in.

After the Republican offensive in the Aragon started on 24 August, the Nationalists immediately bolstered the aerial defence of the Aragon front by sending XXIII Gruppo Caccia to Saragossa-Sanjurjo. Led by Maggiore Andrea Zotti, the gruppo was comprised of 18a, 19a and 20a Squadriglie, led by Capitani Guido Nobili, Enrico Degli Incerti and Larsimont, respectively.
On 25 August these units were joined by the CR.32s of capitán Joaquín García Morato's Grupo 2-G-3 and Maggiore Giuseppe Casero's XVI Gruppo, consisting of 24a, 25a and 26a Squadriglie, led by Capitani Bruno Brambilla and Armando François and Tenente Alfiero Mezzetti (CO from 3 August), respectively.
Finally, Maggiore Eugenio Leotta's VI Gruppo was also transferred from Villarcayo to Alfamèn on 28 August with its 31a and 32a Squadriglie, led by Capitani Luigi Borgogno and Ernesto Botto.
This was virtually all the CR.32s on mainland Spain with both the Spanish CR.32 Grupo and the whole 3o Stormo Caccia dell'Aviazione Legionaria.

On 28 September, XXIII Gruppo transferred to Almaluèz, near Belchite.

On 12 October, the Republican Air Force intervened heavily to support International battalions and tanks in an attempt to break through the enemy lines at Fuentes del Ebro.
During the day, the VI Gruppo lost a good part of numerical, considering that part of the 31a Squadriglia had previously been detached to Córdoba. Therefore, immediately the same morning, the Comando dell'Aviazione Legionaria ordered the XXIII Gruppo to transfer to Sanjurio (Zaragoza).
At 10.30, 29 CR.32s led by Maggiore Andrea Zotti, took off from Almaluèz and arrived over Sanjurio around noon. However, before landing, Maggiore Zotti decided to lead his pilots to explore the area between Villafranca and Fuentes del Ebro. Here they spotted four Polikarpov RZ "Natachas" escorted by nine I-16s "Ratas" (above them) and 15 I-15 "Curtiss" (below them). The Italian fighters attacked the Republican aircraft and at the end of the dogfight, that lasted about fifteen minutes, the Italians claimed seven (eleven according to other sources) fighters destroyed for no losses, although several CR.32s were hit and damaged. Combat was very hard for the Italians because their fighters were weighted by pilots' personal luggage. Pilots that scored, either individually or jointly, were Maggiore Zotti (1 I-15), Sergente Giuseppe Mottet (20a Squadriglia) (1 I-16), Sottotenente Giampiero Del Prete, Capitano Larsimont (CO of the 20a Squadriglia), Sergente Francesco Penna, Sottotenente Aldo Felici, Capitano Enrico Degli Incerti (CO of the 19a Squadriglia) (1 I-16), Sottotenente Pio Tomaselli (19a Squadriglia), Sottotenente Franco Lucchini (19a Squadriglia), Capitano Guido Nobili (CO of the 18a Squadriglia), Sergente Maggiore Giovanni Carmello, Sergente Carlo Dentis, Sottotenente Giuseppe Enrico Zuffi, Sergente Federico Tassinari (19a Squadriglia), Sergente Maggiore Alfonso Mattei and Sottotenente Bruno Trevisan (19a Squadriglia). It seems that Lucchini's, Tassinari's and Mattei's claims was a shared between these three pilots.

Capitano Larsimont served as CO of the 20a Squadriglia until December 1937. He was replaced in February 1938 by Capitano Carlo Calosso.

During his time in Spain, he claimed four victories.

On 26 March 1938, Capitano Larsimont took command of the 97a Squadriglia, 4o Stormo, after Capitano Aldo Remondino.
In July 1938, this unit was equipped with Fiat CR.32s and based at Gorizia.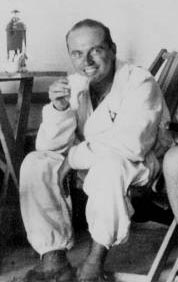 Capitano Antonio Larsimont Pergameni photographed at Gorizia in the spring of 1940.
Image kindly provided by Fulvio Chianese at GORIZIA ed il QUARTO STORMO.
In the beginning of July 1940 the 9o Gruppo was sent to Comiso, Sicily, to fly missions in the assault on Malta.
At dawn on 4 July, 24 CR.42s led by Maggiore Ernesto Botto took off from Comiso and headed south-east. When they reached the 36th Parallel, they headed towards Malta, thus having the rising sun at their backs. Approaching Hal Far airfield, Botto, Sergente Guglielmo Biffani, Sergente Maggiore Sergio Stauble, Capitano Giuseppe Mauriello (97a Squadriglia), Tenente Riccardo Vaccari and Sergente Maggiore Massimo Salvatore dived to attack.
The escort was composed by six CR.42s of the 73a Squadriglia led by Tenente Vittorio Pezzè 600 meters above, six of the 97a Squadriglia led by Capitano Larsimont at 2000 meters and finally by six of the 96a Squadriglia led by Capitano Roberto Fassi at 4000 meters.
Botto and his pilots attacked Hal Far by grazing the ground, and strafed a bomber and seven Gladiators that however did not burn. Intense anti-aircraft fire damaged two aircraft of the 96a Squadriglai; Salvatore's, which had the ailerons shot out of use and Vaccari's, which was hit at the leading edge of left wing. Two British fighters were spotted at 2000 meters but these didn't attack the Italians. After the strafe, Botto's flight hid in a cast of clouds and all the CR.42s returned home.
The Italian War Bulletin no. 25 reported:
"A formation of fighters, defying bad weather and intense AA fire, performed a brilliant strafing attack on the airfield of Hal Far (Malta), disabling eight aircraft parked there. All our aircraft came back home."
According RAF records the actual result from the attack was two damaged Swordfishes from 830 Squadron of which both were repairable.

On 12 July 1940, the 9o Gruppo C.T. arrived at Tripoli from Comiso with thirty-three Fiat CR.42s under the command of Maggiore Ernesto Botto. The Gruppo consisted of 73a, 96a and 97a Squadriglie.
The 97a Squadriglia included Capitano Larsimont Pergameni (CO), Capitano Giuseppe Mauriello, Tenente Ezio Viglione Borghese, Sottotenente Jacopo Frigerio, Sottotenente Riccardo Vaccari, Sottotenente Giovanni Barcaro, Maresciallo Vanni Zuliani, Sergente Maggiore Raffaele Novelli, Sergente Maggiore Otello Perotti, Sergente Maggiore Massimo Salvatore, Sergente Francesco Putzu, Sergente Franco Sarasino, Sergente Alcide Leoni and Sergente Angelo Golino (assigned on 22 July).
Together with the 10o Gruppo they formed the 4o Stormo C.T.
The Gruppo's Fiat CR.42s was wisely retrofitted with tropical kits for guns and engines, to avoid the problems suffered by the other Gruppi.


During the morning on 4 August, 80 Squadrons 'B' Flight received a signal from the headquarters to provide four Gladiators to escort a Lysander from 208 Squadron flown by Pilot Officer Burwell, which was to observe enemy troops movement at Bir Taieb el Esem on the other side of the Libyan border. 'Pat' Pattle (Gladiator Mk.I K7910) decided to lead the escort and took with him Flying Officer Peter Wykeham-Barnes (L8009), Pilot Officer Johnny Lancaster (K7923) and Sergeant Kenneth George Russell Rew (RAF no. 526687) (Gladiator K7908). They took off at 17:15 and reached the rendezvous point in ten minutes where they found the Lysander circling at 6000 feet. Wykeham-Barnes and Rew took up a position about 3000 feet above and immediately behind the Lysander, whilst Pattle and Lancaster climbed 1000 feet higher on the starboard flank. The aircraft crossed the border a few miles south of Sidi Omar twenty minutes later and followed the sand tracks leading to their target.
During the same morning eleven CR.42s of the 97a Squadriglia went from Benghazi-Berka to El Adem T3 to participate, together with twelve other CR.42s from the 96a Squadriglia, which had arrived the previous day, and with nine CR.42s of the 10o Gruppo, in an aerial covering flight of the 2a Divisione Libica of Regio Esercito. This Division was marching from Bir el Gobi to Gabr Saleh.
In the meantime, a concentration of British armoured vehicles was discovered in the Bir Sheferzen area, around 30 kilometres south-west of Sollum, near the border where a logistic outpost of the Western Desert Force was located and consequently an air attack was planned.
At 16:50, a formation of assault aircraft of the 50o Stormo took off together with an escorting group of Fiat CR.42 fighters of the 4o Stormo heading for it. The assault aircraft took off from Tobruk T2bis and were twelve aircraft of the resident 12o Gruppo Assalto. They included six Breda Ba.65/A80s of the 159a Squadriglia, armed with 2kg bombs (the Bredas could carry up to 168 of these small calibre bombs) commanded by the Squadriglia Commander Capitano Antonio Dell'Oro and flown by Tenente Adriano Visconti, Tenente Fioravante Montanari (who led the second section), Sergente Maggiore Giovanni Bianchelli, Sergente Maggiore Gianni Pappalepore and Sergente Maggiore Paolo Perno. The other six were Fiat CR.32quaters of the 160a Squadriglia, armed with eight 2kg bombs and divided in two groups of three. The first group led by Capitano Duilio Fanali (Squadriglia CO) included Sottotenente Giuseppe Mezzatesta and Sergente Maggiore Corrado Sarti as wingmen while the second group was lead by Sottotenente Giuseppe Rossi with Sottotenente Mirko Erzetti and Maresciallo Romolo Cantelli as wingmen.
The Italian fighter escort took off from El Adem T3 and was composed of 31 CR.42s (ten from the 97a Squadriglia, eleven from the 96a Squadriglia, one from the 73a Squadriglia and nine from the 10o Gruppo). At the head of the two formations were Maggiore Ernesto Botto (in the aircraft from the 73a Squadriglia) and Maggiore Carlo Romagnoli. Pilots from the 97a Squadriglia were Capitano Larsimont, Sottotenente Giovanni Barcaro, Sergente Franco Sarasino, Sottotenente Riccardo Vaccari, Sergente Angelo Golino, Sottotenente Jacopo Frigerio, Sergente Maggiore Otello Perotti, Maresciallo Vanni Zuliani, Sergente Maggiore Raffaele Novelli and Sergente Maggiore Massimo Salvatore. Pilots from the 10o Gruppo were apart from Maggiore Romagnoli, Capitano Giuseppe D'Agostinis, Tenente Enzo Martissa, Sottotenente Ruggero Caporali and Sergente Maggiore Lorenzo Migliorato from the 91a Squadriglia, Capitano Luigi Monti and Tenente Giuseppe Aurili from the 84a Squadriglia and Tenente Franco Lucchini and Sergente Amleto Monterumici from the 90a Squadriglia.
The two Italian formations met at a rendezvous point twenty kilometres east of El Adem and then headed for the target. The 4o Stormo's aircraft flew at heights between 3500 and 4500 meters, the Fiat CR.32s at 1000 meters and the Bredas at 300 meters.
On the way towards the frontline, at 5000 m over Ridotta Capuzzo, they spotted a formation of nine Blenheims heading to El Adem, escorted by many Glosters Gladiators. Aircraft of the 96a Squadriglia and the 10o Gruppo attacked the bombers and then chased the fighters. In the fierce combat that followed, Tenente Lucchini claimed a Gladiator with the use of 385 rounds of ammunition. Pilots from the 91a Squadriglia claimed two Gladiators and three Blenheims as shared, with two additional Gladiators as shared probables (one of the Glosters was most probably the same claimed by Lucchini). Capitano Monti and Tenente Aurili claimed to have damaged two Blenheims each and then reported being credited with the three Blenheims shot down by the Stormo's formation as shared. The pilots from the 90a Squadriglia claimed the same three Blenheims and a Gladiator jointly with the 96a Squadriglia and other pilots of the 10o Gruppo plus the individual victory of Lucchini and recorded "other Glosters shot down by pilots of 9o and 10o Gruppi". At the end of the combat, Maggiore Botto, who personally claimed a damaged British bomber with the use of 200 rounds of ammunition, recorded ten enemy aircraft shot down together with other units. Apart from the five confirmed and two probables already detailed, the remaining victories should be those of the 50o Stormo, more prudently the 10o Gruppo's Diary claimed only three Blenheims and a single Gloster shot down.
The 97a Squadriglia, covering at a higher altitude, spotted first six Blenheims, which were attacked by the other Squadriglie and then three other Blenheims that were heading towards Egyptian territory and dived to pursue them. Capitano Larsimont and Sergente Sarasino chased them for a while, claiming hits on them.
The fighters from the 97a Squadriglia had most probably attacked a trio of Blenheim Mk.Is (L8667, L8391 and L8530) from 55 Squadron, which had been ordered on short notice to bomb up and meet two other flights from other squadrons over Ma'aten Bagush at 17:00 to attack an Italian M. T. convoy, 13 miles east of Bir El Gobi (obviously the Libyan division). Commanded by Pilot Officer T. O. Walker in L8667, they missed the rendezvous with the other Squadrons over Ma'aten Bagush and headed alone towards the front. After crossing the frontier, the trio spotted a big formation of about 25 CR.42s (4o Stormo's formation). Twelve of these fighters started in pursuit as the Blenheims turned for home (the 97a Squadriglia formation). A running engagement, which lasted seven minutes started after which the Italian fighters broke off without having caused or suffered any damage. The other RAF Squadrons involved in this combat were 211 Squadron and most probably 112 and 113 Squadrons. 211 Squadron was up with two Blenheims piloted by Squadron Leader Bax (L8533) and Flight Lieutenant G. D. Jones (L8532), which were intercepted by a reportedly 40-50 fighters. Sergeant J. McIntosh, gunner of L8532, was wounded in the forearm and it seems that it was badly damaged and forced to land before reaching its base since it was salvaged by 51 RSU at Sidi Barrani on 10 August but Struck off Charge on 20 September. The total lack of records of 113 Squadron and the high level of incompleteness of those of 112 Squadron makes it quite difficult to reconstruct their contribution to the combat. It seems however probable that at least three Gladiators of 112 Squadron were around this area at the time, because it is known that Pilot Officers R. H. Clark, Homer Cochrane and B. B. E. Duff left Maaten Gerawla during the day for Sidi Barrani, with the task of patrolling over Sidi Omar (extremely close to the area where the evening combat developed). No encounters with the enemy are however recorded in the fragmentary reconstructed ORB of the unit.
The formation from the 50o Stormo continued alone towards the border, arriving over Bir Sheferzen (around thirty kilometres south and slightly east of the position where the escort left it) at 17:20, where they discovered numerous British vehicles that were immediately attacked by the Bredas and Fanali's trio of CR.32s while Rossi's stayed at 1000 meters as cover. The Italian aircraft performed two passes over the vehicles and while they were preparing the third the 208 Squadron Lysander and 80 Squadron Gladiators came into the area. The crew of the Lysander spotted the Italians first and alerted the escort with a red Very light before heading due east at low altitude to reach safety. Pilot Officer Burwell carried some bombs that he tried to aim at Italian transports that he saw in the vicinity but missed, then he was forced to return by the strong opposition encountered.
Pattle and Lancaster dived down but failed to spot any enemy aircraft. Wykeham-Barnes and Rew had also disappeared but a few seconds later Pattle heard Wykeham-Barnes over the radio ordering Rew to attack. Immediately afterwards Pattle saw a reported seven Breda Ba.65s in two separate flights - one containing three aircraft in vic formation and the other made up of two pairs, heading east hunting the Lysander.
Wykeham-Barnes and Rew attacked the formation of four Bredas before they could reach the Lysander and Wykeham-Barnes shot down one of them in flames immediately but at the same time was Rew shot down and killed. Pattle and Lancaster meanwhile attacked the other three Italians from astern. The Bredas dispersed and all four Gladiators separated as they each selected a different enemy machine as a target. Pattle attacked two aircraft, which kept close together and turned in a complete circle. The Bredas dropped to around 200 feet and each released two bombs. This reduced weight meant that they slowly began to creep away from Pattle's slower Gladiator. Suddenly they however turned north towards the fighter base at El Adem. Pattle quickly cut inside their turn and closed in to 150 yards. He delivered a quarter attack on the nearest Breda but his two port guns almost immediately ceased firing. His aim had been good however and he had hit one of the Italians who slowed down considerably. He swung in directly astern of it and, after a few more bursts from his remaining two guns, saw a puff of white smoke from the starboard side of the engine. He continued to attack the Breda, which dropped lower and lower and finally force-landed on good grounds five miles further on. The second Breda got away. Lancaster had also been having trouble with his guns. After his initial burst, all four guns jammed and he spent the next ten minutes frantically pulling his Constantinescu gear pistons and aiming at various enemy aircraft, but without any further bullets leaving his guns. Eventually he was forced to go on to the defensive and got an explosive bullet in the left arm and shoulder. Because he feared the loss of blood would cause him to lose consciousness, he wriggled out of the fight and with his right thumb pressed tightly against his left radial artery, held the stick between his knees and waggled his way home. In spite of his wounds and the serious damage to his Gladiator, he made quite a smooth landing before losing consciousness. It is reported, that the fitter who came to examine the aircraft shortly afterwards pronounced it too damaged to repair in situ and ordered it to be burned forthwith! However, in fact it seems that even if 80 Squadron didn't fly it any more, Gladiator Mk.I K 7923 was repaired and later in the year passed to the Greek Air Force.
After claiming the Breda, Wykeham-Barnes was attacked by the CR.32s. He claimed one of them before another, attacked him, which hit his Gladiator, in his Combat Fighter Report he recorded: "The left side of the instrument panel and most of the windscreen went and two bullets came through the back of the seat before I could close the throttle, and the CR 32 passed under me. My machine then fell into a dive and I abandoned it, landing me by parachute." He had received a shrapnel wound. He was also to receive a swollen tongue and a pair of very painful blistered feet before being rescued by a detachment of 11th Hussars, who brought him back to Sidi Barrani.
Four of the Bredas were damaged and in particular that of Sergente Maggiore Perno, which was hit fifty times and the pilot was slightly wounded in the leg, before Fanali's Fiats were able to intervene. In the meantime, it was the section of Sottotenente Rossi, which was waiting higher up for its turn to attack, that first fell over the RAF fighters, taking them by surprise. After the sharp initial attack of the Fiats the combat developed into a WW I style dogfight which lasted fifteen minutes. At the end all the Italian aircraft returned to base claiming three of the enemies; one by Fanali (probably Wykeham-Barnes) and two by Cantelli (probably Rew and Lancaster).
One of the damaged Bredas was piloted by Tenente Adriano Visconti who pressed home his attacks against the enemy armoured vehicles notwithstanding the enemy's fighter opposition. The behaviour of Visconti in this particular combat deeply impressed his commander Capitano Dell'Oro who proposed him for a Medaglia d'argento al valor militare. The motivation of this award that Visconti received "in the field" stated that: "During a strafing attack against enemy's armoured vehicles he pressed home his attacks careless of an enemy fighter that was following him shooting at him from short distance (…) and with its last ammunitions he succeeded in burning one of the armoured cars of the enemy(…)".
After Pattle had claimed the Breda he broke away while attempting, without much success, to clear his port fuselage gun. Immediately, he was attacked by five biplanes (identified as CR.42s) diving towards him from the direction of El Adem, which was approximately 10 miles north-west. He flew on, pretending that he had not seen the Italians, until they were almost in position to open fire and then, with a flick of the wrist and a sharp prod of the foot, shot up and away from the Fiats. The Italians split up and attacked him independently from all directions. The Fiats made repeated attacks simultaneously from the quarter and beam, using the speed they gained in the dive to regain altitude. After each attack Pattle was forced on to the defensive and turned away from each attack, occasionally delivering a short attack on the most suitably target as it dived past. One Fiat on completing its attack turned directly in front of his Gladiator, presenting him with an excellent deflection shot at close range. He fired a long burst with his remaining two guns, which caused the Italian fighter to turn slowly onto its back and then spin down towards the desert. Pattle last saw it spinning at 200 feet and didn't claim it for sure, but was later credited with this victory. Soon after his starboard wing gun also jammed but fortunately, at the same time the remaining Italian fighters broke away. He was now 40 miles behind enemy lines with only one gun operational and he turned for home at 1000 feet altitude.
When some miles north-west of Bir Taieb El Essem, he was again spotted and attacked by twelve CR.42s and three Breda Ba.65s. The Bredas broke away after a few dives while the CR.42s attacked. They used the same tactics as the five earlier had used with quarter and beam attacks. Within a few seconds Pattle's remaining gun jammed because of an exploded round in the breach, so he attempted to make the border by evasive tactics and heading east at every opportunity. He soon discovered that one of the Italian pilots was an exceptional shot who made repeated attacks using full deflection with great accuracy. Each time this particular Italian came in, he had to use all his skill and cunning to keep out of the sights of the Fiat. The remainder of the Italians as a whole lacked accuracy and did not press home their attacks to a decisive range. Nevertheless, their presence and the fact that he had to consider each attack made the work of the more determined pilot very much easier. He managed to keep this up for fully fifteen minutes before the determined Italian came out of a loop directly above Pattle's Gladiator and opened fire. Pattle turned away to avoid the bullets, but flew straight into the line of fire from another Fiat. The rudder controls were shot away, so he could no longer turn. He pulled back on the control column, climbed to about 400 feet and jumped. As he fell the pilot parachute caught his foot, but he managed to kick it free and the main chute opened just in time for him to make a safe landing off the first swing. The time was now around 19:00. He started to walk towards what he thought was Egypt during the night but found out at dawn to his horror that he had actually walked in the opposite direction, deeper into Libya. He turned around and crossed the border at around midday. At 16:00 on 5 August, he was rescued by a detachment from 11th Hussars, which brought him back to Sidi Barrani.
It is possible that Pattle was shot down by Tenente Franco Lucchini.

The 9o Gruppo was busy during 27 September covering troop movements towards Giarabub (the extreme outpost of the Italian army near the Sahara region, 240km south of El Adem). The first mission was flown by six CR.42s of 73a Squadriglia led by Maggiore Ernesto Botto, and the second mission made by aircraft from the 96a Squadriglia led by Capitano Roberto Fassi. Both these missions went on uneventfully.
The next mission of the day was flown by six CR.42s from the 97a Squadriglia (Capitano Larsimont, Sergente Franco Sarasino, Sottotenente Giovanni Barcaro, Tenente Ezio Viglione Borghese, Tenente Riccardo Vaccari and Sergente Angelo Golino) to which a CR.42 of the 366a Squadriglia, 151o Gruppo (Tenente Mario Ferrero on the first mission for this unit over the North African front) was attached.
While circling over El Garn ul Grein (90 km south of Ridotta Maddalena) they spotted 14 bombers 500 meters above them heading towards the troops. The bombers were eleven Bristol Blenheims of 55 Squadron led by Flight Lieutenant R.B. Cox (acting Squadron Leader), which had taken off from Fuka at 12:00, to raid Italian M. T. concentrations near Giarabub. The Blenheims crossed the border 30 miles north of Giarabub and then followed the road southwards to this town. Not meeting any enemy, they attacked the fort at 13:45 where a direct hit caused a column of black smoke to rise from the building. After the attack, two aircraft from 'C' Flight lagged behind the rest of the formation. They where L8394 piloted by Pilot Officer Godrich and L8454 piloted by Pilot Officer I. Hook. The Blenheims then proceeded up to the border road and when 40 miles north of Giarabub they discovered some M. T. resting. At the same moment, seven CR.42s were seen on the port side of the formation. The Fiats immediately attacked the two stragglers. The first four fighters were seen to come up behind L8394 while the other three waited above. The bomber was seen to catch fire and crash, one occupant thought to be the Air Gunner was seen to jump from the back and escape by parachute. The bomber fell victim of the first trio from the 97a Squadriglia composed of Capitano Larsimont, Sergente Sarasino and Sottotenente Barcaro. These pilots in fact claimed the right wingman of the rear section shot down in flames. Larsimont observed a crewmember parachute from the burning bomber while Barcaro claimed to have set one of the bombers engines on fire with his fire; totally they expended more than 2000 rounds of ammunition. 21-year old pilot Flying Officer Ambrose Sydney Barnard Godrich (RAF no. 40532), 28-year old Observer Sergeant William Clarke (RAF no. 562044) and 22-year old Wireless Operator/Air Gunner Sergeant William Thompson (RAF no. 550519) were all killed when L8394 crashed.
Meanwhile, Tenente Ferrero attacked the front section, joined moments later by Larsimont, Sarasino and Barcaro. Ferrero claimed a probable Blenheim after expending 400 rounds. He was less effective than he believed, returning crews from 55 Squadron reported that apart from the two stragglers, the main formation was chased rather half-heartedly and no damage was done while an air gunner claimed one of the Fiats shot down but this was unconfirmed.
Tenente Viglione, Tenente Vaccari and Sergente Golino attacked the left wingman of the rear section, which was seen to dive to ground level. They pursued it for 80 kilometres over Egypt, until it reportedly crashed burning into the ground. Viglione and his wingmen then damaged other bombers before being forced to return to base due to lack of fuel. They had in fact chased L8454 (Pilot Officer Hook, Observer Sergeant W. F. Bowker and Wireless Operator/Air Gunner Sergeant J. Rigby). This Blenheim was seen by its comrades to dive to ground level and to continue evasive tactics that in the end made the following fighters to break off. The machine however was badly shot up and the crew was reputed very lucky not to have been hit. The ten surviving aircraft from 55 Squadron landed at base at 15:40.
The claim of Ferrero was due to a misunderstanding, because once back at base, from a telephone call from the Army, it was reported that after the Italian fighters had left the area another formation of bombers arrived. It was assumed that this was the 55 Squadron formation, less three aircraft, which was back over its intended target and for this reason a third plane was presumed shot down. In fact, it now transpires that 55 Squadron didn't come back for a second raid and the second formation were in fact eight Blenheims of 211 Squadron under the lead of Squadron Leader Gordon-Finlayson bound for the same target. Five of the 211 Squadron's bombers overshot while three others claimed hits in the target area.
The loss of L8394 was the first operational loss of 55 Squadron due to fighter opposition. On 30 September, men of an Egyptian Frontier Post found the wrecked L8394 with one body in it (Clarke?) and a pilot's parachute together with helmet marked Godrich, outside the aircraft. Footsteps led away from the aircraft towards an Italian outpost, thus assuming that the pilot survived the crash and now was a POW. This was not the case and in fact, all three had been killed.
A fourth uneventful mission was flown later during the day by the 73a Squadriglia.

On 20 November, 208 Squadron despatched two Lysanders to reconnoitre an area bounded by Sollum, Sofali and Buq-Buq. They were L4724 piloted by Flight Lieutenant Burnard and L4728 piloted by Pilot Officer Waymark that took off from Qasaba at 14:20 and 14:15 landing back at 16:35 and 16:20 respectively (another Lysander, possibly L6874, an attached 6 Squadron aircraft piloted by Flying Officer T. H. Davison, was out in the same area). 33 Squadron provided nine Hurricanes (including Flying Officer Vernon Woodward (N2498), Flight Lieutenant Ernest Dean (P 3818), Flying Officer John Mackie (P3724), Squadron Leader Charles Ryley (P3970), Flight Sergeant Harry Goodchild (N2640), Flying Officer Frank Holman (P3724) and Pilot Officer Charles Dyson (N2640)) as escort. It is possible that the unaccounted pilots were one or two pilots from 274 Squadron since a quartet of Hurricanes from this Squadron, piloted by Flight Lieutenant R. V. Evers-Swindell, Pilot Officer Ernest Mason, Pilot Officer Thomas Patterson and Second Lieutenant Frederick Johannes Joubert, together with Pilot Officer Strange and Second Lieutenant Bester (who followed with the ground party) were detached on attachment to 33 Squadron on 14 November. On 21 November, Evers-Swindell, flew back from Fuka to have repairs on his fighter, reportedly damaged in a running fight with CR.42s. It seems almost sure that the "running fight" was the below described action, so it is possible that R. V. Evers-Swindell was present.
The escort took off from Fuka Satellite airfield at 14:15, with one section of three protecting each Lysander while a third section provided top cover. At the same time, a formation of six Gladiators from 112 Squadron would sweep the same general area.
East of Sidi Barrani, 18 CR.42s intercepted them and one Fiat half-rolled and dived away after being fired on by a Hurricane. It is possible that this aircraft later was credited as a destroyed to Flying Officer Mackie, who in a letter sent home to Canada on 4 December recalled:
"Just before I went on leave we had one of two bits of fun up here. On one occasion, you may have heard about it on the radio, fifteen of us got mixed up with sixty wop fighters. We lost none, and got at least eight of them. I got one of these, although not in a very convincing way from my point of view, as I didn't see it go in. Another pilot saw the start and the finish of it. Anyhow, it sure was a mix-up. I have never seen so many machines milling around in such a small amount of sky."
However, after this both sides started to guard each other without giving battle with the Italians uncertain to tangle with the faster Hurricanes and the British finding it difficult to close in on their more manoeuvrable opponents.
The Hurricanes of the two sections dealing with the direct escort of the Lysanders now started to brake off since they were being out-manoeuvred by their opponents and at this moment a huge formation of a reportedly 25-30 Italian fighters was seen higher. The top cover section of 33 Squadron climbed to engage but reportedly without avail because the Italian turned back towards Libya without engaging.
The Italian formation was composed by 18 aircraft from all three Squadriglie of the 9o Gruppo led by Maggiore Ernesto Botto (at the head of the 73a Squadriglia). Six of the CR.42s were from the 96a Squadriglia (Capitano Roberto Fassi leading Tenente Aldo Gon, Sottotenente Carlo Agnelli, Sottotenente Armando Moresi and Sergente Vittorio Pozzati together with 4o Stormo's adjutant, Capitano Mario Pluda), five were from the 73a Squadriglia (Tenente Valerio De Campo, Tenente Pietro Bonfatti, Maresciallo Mario Ruffilli, Sergente Maggiore Antonio Valle and Sergente Santo Gino) and six were from the 97a Squadriglia (Capitano Larsimont, Tenente Ezio Viglione Borghese, Sottotenente Jacopo Frigerio, Maresciallo Rinaldo Damiani, Sergente Francesco Putzu and Sergente Franco Sarasino). They had taken off from El Adem at 14:40 to cover Italian troops in the Bir Enba area (and probably indirectly escorting a reconnaissance plane) when Botto discovered a Bristol Blenheim escorted by several Hurricanes flying lower and attacked.
At this moment, with the 9o Gruppo's attention focused elsewhere, the 112 Squadron's Gladiators intervened and managed to surprise the Italian formation over Sidi Barrani. They claimed eight of the Fiats without losses. All of the six pilots made claims and Flight Lieutenant R. J. Abrahams claimed one and one shared with Pilot Officer Richard Acworth, who also claimed one additional. Flying Officer R. J. Bennett claimed one, Pilot Officer Alfred Costello claimed one, Pilot Officer Leonard Bartley claimed two and Sergeant 'Paddy' Donaldson finally claimed one. 112 Squadron didn't record any losses in this combat even if Pilot Officer Acworth in his memories spoke of a couple of planes obliged to force-land and the unit's aircraft retuned to Fuka between 16:20 and 17:25. For this one-sided action, they were noted in the press for the first time.
Richard Acworth remembered this combat in a short story written in the 1960's but never published.
"The Lysanders were to be 'covered' against enemy air attacks by six Gladiators from my squadron… three flying at 12,000 feet, and three, led by myself, at 15,000 feet. 'Top cover' was to be provided by six Hurricanes, flying at 20,000 feet. The Hurricanes had strict orders to beat a hasty retreat if they met with enemy aircraft in large numbers, as it was thought at that time that they would be 'easy meat' for the move manoeuvrable C.R. 42's, the single-seater Italian opposite number of the Gladiator.
We had been patrolling for about 10 minutes, when I reported forty CR 42s, in eight sections of five, flying from the direction of Libya, at approximately 25,000 feet, 5,000 feet higher that the Hurricane 'top-cover'. To my dismay, the Hurricanes were soon speeding home, with a CR 42 sitting neatly on each tail. Our six Gladiators were left to finish the fight, for the Lysanders, their task completed, were heading for home, too.
There was not a friendly cloud in the sky, and the powerful desert sun made the enemy aircraft very difficult to see. Forthwith, they carried out the German tactics of remaining aloft, and sending down their more experienced men to finish us off one by one….but it was not to be!
With the first attacks, we broke formation, and it was every man for himself. I soon found myself very much alone, until unfriendly tracer bullets from behind, passed through the space between my right wings. I immediately steep-turned to the left, and caught sight of my attacker as he completed his dive and prepared to re-join his pals up higher, by means of a roll off the top of a loop.
Seizing my chance, I opened full throttle and followed him to the top of his loop, half rolled in formation with him, and was just about to open fire, when my aircraft stalled and flicked into a spin….not enough speed! I decided my best means of survival was to continue the spin, in the hope that he would think I had been badly hit. This was a fighter tactic from World War I, and it worked! Whilst I was spinning, I looked upwards and caught a glimpse of my adversary circling at his original height, waiting for me to crash into the desert. I came out of the spin at about 8,000 feet, no doubt much to his surprise, and didn't have to wait long for him to dive down to finish me off.
So started a long tail-chasing session. At first, my mouth became rather dry, but after a second or two, my mind became crystal clear, and I was determined to turn the tables on him. Slowly I began to gain ground, and soon part of his tail was in my sights, but I realized it would not have been great enough. When his engine came into my sights, I pressed the firing button, and was immediately cheered to see pieces of fabric or metal ripping off his fuselage, just behind the cockpit.
The Italian pilot turned so quickly in his mad effort to escape, that he pulled his aircraft into a spin, following a 'high-speed stall'. I followed him down, and fired at him as he tried to recover, and he promptly went into another one. On recovering from his second spin, he must have pulled an emergency boost control to give him extra speed, for he left my Gladiator 'standing'.
However, my opponent was not easily scared, and turned about a mile away to come back at me like a bull at a gate. We both opened fire, and when it seemed that a head-on collision was inevitable, he pulled out to my left in a climbing turn. For a second, I was able to fire at his exposed fuselage, and then, with throttle fully open, I climbed into the sun, into an advantageous position. To my horror, my engine stalled near the top of the climb, and I had to carry out the usual drill of closing the throttle and opening it again, slowly. Full power came back, and looking down, I could see my opponent looking for me. This time, I had the advantage of height, and I was nicely lining him up in my sights when he saw me, and tried to turn in underneath me.
Slowly twisting, and with the right deflection, I raked him with bullets from nose to tail, at almost point-blank range. I pulled out of my dive, to regain height, and saw him commence another spin from which he did not recover. I felt immensely relieved, somewhat shaken, and eventually joined up with two stray Gladiators, and returned to Mersa Matruh. I was pleased to learn later that seven aircraft had been shot down in the engagement, and that all the Gladiator pilots had survived the fight, although two had made forced landings.
I shall never forget that day. It was my first one-against-one air battle, and the longest time I had engaged a single enemy aircraft..."
The 9o Gruppo actually lost only three shot down and four damaged but two pilots were killed. The three shot down pilots were Sottotenente Carlo Agnelli of the 96a Squadriglia, who was killed, Sergente Francesco Putzu of the 97a Squadriglia, who was killed, and Tenente Gon (who usually flew CR.42 MM5605/96-2), who recalled:
"This day [strangely enough he recorded it as on 1 November but this is for certain an error] I lost the dearest of all my wingmen [Carlo Agnelli]. We were up with all the Gruppo and the three Squadriglie were stepped at different heights. The lowest escorting a reconnaissance plane, mine (96a Squadriglia) at 3000 metres while the third stay higher. The highest group had already engaged the enemy when I saw one of our planes diving almost vertically followed by a Gloster. I made a violent overturning that my wingmen were unable to follow [again without radio equipment the Italian formation was broken at the beginning of the combat and whatever numerical advantage was impossible to put into full use] when I reach a distance suitable to open fire I had to wait because there was the risk of hitting my comrade [with the same burst aimed at the fighter that was following him] I had to concentrate only on the aim [the wingmen were far away] so I couldn't look around and was attacked by two Glosters. With the first burst of fire they shot away my propeller, so without propulsion I could only manoeuvre to avoid further damage. All the height lost I force-landed and the English pilots that had already stopped firing while I was gliding down for my final approach flew past me waving their hands.
[Gon, tried to burn his plane without success and succeeded to reach an Italian outpost the day after]
Back at base, I discovered that information about the missing pilots (we were three) were lacking.
A sergeant [Sergente Francesco Putzu] was seen to jump with parachute and another of our planes was seen to crash after a hard fight, all believed it was mine because the other missing pilot (my dear wingman) was too "green" to be able to fight against three enemies as the pilot of the crashed plane did.
The encounter with Botto was tragicomically. I went to his room and he was waiting for me near the door and as just as he saw me he threw himself right into my arms through the three steps that divided us. But I was too weak and was unable to sustain him so we fell embraced on the ground."
According to the official records of the 4o Stormo, however, it seems that during the dive Gon's guns went out of synchronisation and when opening fire he cut his propeller with the first shots.
Seven confirmed and probable victories were credited to the pilots of the Gruppo after that they had landed at 16:30. This overclaiming was the result of that the Stormo's records had to be re-recorded in 1941 after they had been lost. This re-recording was done by Tenente Giulio Reiner, who was then adjutant of the Gruppo. Obviously Reiner's reconstruction was not as accurate as a complete debriefing immediately after the battle could be.
Roberto Fassi was credited with a Blenheim, a probable Gladiator and two damaged Gladiators. Pozzati, who was wounded on the right foot, was credited with a Gladiator while Gon was credited with a Gladiator (a victory that he didn't mention at all in his memories). Pluda claimed another Gladiator and Moresi one probable Gladiator. The 73a and 97a Squadriglie claimed one Gladiator and two Hurricanes shot down and four fighters damaged, all shared. Final assessment of the combat was four Gladiators, two Hurricanes and a Blenheim confirmed and two Gladiators probably destroyed (the actual number of confirmed claims varies between the reconstructed Diari of the involved Squadriglias to seven or eight destroyed).

On 9 December Maggiore Ernesto Botto (CO of the 9o Gruppo) was involved in a car accident and injured. The next day Larsimont became the commander of the 9o Gruppo.

At 14:10 on 12 December, a formation of fighters from the 9o Gruppo (14 CR.42s) led by Capitano Larsimont took off to escort SM 79s and during the return journey ground strafed British vehicles on the Sollum-Buq-Buq road claiming four destroyed and four damaged.
Six CR.42s from the 73a Squadriglia (Tenente Valerio De Campo, Tenente Giulio Reiner, Tenente Pietro Bonfatti, Sottotenente Giuseppe Oblach, Sergente Maggiore Sergio Stauble and Sergente Pasquale Rossi) took part. It seems one aircraft from the 96a Squadriglia was lost after the action when Sergente Maggiore Giovanni Gallerani nosed over on landing and his fighters was written off during a clumsy recovery.

Later on the same day, the 9o Gruppo started to retreat and transferred to Derna.

On an early morning patrol on 13 December, six Gladiators (Flight Lieutenant Gordon Steege, Flight Lieutenant Charles Gaden, Flying Officers Lex D. Winten, Flying Officer Alan Boyd, Flying Officer Wilfred Arthur and Flying Officer Alan Gatward) from the Advanced Detached Flight of 3 RAAF Squadron took off at 08:00 to fly an offensive fighter patrol over Sollum – Fort Capuzzo – Halfaya area. They came across five SM 79s bombing troops at Sollum escorted by a reported eight CR.42s. Diving in to attack Flight Lieutenant Steege shot down one of the bombers and claimed a second as a probable. Before the Gladiators could reform for a second attack, the escorting CR.42s intervened. Flight Lieutenant Gaden (Gladiator N5765) was killed when his aircraft was shot down and crashed into the desert. It was believed that Gaden was shot down by rear gunners of the SM 79s. Flying Officer Winten was hit in the right hand by an explosive bullet and baled out. Flying Officer Boyd claimed two CR.42s before his aircraft had its port flying wire shot away causing him to force land. Flying Officer Gatward was also forced down. Flying Officer Arthur's Gladiator (N5752) was shot to pieces and he decided to bale out. As he clambered out of the cockpit, he became entangled in his oxygen tube. He managed to break free only to be caught up in the interplane bracing wires. Unable to free himself he waited for the inevitable, when at about 1,000 feet he was thrown clear and parachuted to the ground. Later back in the mess he produced from his pocket the ripcord of his parachute, which meant that he did not have to buy drinks all round. Flight Lieutenant Steege was separated from the remainder of the flight, ran out of ammunition and returned to base at 10:30.
The Italians seems to have consisted of five SM 79s from the 60a Squadriglia, 33o Gruppo Autonomo BT, which had taken off from Z1 at 07:30. The formation was led by Tenente Colonnello Ferri Forte, who flew as second pilot in Capitano Loris Bulgarelli's (CO of the 60a Squadriglia) SM 79 and they had been briefed to attack British troop concentrations in a desert area south of Sollum. The pilot of another bomber was Tenente Pastorelli and among his crew of five was Aviere Scelto Armiere Guido Reggiani. The bombers were escorted by ten CR.42s from the 9o Gruppo. The SM 79s were the first bombing effort of the day by the 5a Squadra and attacked a group of 30 British vehicles along the road Sollum-Buq-Buq at 08:45 and immediately after this, another group of 60 armoured vehicles south-east of Halfaya. The escort was led by Capitano Larsimont (temporary CO of the 9o Gruppo since 10 December) and included the 73a Squadriglia (Tenente Valerio De Campo, Tenente Pietro Bonfatti, Tenente Giuseppe Oblach, Sottotenente Giulio Reiner, Sergente Maggiore Sergio Stauble and Sergente Enrico Dallari) and the 97a Squadriglia (Capitano Ezio Viglione Borghese, Sergente Franco Sarasino and Sergente Maggiore Otello Perotti). After 45 minutes of flight, between Sidi Omar and Sollum, they spotted a formation of Gladiators that soon attacked the SM 79s. Aviere Scelto Armiere Reggiani recorded that after the bombing the formation was attacked by a group of ten Gloster Gladiators. The gunners of the Savoias claimed the shooting down of two of them before they were dispersed by a squadriglia of the 4o Stormo's fighters. Capitano Larsimont chased the leader but, while shooting at him from a short distance, he collided with a British wingman that was trying to avoid his bursts. In the collision, the Gladiator lost its wings and fell. Larsimont, whose aircraft was badly damaged in the fuselage and rudders, made an emergency landing on the Menastir M airfield; unfortunately the airstrip was already abandoned by the Italians due to the proximity of the British infantry so Larsimont had to abandon his damaged plane, which became a total loss. It seems possible that Larsimont's victim (the Gladiator surprised while chasing the Savoias and observed to fall minus its wings) was Flying Officer Arthur who later recalled:
"(...) I was chasing some Italian bombers, Savoia-Marchettis I think they were. They were quite a lot faster than our aircraft were which meant you only chance of really catching them was to cut the corner if they were foolish enough to turn very much. In...also, if you're chasing somebody like that you're concentrating very much on that and you are a sitting duck for somebody else. And, in fact, that's what happened to me. Chasing these Savoias I suddenly realised I was being attacked by an Italian aircraft which almost immediately ... a shell went into the top mainplane – do you know what I mean by the top mainplane where it was a biplane - the top main plane tore straight away and swung back towards the tail and the bottom main plane sort of followed it but a bit behind and I had no control at all, just completely loose control column. So I got out quickly (...)
Arthur remembered that the whole affair lasted a short time:
"Probably only fifty seconds or seventy or something like that. I got out of the cockpit quite quickly but by that time the thing was nearly vertically downwards and I got stuck underneath one of the main planes that had folded back against the fuselage and I couldn't get out of that. I was kicking and trying to get myself free when I was very close to the ground and finally did get free but hit the ground very hard because...well, because I hadn't had enough time to slow up, I suppose (...)".
Wilfred Arthur hit the ground facing the wrong way and got dragged for quite a while with the parachute because there was heavy wind. After collapsing the parachute and freeing himself again, he was circled by two Italian aircraft, which he thought would shoot at him but in fact they didn't. After the two Italian left the area, he started walking and after only a couple of hours was found and picked up by a long-range desert patrol.
Viglione fired at several Glosters and claimed one of them (the British pilot was seen parachuting by Bonfatti) while Perotti claimed another in a head-to-head attack (not verified with the Squadriglia diaries). Sarasino claimed damage to several Gladiators. Meanwhile, another formation of Gladiators jumped the 73a Squadriglia from above but these had been alerted and could react properly and a long and harsh dogfight began. Bonfatti, Oblach and Stauble claimed one each, while De Campo, Reiner and Dallari claimed one probable each. Several other Glosters were claimed damaged. Reiner's, Bonfatti's and Oblach's aircraft were slightly damaged in combat but returned to base safely.
The 60a Squadriglia suffered no losses but Capitano Bulgarelli was hit in the head and killed by a burst of fire from one of the Gladiators. The same burst of fire also wounded Tenente Colonnello Forte. The dead Bulgarelli fell over the controls and only after the help of Tenente Pier Luigi Meroni, who managed to rise Bulgarelli body, thus keeping it clear from the controls, was Ferri Forte able to nurse back the damaged Savoia. Meroni remained all the time in front of the broken skull of Bulgarelli with blood and pieces of brain close to his face. (After the war, Meroni became a pilot in civil aviation and was the pilot of the plane in which the then famous football team of Turin (winner of many Italian championships) crashed against the hill of Superga on 4 May 1949; the greatest tragedy in the history of Italian sport). Bulgarelli was a highly regarded leader and during the last days was always at the head of the 33o formations attacking the advancing British troops. He was awarded a posthumous Medaglia d'Oro al valor militare for bravery in this and previous actions. During the landing, back at base Bulgarelli's SM 79 and another one suffered additional damage and were classified RD.
Boyd's force-landed Gladiator was possible to repair on site and he returned to Gerawla at 11:10 with Gatward sitting on his knee.
Out of the six Gladiators that took part in the combat, four were lost and the remaining two were damaged but repairable in the unit.
Flight Lieutenant Gaden was found dead in the cockpit of his Gladiator by the 7th Hussars while they were on the march. He was buried by Lieutenant J. Napier.
It was one of the hardest day of the war for the Australians and Flight Lieutenant Peter Jeffrey, then the Signals Officer of the unit but later to became its CO remembered it this way:
"(…) we had a very bad day on 13th December, it was over Salum (…) we had an extraordinary bad day – ran into a very big lot of CR42s and Flight Lieutenant Gaiden [Gaden] was killed but Arthur, "Wilf" Arthur was shot down (…). Lex Witton [Winten] had an explosive round in one hand and he bailed out. Gatwood [Gatward] and Boyd both crash-landed. So we had five, and that was a really very bad day for the Squadron (…) It was a very traumatic sort of experience but the Squadron was very resilient and picked up very quickly and the people who'd – apart from Witton who was a casualty because of his hand - the others were back flying again next day or in a few days' time. To a certain extent, you know, you expected these things but that was just a bit bigger than we normally expected. And seeing as we'd had so much success prior with virtually no casualties it hit us a bit hard for a start. But it was only a few days later on the 26th when we got our revenge back (…)".
In the meantime Larsimont, finding Menastir deserted, reached the nearby Balbia road and while waiting for a passing truck to stop, was shot at by a low flying Hurricane and had a narrow escape. After the collision, he was presumed dead by his pilots and so on the evening a message of condolences arrived from the HQ in Rome. In fact, he rejoined his unit the same day and at 15:05 was again at the head of his men.
It seems that another Italian fighter took part in this mission since Sottotenente Giuseppe Bottà of the 82a Squadriglia, 13o Gruppo, who was out on a "solo" reconnaissance over the front, discovered four Gladiators. These were attacking a patrol of SM 79s and he claimed to have forced the British fighter to disengage from the bombers with his intervention.

Following the morning's adventure on 13 December, at 15:05, Capitano Larsimont again led a patrol with four CR.42s from the 97a Squadriglia (Tenente Ezio Viglione Borghese, Sergente Maggiore Raffaele Novelli and Sergente Alcide Leoni), eight from the 73a Squadriglia (Tenente Valerio De Campo, Tenente Pietro Bonfatti, Sottotenente Giuseppe Oblach, Sottotenente Alvaro Querci, Sergente Maggiore Enrico Dallari, Sergente Maggiore Sergio Stauble, Sergente Maggiore Antonio Valle and Sergente Santo Gino) and eight from the 96a Squadriglia to make a ground strafing against a British convoy in the Sollum-Buq-Buq area. While returning one Hurricane was attacked and claimed damaged, apparently by a 73a Squadriglia pilot. They returned to T3 at 17:05 claiming nine armoured vehicles (five in flames and four damaged).

The Stormo was sent back to Italy on Christmas Day 1940 in order to commence its re-equipment with MC.200s.

On 27 February 1941, Capitano Larsimont left his temporary command of the 9o Gruppo to Tenente Colonnello Marco Minio Paluella.

In July 1941 they re-equipped again with MC.202s and were they were sent to Sicily, arriving in the end of September 1941, to take part in the operations against Malta

Flying from Comiso airfield, Sicily, the unit flew fighter sweeps over Malta.

During the afternoon on 22 October, six 73a Squadriglia MC.202s, escorted by eight more, strafed Luqa twice. Nine Hurricanes of 249 Squadron were sent off to intercepts, the Macchis diving on them as they were climbing up over St. Paul's Island. Sergeant Dave Owen ('GN-R'), was shot down in flames, but managed to bale out before the fighter hit the sea. Pilot Officer R. H. 'Bob' Matthews (Z3756) was also hit, the wing of his Hurricane and the fuselage near the glycol tank suffering damage. Sergeant Alf Branch (Z4016) noted in his logbook: "Sgt Owen shot down into sea – circled him until picked up. Gave two short bursts head-on at a 202 – did not claim anything."
The 73a Squadriglia pilots claimed heavily; two Hurricanes were credited to Tenente Pietro Bonfatti and one each to Capitano Mario Pluda, Sottotenente Alvaro Querci (according to some sources he was credited with two victories), Sergente Maggiore Teresio Martinoli and Sergente Mario Guerci, while probables went to Maggiore Larsimont and Capitano Carlo Ivaldi. One Macchi was damaged in the combat.

Around midday on 25 October four Cant Z.1007bis from the 9o Stormo B.T. approached Grand Harbour, escorted by MC.200s of the 54o Stormo as close cover, with 20 MC.202 of the 9o Gruppo providing indirect support.
185 Squadron scrambled eight Hurricanes led by Flying Officer Gay Bailey (BD835), which dived to attack the bombers (identified as BR.20s). One Z.1007bis was hard hit, the port engine being seen to stop and it was classed as a probable. In fact the bomber managed to reach Sicily, where it crash-landed at Comiso with one dead and one wounded aboard. At this point the Hurricanes were bounced by the MC.202s and 20-year-old Sergeant Ernest G. Knight (RAF no. 1164161) (Z3456) was shot down, being listed as missing. Sergeant Cyril Hunton got a short burst into one MC.202, which poured black smoke; he claimed a probable, but wreckage of the fighter was later found floating in the sea. He had shot down the 4o Stormo's commander, Tenente Colonnello Eugenio Leotta (MM7728), who was posthumously awarded the Medaglia d'oro al valor militare. Two fighters were claimed shot down by Tenente Colonnello Minio Paulello, one by Maggiore Larsimont and one as a shared by Capitano Mario Pluda and Tenente Pietro Bonfatti, all on this occasion claimed as 'Spitfires'.

In the afternoon on 21 November, eighteen MC.202 from the 9o Gruppo were out to strafe Hal Far. On their way they met four Hurricanes from 185 Squadron, which were engaged in a convoy patrol. The Italians reported meeting twelve Hurricanes and claimed five of these shot down into the sea, one each by Maresciallo Larsimont, Sergente Raffaele Novelli, Maresciallo Rinaldo Damiani, SottotenenteAlvaro Querci and Sergente Maggiore Pasquale Rossi, plus two probables by Tenente Pietro Bonfatti and Tenente Jacopo Frigerio. They then carried on completing their strafe, returning without loss.
One Hurricane was in fact lost, 20-year-old Flight Sergeant Richard Cousens (RAF no. 970365) being killed in Hurricane Z2813 "GL-L".

On 23 November 1941, Capitano Larsimont took command (for the second time) of the 9o Gruppo from Tenente Colonnello Marco Minio Paluella. This time it was a permanent command.
Sottotenente Jacopo Frigerio took command of the 97a Squadriglia after Capitano Larsimont.

The British offensive Operation Crusader was launched in North Africa on 18 November 1941. Italian reinforcements were rushed to Libya including the 9o Gruppo (minus the 73a Squadriglia), which arrived at Martuba on 25 November with their MC.202s and with Capitano Larsimont as CO of the unit.

On 26 November, the MC.202s of the 9o Gruppo made their combat debut in the Gruppo's second African tour. At 11:00, a formation of 10 MC.202s took off, led by Capitano Larsimont, for a free sweep over the Sidi Rezegh-Gambut area. They were split into two patrols of five aircraft each (one patrol from the 96a Squadriglia and one from the 97a Squadriglia).
After about 25 minutes of flight and at an altitude of about 5,000m, two enemy formations were seen; one composed of 12 Hurricanes at altitude of 3,500m and a second of P-40s (in fact Hurricanes also) at an altitude higher than 5,000m, which escorted the former. Both Macchi patrols attacked the lower formation, breaking it up. The higher formation intervened in the battle, which lasted about 10 minutes.
Capitano Larsimont got on the tail of an enemy aircraft and attacked it (firing 94 rounds) but was immediately set upon by another enemy fighter which hit him from behind. He managed to get away and bring home his damaged fighter. Maresciallo Raffaele Novelli (97a Squadriglia) fired on some enemy fighters in successive actions and claimed one shot down using a total of 675 rounds. Sottotenente Giovanni Barcaro (97a Squadriglia) fired on eight enemy aircraft in successive action. He got on the tail of a P-40 and hit it with a long burst. The aircraft came down and crashed into the ground. His MC.202 was shot on fuel so he landed at Tmimi to refuel before returning to base. He had used 275 rounds in the combat. Sottotenente Jacopo Frigerio (97a Squadriglia) fired on three enemy fighters over several clashes without being able to notice any visible effects, using 102 rounds. Sergente Maggiore Massimo Salvatore (97a Squadriglia) got on the tail on an enemy aircraft and shot it down after hitting it with a long burst. Then he fired on a second one, shooting this down as well. Totally he used 575 rounds before returning to base with the windshield of his fighter smeared with oil from the oil tank of one of the Hurricanes, he had shot down.
In the end of the combat, the Italian pilots claimed eight enemy fighters destroyed and an additional as probably destroyed using 3000 rounds of ammunition with two MC.202s damaged (Capitano Larsimont and Capitano Ezio Viglione Borghese). Four P-40s and a probable Hurricane were credited to the 96a Squadriglia; Capitano Viglione, Tenente Emanuele Annoni, Tenente Fernando Malvezzi, Maresciallo Manlio Olivetti and Maresciallo Dante Labanti (1 probable Hurricane).
Four enemy fighters were credited to the 97a Squadriglia; Sottotenente Barcaro (1 P-40), Maresciallo Novelli and Sergente Maggiore Salvatore (2 enemy fighters).
They had been in combat with Hurricanes from 229 and 238 Squadrons. The higher formation seems to have been 229 Squadron, which was carrying out a defensive patrol for the ground forces with 12 Hurricanes over Sidi Rezegh. They had taken off at 11:45 (landing 13:30). They encountered a reportedly 12 enemy fighters, thought to be Bf 109s, without losing any Hurricanes but claiming to have shot down two of the enemies; Pilot Officer J. H. Penny (Hurricane Z5302) and Sergeant Warminger (Z3146). Presumably they thought that they had shot down Capitano Larsimont and Capitano Viglione.
The lower formation seem to have been 238 Squadron (take off 11:45 and landing 13:15), which reported being attacked by 6-7 enemy fighters and suffering losses when 21-years-old Australian Sergeant Robert Arthur Knappett (RAAF no. 400146) (Hurricane Z2355/L) was KIA at 13:15, Flying Officer Kings (G) crash-landed (King removed the overcoat from a dead Italian soldier and then drove an abandoned tank all through the night to reach Tobruk!) while Sergeant Kay (BV170/N) was shot down (Kay returned on foot). Pilot Officer H. G. Currie's Hurricane (Z5222/Y) was wrecked on landing at Tobruk while Sergeant Fairbairn landed at Tobruk wounded and with his Hurricane (E) badly damaged.
It is possible that the RAF units also claimed two additional aircraft damaged in this combat.

On 1 December, 21 German Ju 87s and 8 Italian (from the 239a Squadriglia), were in action 20 km north-east of Gobi at 11:30. They were being escorted by ten Bf 109s and Italian fighters. Seven MC.200s of the 153o Gruppo provided the close cover (take off 11:30 and landing 13:30). This group's diary notes the attack south-east of Bir El Gobi. The top cover of twelve MC.202s from the 9o Gruppo – six from the 96a Squadriglia and six from the 97a Squadriglia – took off at 11:35 under the command of Capitano Larsimont. One of the 96a Squadriglia aircraft returned early because of engine trouble.
The German operational report mentions the clash of Bf 109s with three Hurricane IIs being claimed shot down; Unteroffizier Hans Niederhöfer of 5./JG 27 claimed one at 12:30 south-west of Sidi Rezegh, Oberleutnant Gustav Rödel of 4./JG 27 claimed one 12:40 south-west of El Adem and Hauptmann Wolfgang Redlich of 1./JG 27 claimed one at 12:55 over Bir El Gobi, at 12.55. No German fighters were lost and it seems that none suffered any damage.
According to the diaries of the 9o Gruppo the formation was getting ready to return when it sighted about 20 enemy fighters, divided between Hurricanes and Tomahawks, which were escorting bombers south of Bir El Gobi at 4,000m at 11:40. The commander manoeuvred to gain altitude and launched into the attack.
All in all the pilots of the 97a Squadriglia thought that they had definitely shot down four aircraft, probably another five and machine gunned ten. Capitano Larsimont machine gunned some enemy aircraft (using 155 rounds of ammunition). It was thought that one of them was hit by a long burst on the tail and was claimed as probably shot down. Maresciallo Rinaldo Damiani fired a burst at the tail of an enemy monoplane which then lost height leaving a long trail of smoke and crashed into the ground and was burnt up. He returned after having used 105 rounds of ammunition claiming two Hurricanes destroyed. Sottotenente Jacopo Frigerio fired a long burst at a Hurricane, saw it start to catch fire and claimed it as a destroyed. Subsequently he machine gunned another two without managing to notice any visible results (totally he used 249 rounds). Sergente Alfredo Bombardini machine gunned two enemy aircraft hitting them with effective bursts but without noticing any visible results and returned claiming both as probably destroyed with the use of 303 rounds. Sottotenente Giovanni Barcaro machine gunned three enemy aircraft in successive episodes but wasn't able to see any results. Subsequently he got on the tail of an enemy aircraft and hit it with long bursts until he saw it leaving a long trail of black smoke losing altitude in a spin. He then got on the tail of another Hurricane and machine gunned it with long bursts from close in. The enemy aircraft left a long trail of whitish smoke coming from the water radiator. He couldn't spend much time looking at the results of his bursts since he had to get clear of an enemy aircraft that was firing at him from behind. He noticed he had been hit on the water radiator and prepared to return to base, but was forced to make a crash landing with the undercarriage retracted because his plane's engine had seized up. This happened 12 km from Ain El Gazala at 13:05. He returned to base by car at night claiming one Hurricane and another as probable with the use of 630 rounds of ammunition. Finally, Maresciallo Otello Perotti machine gunned some enemy aircraft, hitting them with long bursts; one of them was believed to have probably been shot down with the use of 188 rounds.
The pilots of the 96a Squadriglia also claimed to have shot down four fighters (and a fifth damaged). Capitano Ezio Viglione Borghese (1 Hurricane), Tenente Fernando Malvezzi (1 Tomahawk), Maresciallo Dante Labanti (1 Hurricane), Tenente Emanuele Annoni (1 Tomahawk) and Sergente Maggiore Bruno Spitzl (1 damaged Tomahawk). Tenente Annoni's MC.202 was damaged during the combat. The battle lasted 10 minutes, during which 2250 rounds were fired altogether. The Macchis returned between 13:15 and 13:20.
The enemies were the escort of 23 Blenheims of the 14, 45, 84 and "Lorraine" Squadrons, which were heading west of El Adem. They were escorted by the Hurricanes of 1 SAAF Squadron (take off 11:45 - the second mission of the day) and 274 Squadron (take off 11:50). Subsequently the escort would carry out a free sweep above El Duda. 1 SAAF Squadron with twelve Hurricanes provided the close cover, while 274 Squadron with twelve Hurricanes provided top cover. When they were above the target they encountered a reportedly twenty fighters divided between Bf 109s and G.50s and a battle ensued with them.
274 Squadron declared three Bf 109s shot down, one probable and two damaged; Pilot Officer 'Wally' Conrad (one and one probable Bf 109 in Hurricane IIb Z5064), Sergeant James Dodds (1 Bf 109 in Z5117), Sergeant Harrington (1 and 1 damaged Bf 109 in Z5347) and Pilot Officer R. N. Weeks (1 damaged Bf 109 in Z4008)). However they suffered three shot down Hurricanes and a fourth force-landing. Pilot Officer Weeks was shot down but was picked up by ground force and returned, Sergeant G. W. F. Pearse (Z2817) was shot down 25m south-west of El Adem at 13:00 and WIA (he was picked up by armoured cars and returned on 3 December) and Sergeant Alman (Z2510) was shot down and became MIA. Lieutenant W. H. Hoffe (Z5310) made a force-landing after that his Hurricane had been hit in the glycol tank, causing the engine to blow up. Flight Lieutenant Owen Tracey (BD821), one of the 274 Squadron flight commanders, landed and picked him up, flying him back to base.
1 SAAF Squadron pilots identified six G.50s, presumably the seven MC.200s of the 153o Gruppo, during the escort but didn't attack them because they were engaged in escorting the bombers; they noticed that not even the G.50s attacked, probably for the same reason. 1 SAAF Squadron returned at 13:10.
Considering 274 Squadron's difficult situation, it seems surprising that the close cover for the bombers didn't intervene, as had happened on several other occasions. The escort had probably been given very precise orders; these were, in fact, pilots who didn't hold back when called upon to take on the enemy.
274 Squadron would have spotted the Stuka escort: 20 divided between Bf 109s and Italian monoplanes with radial engines. However the latter divided between the close cover of Bf 109s and MC.202s were about 30 altogether. Therefore it would seem that 274 Squadron had clashed with only one formation of planes with in-line engines; either Bf 109s or MC.202s. At the same time the 9o Gruppo estimated that about 20 enemy planes had been encountered. It has been ascertained that the Macchis of the 9o Gruppo were engaged in a big battle; on the other hand it seems likely that the Bf 109s also were involved. There could have been the participation of a third Commonwealth unit, although documentation in this regard is missing. To back up this, during the day also AIR 22.401 reported the loss of 3 Tomahawks and of a fifth damaged Hurricane as well as a Beaufort.
When the details of the battles were reported the Macchis always tried to put themselves on the tails of enemy planes, not an easy tactic but one that was thought to be essential to have any chance of shooting down an enemy fighter.

During late 1941, Larsimont was promoted to Maggiore.

9o Gruppo then enjoyed a brief winter rest from fighting, before returning to operations over Malta in the spring and early summer of 1942.

At 17:45 on 9 May 1942, five Z.1007bis from the 210a Squadriglia BT were out to attack Malta. They were escorted by 16 MC.202s, eight from each 9o Gruppo and 10o Gruppo. To meet this threat, 33 Spitfires were scrambled, and eleven of these from 126 Squadron intercepted, led by Squadron Leader A. R. H. Barton. Barton's single section engaged the escort while Pilot Officer M. A. Graves led the rest to attack the bombers. During the following combat Spitfires were claimed by Capitano Franco Lucchini (10o Gruppo), Sergente Ambrogio Rusconi (91a Squadriglia) and Sergente Teresio Martinoli, while Maggiore Larsimont (9o Gruppo) claimed one damaged. No RAF aircraft was even damaged. RAF claimed three Z.1007s (two by Flight Sergeant Schade and one by Sergeant Goldsmith), one MC.202 (by Pilot Officer Bisley) and three damaged (claimed by Flight Sergeant Schade, Squadron Leader Barton and Pilot Officer Graves). Regia Aeronautica only got one Z.1007bis and one MC.202 damaged when Tenente Luigi Giannella's Macchi was hit by a 20mm shell.

On 24 May 1942, the 54 MC.202s of the 4o Stormo C, which had been operating over Malta, arrived at Martuba, led by Tenente Colonnello Armando François.
They joined 1o Stormo (CO Colonnello Alfredo Reglieri), forming a force of more than 100 MC.202s, the largest concentration of these fighters ever to be achieved in Libya.
Next day a Comando Caccia (Fighter Command) was established at Martuba under the 1o Stormo commander, to co-ordinate the activities of the four MC.202-equipped units:
6o Gruppo (1o Stormo); CO Maggiore Mario Larcher
17o Gruppo (1o Stormo); CO Maggiore Domenico Sciaudone
9o Gruppo (4o Stormo); CO Maggiore Larsimont
10o Gruppo (4o Stormo); CO Maggiore Paolo Maddalena
The three squadriglie of the newly arrived 9o Gruppo were led by Sottotenente Alvaro Querci (73a Squadriglia), Capitano Ezio Viglione Borghese (96a Squadriglia) and Sottotenente Jacopo Frigerio (97a Squadriglia), who would be replaced by Tenente Fernando Malvezzi on 1 June. The commanders of the three squadriglie of 10o Gruppo were Capitano Franco Lucchini (84a Squadriglia), Capitano Ranieri Piccolomini (90a Squadriglia) and Tenente Orlando Mandolini (91a Squadriglia).

Between 07:55-09:30 on 26 June, Maggiore Larsimont (CO) led ten MC.202s from the 9o Gruppo (five from the 73a Squadriglia and five from the 96a Squadriglia) on a free sweep in the Bir Astor area. From an altitude of 4,000 metres west of Mersa Matruh, he sighted nine Bostons with 15 P-40s escorting and ordered the attack. The Italian fighters claimed two P-40ss and three probables with 14 aircraft machine-gunned (2665 rounds fired). The victories were claimed by Maggiore Ludovico Laurin (73a Squadriglia) and Sergente Bruno Biagini (73a Squadriglia) while probables were claimed by Maggiore Larsimont, Sottotenente Alvaro Querci (73a Squadriglia) and Tenente Ferruccio Zarini (73a Squadriglia). Tenente Emanuele Annoni (96a Squadriglia) fired at two P-40s with inconclusive results.
Nine Bostons from 12 SAAF Squadron were at an altitude of 8,500ft attacking enemy columns (08:30-10:00). During the day, the escort was provided by 239 Wing with its few remaining fighters. Close cover was provided by four Kittyhawks from 450 Squadron (09:10-10:03, three Kittyhawks from 3 RAAF Squadron was medium cover (09:10-10:00) while four Kittyhawks from 250 Squadron were top cover (09:00-10:05). 12 SAAF Squadron saw six MC.202s and four Bf 109s at an altitude of 8,500ft. Enemy fighters dived out of the sun and astern of the formation for six minutes. They were in formation when they began their attack from above at a distance of 400 yards and opened fire at 100 yards. Six of the fighters engaged the enemy. All of the enemy fighters lined up in a single file for the attack, going in one by one. Four bombers were damaged and one was wrecked upon landing (it was subsequently repaired) but there were no casualties. One MC.202 was claimed to have been probably shot down by the Bostons. One gunner fired 200 rounds and tracers were seen entering a MC.202, which dived away vertically, but its fate was unobserved. No results were observed due to evasive action.
250 Squadron recorded:
"...were attacked by 6 ME.109s and 3 or 4 M.202s at 8000'. F.Lt Marshall (AK921) put a long burst into a ME.109F, but did not see it go in. Sgts. Cormack and Stewart also had good bursts; Stewart seeing a strike on the wing root of the EA. 250 was again attacked on way home, an AC seen going down in flames by P.O. Whiteside. F.Lt. Marshall and P.O. Curtis: one ME.109F destroyed confirmed."
3 RAAF Squadron was at 7000 feet when it was attacked from above at 5 o'clock. Pilot Officer Victor Curtis (Kittyhawk Ia AL101) reported the attack of a G.50 on the last Kittyhawk (3 RAAF Squadron), which was followed by six Bf 109s and a MC.200. He jettisoned his bomb and chased off an aircraft that was attacking the bombers. A Bf 109 then attacked, firing at a Kittyhawk of 250 Squadron until it broke away. He fired again against another one from the front quarter and saw tracers bouncing from the engine cowling. Pilot Curtis was then attacked by Bf 109s. He shot at the second and entered a stall when his guns stopped working. Spinning out from the stall, he was hit by explosive shells on the rudder and fuselage but was able to bring his fighter back home (Cat.I). He was credited with a Bf 109 shared with Flight Lieutenant A. E. Marshall (250 Squadron). Sergeants Ward (AK992) and Alderson (AL128) also fired at the enemy. All of the Bf l09s had dark camouflage and a white nose.
450 Squadron was at an altitude of 8000ft and going at a speed of 160 mph when bombs were dropped by Bostons and Kittyhawks. Three Bf l09s attacked the top cover from astern while a MC.202 flew across the Bostons, damaging one of them. Flight Sergeant Raymond Dyson (AK951) fired at a Bf 109, chasing it away from the bombers (claimed as a probable 7 miles east of "Charing Cross"). His Kittyhawk was in its turn shot at but to no effect.

In the afternoon on 26 June and amid heavy engagements, six Baltimores from 223 Squadron managed to surprise Axis units on the ground at Sidi Barrani. They were covered by 233 Wing (16:08-17:25). The bombers caught everyone by surprise by coming from the sea and at 16:40 all of the bombs were dropped among poorly dispersed aircraft, leaving three of them burning.
The pilots of 5./JG 27 (which just had shot down Major John Hewitson into captivity) had just landed at Sidi Barrani and so were still in their aircraft when the bombers hit. Two Bf 109F-4 trops were hit by splinters; Felwebel Siegfried Fricke (WNr. 8466 10% damaged) and nine-victory-ace Leutnant Kurt Jenisch (WNr. 7417 10% damaged) were wounded, the latter fatally. It also seems that Unteroffizier Erich Opitz from Stab/JG 27 was wounded in the attack.
III/JG 53 was badly hit. Its aircraft were positioned close together to speed up refuelling and had their pilots by them. Leutnant Erich Beckmann (9./JG 53, WNr. 10036 95% damaged) was fatally wounded and Unteroffizier Paul Gläser (7./JG 53, WNr. 8684 50% damaged) was badly wounded. Three more pilots were slightly wounded. Unteroffizier Walter Manz (9./JG 53, WNr. 10111 45% damaged), Leutnant Wolf Schaller (9./JG53, WNr. 8792 50%damaged) and Leutnant Max Lange (10.(Jabo)/JG 53, WNr. 10140, 60% damaged) were wounded. Three more aircraft were badly damaged; WNr. 10114 (9./JG 53) 70% damaged, WNr. 10156 (9./JG 53) 80% damaged and F-4/Z WNr. 7094 (10.(Jabo)/JG 53 90% damaged.
The 9o Gruppo was hard hit. Maggiore Larsimont (CO), Maggiore Ludovico Laurin (a former test pilot just arrived to the 73a Squadriglia) and Sergente Maggiore Angelo Golino (97a Squadriglia) were all killed with Tenente Ferruccio Zarini (73a Squadriglia) being wounded.
Several MC.202s were also damaged: MM7920/73-4, MM7914, MM7936 (all three from the 73a Squadriglia), MM7761 and MM7932/97-8 (both from the 97a Squadriglia). The Caproni Ca.133 (MM6053) from the 73a Squadriglia was also damaged.

Maggiore Larsimont's command over the 9o Gruppo was taken over by Capitano Luigi Mariotti.

He was posthumously decorated with the Medaglia d'oro al valor militare.
During his career he had also been decorated with four Medaglie d'argento al valor militare.

At the time of his death, Larsimont was credited with 5 biplane victories and a total of 7.

Claims:

| | | | | | | | | | |
| --- | --- | --- | --- | --- | --- | --- | --- | --- | --- |
| Kill no. | Date | Time | Number | Type | Result | Plane type | Serial no. | Locality | Unit |
| | 1937 | | | | | | | | |
| 1 | ??/??/3? | | 1 | Enemy aircraft | Destroyed | Fiat CR.32 | | Spain | XXIII Gruppo |
| 2 | ??/??/3? | | 1 | Enemy aircraft | Destroyed | Fiat CR.32 | | Spain | XXIII Gruppo |
| 3 | ??/??/3? | | 1 | Enemy aircraft | Destroyed | Fiat CR.32 | | Spain | XXIII Gruppo |
| 4 | ??/??/3? | | 1 | Enemy aircraft | Destroyed | Fiat CR.32 | | Spain | XXIII Gruppo |
| | 12/10/37 | 10:30- | 1/? | Enemy fighter | Shared destroyed | Fiat CR.32 | | Villafranca-Fuentes del Ebro | 20a Squadriglia |
| | 1940 | | | | | | | | |
| | 04/08/40 | 16:50- | 1/2 | Blenheim (a) | Shared damaged | Fiat CR.42 | | Ridotta Capuzzo area | 97a Squadriglia |
| | 04/08/40 | 16:50- | 1/2 | Blenheim (a) | Shared damaged | Fiat CR.42 | | Ridotta Capuzzo area | 97a Squadriglia |
| | 04/08/40 | | 16:50- | 1/2 | Shared damaged | Fiat CR.42 | | Ridotta Capuzzo area | 97a Squadriglia |
| | 27/09/40 | | 1/3 | Blenheim (b) | Shared destroyed | Fiat CR.42 | | El Garn ul Grein area | 97a Squadriglia |
| | 20/11/40 | 14:40-16:30 | 1/12 | Gladiator (c) | Shared destroyed | Fiat CR.42 | | Sidi Barrani area | 97a Squadriglia |
| | 20/11/40 | 14:40-16:30 | 1/12 | Hurricane (c) | Shared destroyed | Fiat CR.42 | | Sidi Barrani area | 97a Squadriglia |
| | 20/11/40 | 14:40-16:30 | 1/12 | Hurricane (c) | Shared destroyed | Fiat CR.42 | | Sidi Barrani area | 97a Squadriglia |
| | 20/11/40 | 14:40-16:30 | 1/12 | Enemy fighter (c) | Shared damaged | Fiat CR.42 | | Sidi Barrani area | 97a Squadriglia |
| | 20/11/40 | 14:40-16:30 | 1/12 | Enemy fighter (c) | Shared damaged | Fiat CR.42 | | Sidi Barrani area | 97a Squadriglia |
| | 20/11/40 | 14:40-16:30 | 1/12 | Enemy fighter (c) | Shared damaged | Fiat CR.42 | | Sidi Barrani area | 97a Squadriglia |
| | 20/11/40 | 14:40-16:30 | 1/12 | Enemy fighter (c) | Shared damaged | Fiat CR.42 | | Sidi Barrani area | 97a Squadriglia |
| 5 | 13/12/40 | 08:45- | 1 | Gladiator (d) | Destroyed | Fiat CR.42 | | Sidi Omar - Sollum | 9o Gruppo |
| | 1941 | | | | | | | | |
| | 22/10/41 | | 1 | Hurricane (e) | Probable | MC.202 | | St. Paul's Island | 9o Gruppo |
| 6 | 25/10/41 | | 1 | 'Spitfire' (f) | Destroyed | MC.202 | | Grand Harbour area | 9o Gruppo |
| 7 | 21/11/41 | | 1 | Hurricane (g) | Destroyed | MC.202 | | off Malta | 9o Gruppo |
| | 01/12/41 | 11:35-13:20 | 1 | Hurricane (h) | Probably destroyed | MC.202 | | Bir el Gobi area | 9o Gruppo |
| | 1942 | | | | | | | | |
| | 09/05/42 | | 1 | Spitfire (i) | Damaged | MC.202 | | Malta area | 9o Gruppo |
| | 26/06/42 | 07:55- | 1 | P-40 (j) | Probably destroyed | MC.202 (k) | | W Mersa Matruh | 9o Gruppo |
Biplane victories: 5 and 5 shared destroyed, 7 shared damaged.
TOTAL: 7 and 5 shared destroyed, 2 probably destroyed, 1 and 7 shared damaged.
(a) Claimed in combat with bombers probably from 55 and 211 and/or 113 Squadrons and probably Gladiators from 112 Squadron. One Blenheim from 211 Squadron seems to have force-landed and was lost in this combat. None of other RAF units reported any losses or claims. The Italian fighters from the 9o and 10o Gruppi totally claimed 3 Blenheims and 2 and 2 probable Gladiators.
(b) Blenheim Mk.I L8394 from 55 Squadron shot down and the crew KIA.
(c) Claimed in combat with Hurricanes from 33 and 274 Squadrons and Gladiators from 112 Squadron. 9o Gruppo claimed seven victories and two probables while losing three CR.42s, getting four more damaged and losing two pilots KIA. 112 Squadron claimed eight victories for no losses, 274 Squadron possibly suffered one damaged Hurricane while 33 Squadron possibly claimed a CR.42 without losses.
(d) Claimed in collision with Gladiator from 3 RAAF Squadron, which claimed one S.79 and one probable and two CR.42s for the loss of four Gladiators destroyed and one force-landed. The 9o Gruppo claimed six Gladiators and three probables for four Fiats damaged (one of them was lost). The S.79s from the 60a Squadriglia claimed two Gladiators without losses (the CO was however killed).
(e) Claimed in combat with Hurricanes from 249 Squadron. 73a Squadriglia claimed 6 destroyed and 2 probables while 249 Squadron lost 1 aircraft and got a second damaged.
(f) Claimed in combat with Hurricanes from 185 Squadron, which claimed one probable bomber and one MC.202 while losing one Hurricane (Sgt. E. Knight KIA). 9o Gruppo claimed four enemy fighters while losing one aircraft.
(g) Claimed in combat with four Hurricanes from 185 Squadron. 9o Gruppo claimed five Hurricanes and two probable without losses. 185 Squadron lost one Hurricane (Flight Sergeant Cousens killed) but didn't claim any opponents.
(h) 274 Squadron claimed 3 destroyed, 1 probable and 2 damaged for the loss of four Hurricanes (1 pilot MIA). Axis fighters claimed 11 destroyed, 5 probables and 1 damaged in this combat while getting 2 MC.202s damaged.
(i) Claimed in combat with Spitfires from 126 Squadron which claimed three Z.1007s, one and one damaged MC.202 without losses. The 4o Stormo claimed three Spitfires and one damaged while getting one MC.202 damaged. One Z.1007 from the 210a Squadriglia B.T. was also damaged.
(j) Claimed in combat with Kittyhawks from 3 RAAF, 250 and 450 Squadrons, which claimed 1 fighter and 1 probable while suffering 1 damaged. The 9o Gruppo claimed 2 P-40s and 3 probables without losses.
(k) Aircraft from the 97a Squadriglia.

Sources:
3o Stormo, storia fotografica - Dai biplani agli aviogetti - Carlo Lucchini and Leproni Enrico, 1990 Gino Rossato Editore
9o Stormo da Bombardamento Terrestre (1934-1943) - Giovanni Tonicchi, 1997, Tarquinia kindly provided by Stefano Lazzaro
33 Squadron Operations Record Book
53o Stormo - Marco Mattioli, 2010 Osprey Publishing, Oxford, ISBN 978-1-84603-977-5
A History of the Mediterranean Air War 1940-1945: Volume One – Christopher Shores and Giovanni Massimello with Russell Guest, 2012 Grub Street, London, ISBN 978-1908117076
A History of the Mediterranean Air War 1940-1945: Volume Two – Christopher Shores and Giovanni Massimello with Russell Guest, Frank Olynyk & Winfried Bock, 2012 Grub Street, London, ISBN-13: 9781909166127
Ali in Spagna - Giuseppe Federico Ghergo and Angelo Emiliani, kindly provided by Ludovico Slongo
Ali nella tragedia - Giulio Lazzati, 1970 Mursia, Milan, ISBN 88-425-2132-9, kindly provided by Stefano Lazzaro
Assi Italiani Della Caccia 1936-1945 - Giovanni Massimello, 1999 Aerofan no. 69 apr.-giu. 1999, Giorgio Apostolo Editore, Milan
Aviatori Italiani - Franco Pagliano, 1964 Longanesi Milano, kindly provided by Ludovico Slongo
Aviobrigada X - Alfredo Lagoluso, 2001 no. 97, 98 and 99 of Storia Militare (October-December 2001), kindly provided by Ludovico Slongo
Buscaglia e gli Aerosiluranti - Orazio Giuffrida, 1994 Ufficio Storico Aeronautica Militare, Rome kindly provided by Stefano Lazzaro
Dai Biplani agli Aviogetti - Carlo Lucchini and Enrico Leproni, 1990 Gino Rossato Editore, Valdagno kindly provided by Stefano Lazzaro
Desert Prelude: Early clashes June-November 1940 - Håkan Gustavsson and Ludovico Slongo, 2010 MMP books, ISBN 978-83-89450-52-4
Diario Storico 73a Squadriglia kindly provided by Ludovico Slongo
Diario Storico 97a Squadriglia kindly provided by Ludovico Slongo
Fiat CR.32 Aces of the Spanish Civil War - Alfredo Logoluso, 2010 Osprey Publishing, Oxford, ISBN 978-1-84603-983-6
Eagles over Gazala: Air Battles in North Africa May-June 1942 – Michele Palermo, IBN Editore, ISBN (10) 88-7565-168-X
Fighters over the Desert - Christopher Shores and Hans Ring, 1969 Neville Spearman Limited, London
Guerra di Spagna e Aviazione Italiana - Ferdinando Pedriali, 1992 USSMA, Rome, kindly provided by Stefano Lazzaro
Hurricanes over Malta - Brian Cull and Frederick Galea, 2001 Grub Street, London, ISBN 1-902304-91-8
Hurricanes over the sands: Part One - Michel Lavigne and James F. Edwards, 2003 Lavigne Aviation Publications, Victoriaville, ISBN 2-9806879-2-8
Hurricanes over Tobruk - Brian Cull with Don Minterne, 1999 Grub Street, London, ISBN 1-902304-11-X
Il 5o Stormo - Giuseppe Pesce and Nicola Malizia, 1984 STEM Mucchi, Modena kindly provided by Stefano Lazzaro
Il 23o Gruppo Caccia - Nicola Malizia, 1974 Bizzarri, Roma kindly provided by Stefano Lazzaro
Il 101o Gruppo Tuffatori - Giuseppe Pesce, 1975 STEM Mucchi, Modena kindly provided by Stefano Lazzaro
Il Caccia Re 2000 e la storia delle "Reggiane" - Sergio Govi, 1983 Giorgio Apostolo Editore, Milan kindly provided by Stefano Lazzaro
Il caccia RE 2001 - Sergio Govi, 1982 Giorgio Apostolo Editore, Milan kindly provided by Stefano Lazzaro
Il Fiat CR 42 l'ultimo biplano da caccia Italiano – Nicola Malizia, 2003 Editrice Innocenti, Grosseto, kindly provided by Ludovico Slongo
Il Walzer del 102o Gruppo - Giuseppe Pesce, 1976 STEM Mucchi, Modena, kindly provided by Stefano Lazzaro
Italian Aces of World War 2 - Giovanni Massimello and Giorgio Apostolo, 2000 Osprey Publishing, Oxford, ISBN 1-84176-078-1
La Battaglie Aeree In Africa Settentrionale: Novembre-Dicembre 1941 – Michele Palermo, IBN, ISBN 88-7565-102-7
La Regia Aeronautica - volume I: Dalla non belligeranza all'intervento – Nino Arena, 1981 USSMA, Rome kindly provided by Stefano Lazzaro
Le giovani aquile – Antonio Trizzino, 1972 Longanesi Milano, kindly provided by Stefano Lazzaro
Malta: The Hurricane Years 1940-41 - Christopher Shores and Brian Cull with Nicola Malizia, 1987 Grub Street, London, ISBN 0-89747-207-1
Messerschmitt Bf 109 - Gregory Alegi and Marco Gueli, 2002 Ali Straniere in Italia no. 1, La Bancarella Aeronautica, Turin, kindly provided by Stefano Lazzaro
National Archives of Australia
Quelli del Cavallino Rampante - Antonio Duma, 1981 Editore Dell'Ateneo, Roma
Storia degli Aerosiluranti Italiani - Carlo Unia, 1974 Edizioni Bizzarri, Rome, kindly provided by Stefano Lazzaro
Stormi d'Italia - Giulio Lazzati, 1975 Mursia, Milan kindly provided by Stefano Lazzaro
The Bristol Blenheim: A complete history – Graham Warner, 2002 Crécy Publishing Limited, Manchester, ISBN 0-947554-92-0
The Commonwealth War Graves Commission
The Messerschmitt 109 in Italian service 1943-1945 - Ferdinando D'Amico and Gabriele Valentini, 1989 Monogram Aviation Publication, Boylston, ISBN 0-914144-30-8, kindly provided by Stefano Lazzaro
Wings Over Spain - Emiliani Ghergo, 1997 Giorgio Apostolo Editore, Milano
Additional information kindly provided by Ian Acworth, Russell Guest, Stefano Lazzaro, Ondrej Repka and Ludovico Slongo.




Last modified 17 September 2020