Biplane fighter aces

Soviet Union

Leonid Grigorievich Rybkin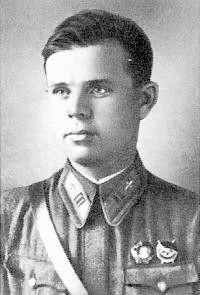 4 April 1912 – 28 September 1992
Rybkin was born on 4 April 1912 in Krasnodar.
He joined the Red Army in 1933 and graduated from the pilot's school in Lugansk in 1934.
From December 1934, he served in 119 IAE, 95 IAB.
Rybkin served as a volunteer during the Spanish Civil War.
During the spring of 1937, the second group of Soviet volunteers was sent to Spain. The group was led by Kapitan Ivan Yeremenko and included Leitenant Mikhail Yakushin ('Carlos Castejón'), Rybkin, Mikhail Petrov, Sergei Shalyganov and Ivan Karpov.
They travelled through France with Dutch passports - they didn't speak either foreign language fluently! Not without adventures the Soviet fliers arrived at their destination on 31 May 1937.
Arriving with them where Spanish Republican pilots who had been undergoing fighter training at the Soviet flight school near Kirovabad.
At the same time as this second group of Soviet volunteers arrived, another batch of 31 Chatos arrived from the Soviet Union, taking the total number supplied to the Republicans to 116. These new fighters greatly enhanced the strength of the I-15 Grupo.
After arrival, an escuadrilla of I-16 fighters, designated 1a Escuadrilla of Grupo de Caza No 21 (1a/21), was organized under the command of Kapitan Ivan Yeremenko while Andrés García La Calle was to undergo further training in the Soviet Union. Initially this unit performed defensive duties from Cartagena and Elche to Alicante, protecting Republican warships and cargo vessels from insurgent air raids. Following the redeployment of the I-16s to the north, and the poor quality of the latest batch of I-16s to reach Spain and during a period of forced inaction in June 1937, half of the group was sent to Los Alcazares airfield, where it was re-equipped with the new I-15s. The new escuadrilla was later designated 1a/26 and commanded by Kapitan Ivan Yeremenko.
The Russian pilots in this escuadrilla included Yevgeniy Antonov, Ivan Karpov, Georgii Masterov, Mikhail Petrov, Leonid Rybkin, Anatoly Serov, Nikolai Sobolev, Sergei Shalyganov and Mikhail Yakushin. The 1a/26 was completed by pilots of different origin; three Spanish, two Austrian, two Americans (one of them was Harold Dahl) and the Yugoslav Bozidar Petrovich. It is also known that Leitenant Rybkin served as a Patrulla leader and Harold Dahl was part of this Patrulla. Another Patrulla leader was Yevgeniy Antonov.
The escuadrilla, was based at El Soto, had already become operational two days after the Brunete campaign began and where aviation played considerable role. The insurgents increased their presence in the air battles by using German and Italian units armed with the newest aircraft. Nevertheless, Soviet fliers gained considerable success there, claiming numerous enemy aircraft shot down.
On 6 July, Leitenant Viktor Kuznetsov and Rybkin from 1a/26 claimed a shared Do 17 in the Madrid area.
In the early morning on 7 July, Kapitan Ivan Yeremenko was ordered to take off at 07:00 with his escuadrilla (1a/26) and fly towards Madrid to join with Lakeyev's Escuadrilla (1a/21) in the air. Meanwhile the escuadrilla of Aleksandr Minayev (3a/21) was flying over the front line. The antiaircraft defence opened fire upon the Republican fighters over the Delicias railroad station. Fiat CR.32s appeared from the Princess Bridge side. Dogfights began over the Delicias railroad station, Andalusia Bridge, and Tobacco Manufacture. A group of Ju 52/3ms and Do 17s appeared from the western side and Minayev's escuadrilla flew to intercept the bombers but Fiats attacked the I-15s and dispersed them.
Sargento José Redondo Martín, the Spanish pilot of one of the I-15s, was wounded and Leitenant Rybkin shielded him, but both were forced to fight nine Fiats. One Fiat collided with another and was set on fire; it was in fact credited to Rybkin. Rybkin and Redondo joined with M. Petrov and I. Karpov whom had flown to help. At that moment Leitenant Mikhail Yakushin, Kapitan Yeremenko, and Starshii Leitenant Anatoly Serov of the 1a Escuadrilla attacked the leading group of Fiats from above. One Fiat was shot down and the pilot bailed out (claimed as a shared between Yakushin, Yeremenko, and Serov). Pilots of I-15s and I-16s had seen four Bf 109s in the area, but they did not attack the Republican fighter.
The I-15 of the Austrian Walter Koraus was attacked by a Fiat and was shot down. Yakushin immediately attacked this Fiat and destroyed it in the air.
Starshii Leitenant Serov claimed two more CR.32 during this day while Bozidar Petrovich claimed a CR.32 in the Madrid-Brunete area.
It seems that three I-15s from the 1a/26 were lost, with Karpov killed, Shalhiganov wounded and Austrian Walter Koraus surviving unscathed. Flight leader Serov and his wingman Yakushin managed to nurse their badly damaged biplanes back to base. Nikolai Aleksandrovich D'yakonov, who was leading an I-16 flight, suffered serious wounds in combat possibly from Capitano Degli Incerti's gunfire, and he died later that day after landing in Republican territory.
The Aviazione Legionaria reported that during the morning between Madrid and Brunete, 14 CR.32s of 19a and 20a Squadriglie, led by Maggiore Andrea Zotti (CO XXIII Gruppo), encountered nine I-15s and eight I-16s that were escorting nine R-Zs. The Republican aircraft were joined by other flights from a formation of 20 I-16s as they flew over Madrid. Italian pilots were credited with shooting down seven 'Curtiss fighters' during the clash, one of which was claimed by Maggiore Zotti. Three 'Ratas' were also destroyed, one of which was credited to Capitano Enrico Degli Incerti (CO 19a Squadriglia), while Sergente Maggiore Alfonso Mattei downed an R-Z but was then forced to take to his parachute after his CR.32 was hit by return fire from the R-Z. He landed in Nationalist territory near Pozuelo de Alarcón.
After claiming his I-15, Zotti shared the destruction of a second I-15 with his two wingmen. Ten minutes later, however, his CR.32 was shot up by an I-16, the Italian being wounded in the thigh. His engine was also hit, and as it began to overheat Zotti was forced to land at nearby Griñon airfield. Sergente Maggiore Gino Passeri (19a Squadriglia) protected his CO until he was safely down, only to then be bounced by another I-16 upon re-joining the battle and killed. Sergente Giuseppe Ruzzin (19a Squadriglia) (CR.32 "3-12" no. 435) claimed an I-15 ("Curtiss") but was then attacked by an I-16. He was saved by his leader Capitano Degli Incerti, who damaged the Rata, which quickly broke off. Sergente Giuseppe Mottet (20a Squadriglia) claimed an I-15.
Totally after this confusing and slightly contradicting battle it seems that the Republican pilots at least claimed six CR.32s while losing three I-15s and getting several damaged. The Aviazione Legionaria claimed seven I-15s, three I-16s and one R-Z for the loss of two CR.32s.
It seems that Republican I-16s also took part in this combat but no claims nor losses has been found.
The Republican squadrons were effective in defending the airspace above Madrid by day, but the enemy exploited the night to bomb the city. Faced with this situation Starshiy Leytenant Anatoly Serov and Leytenant Mikhail Yakushin of the 1a Escuadrilla, both experienced night pilots in their own country, having obtained authorization from the high command, set about organizing a night fighter group comprising of Viktor Kuznetsov (CO), Serov, Rybkin, Yakushin and Vladimir Sorokin. The unit was known as the Patrulla de Noche.
It was no easy task, given that the airfields did not have the necessary infrastructure for night operations (beacons, searchlights, etc). They set up some car headlights and lit bonfires along the runway, which the ground personnel covered over at the first sign of enemy presence, and training began at Alcalá de Henares, whose airfield was the most suitable.
In the morning on 12 July, Bozidar Petrovich claimed a shared He 111 with Rybkin and Sardina in the Madrid area.
He left Spain on 18 October 1937.
Rybkin ended the Spanish Civil war with 1 and 2 shared biplane victories.
He was decorated with the Order of the Red Banner on 28 October 1937.
On 2 March 1938, he was decorated with the Order of Lenin.
According to some sources, he also fought in China. He made no claims and was recalled in May 1938 to become Air Commander ODVA. He then took part in the Soviet-Finnish Winter War of 1939-1940.
Just before the German invasion of the Soviet Union on 22 June 1941, he became commander of 34 IAP.
He was decorated with a second Order of the Red Banner on 28 October 1941.
From 26 November 1941 until 29 April 1942, he commanded 148 IAD PVO and in 1943 was head of 105 IAD PVO.
On 14 February 1943, he was decorated with the Order of the Patriotic War, 1st Class.
In July 1943, this was included into 10 Rostovckii IAK PVO and in September 1944, he became CO of 10 IAK.
Rybkin ended the war with 1 biplane victory and a total of 2.
During his career, he was also decorated with the Order of Kutuzov 2nd Class.
Rybkin continued to serve in the air force after the war.
He retired in October 1959.
Rybkin passed away on 28 September 1992. At the time of his death, he was living in Moscow.
Claims:

| | | | | | | | | | |
| --- | --- | --- | --- | --- | --- | --- | --- | --- | --- |
| Kill no. | Date | Time | Number | Type | Result | Plane type | Serial no. | Locality | Unit |
| | 1937 | | | | | | | | |
| | 06/07/37 | | 1/2 | Do 17 | Shared destroyed | I-15 | | Madrid area | 1a/26 |
| 1 (a) | 07/07/37 | 07:00- | 1 | Fiat CR.32 (b) | Destroyed | I-15 | | near Madrid | 1a/26 |
| | 12/07/37 | morning | 1/3 | He 111 | Shared destroyed | I-15 | | Madrid area | 1a/26 |
| | 1941 | | | | | | | | |
| | 07/10/41 | | 1/? | Ju 88 | Shared destroyed | MiG-3 | | Moscow | 34 IAP |
| 2 | 20/10/41 | | 1 | Ju 88 | Destroyed | MiG-3 | | Aprelevka | 34 IAP |
Biplane victories: 1 and 2 shared destroyed.
TOTAL: 2 and 2 shared destroyed.
(a) It is known that Rybkin claimed one CR32 in Spain as a personal victory and it's possible that he was credited with one of the colliding CR.32s.
(b) In this confusing battle it seems that the Republican pilots at least claimed 6 CR.32s while losing 3 I-15s and getting several damaged. The Aviazione Legionaria claimed 7 I-15s, 3 I-16s and 1 R-Z for the loss of 2 CR.32s.

Sources:
Air War over Spain - Jesus Salas Larrazabal, 1974 Ian Allan Ltd, Shepperton, Surrey, ISBN 0-7110-0521-4
Fiat CR.32 Aces of the Spanish Civil War - Alfredo Logoluso, 2010 Osprey Publishing, Oxford, ISBN 978-1-84603-983-6
Polikarpov I-15, I-16 and I-153 Aces - Mikhail Maslov, 2010 Osprey Publishing, Oxford, ISBN 978-1-84603-981-2
Russian Fighter Aces of 1914-1953 years
Soviet airmen in the Spanish civil war 1936-1939 - Paul Whelan, 2014 Schiffer Publishing Ltd, ISBN 978-0-7643-0
Spanish Republican Aces – Rafael A. Permuy López, 2012 Osprey Publishing, Oxford, ISBN 978-1-84908-668-4
Additional information kindly provided by Alfredo Logoluso.




Last modified 13 October 2020