Biplane fighter aces

Yugoslavia

Bozidar Bosko Petrovich
7 April 1911 – 12 July 1937


Image kindly provided by Branko Krnic.

Bozidar Petrovich was born near Bela Palanka, in East Serbia near the Bulgarian border, on 7 April 1911.
After local schools, he entered the University at Belgrade as a student in Law.
When in Belgrade he became also an appreciated football player and entered the National team of this sport. In the same time, he joined the Communist Party.
Instead of working as a lawyer, after his University graduation he enrolled in Yugoslav Air Force and was sent to Novi Sad as a cadet in the 16th class at the pilots' school of the 1st Air Regiment. He graduated as a pilot in April 1936 with the pilot's badge number 1103.
After graduation he flew several different types of aircraft of French design, the Avia BH-33 and the Hawker Fury.
After beginning of the Spanish Civil War in Spain, he decided to join the Republican Air Force as a volunteer, and supported by a Communist organization which gave him a fake passport under the Spanish name of "Fernandez Garcia", he arrived in Republican Spain with his Serbian friend Sreten Dudich on 25 December 1936.
Both were sent to the air school of Albacete in Murcia where they had a new training course of 26 days. After this they were assigned to the Grupo Andre Malraux equipped with Breguet 19s operating in the coastal defence from the base of Valencia-Manises, but on 14 February 1937 they suffered a flying accident in which Dudich, as observer in the Breguet 19, was killed and Petrovich, who was the pilot, wounded in the knee.
After a short time in hospital, in March 1937 Petrovich was assigned to the 2. Escuadrilla of Grupo 12, equipped with modern soviet bombers SB, where he performed several sorties as a bomber pilot. Anyway, he wanted to serve in a fighter unit, asking this to the Commander of Republican Air Force Hidalgo de Cisneros, who authorized him to be sent to Cartagena - El Carmolí' flying school, where he was trained on the Soviet biplane fighter I-15 until end May 1937.
During the spring of 1937, the second group of Soviet volunteers was sent to Spain. The group was led by kapitan Ivan Yeremenko and included leytenant Mikhail Yakushin ('Carlos Castejón'), Leonid Rybkin, Mikhail Petrov, Sergei Shalyganov and Ivan Karpov.
They travelled through France with Dutch passports - they didn't speak either foreign language fluently! Not without adventures the Soviet fliers arrived at their destination on 31 May 1937.
Arriving with them where Spanish Republican pilots who had been undergoing fighter training at the Soviet flight school near Kirovabad.
At the same time as this second group of Soviet volunteers arrived, another batch of 31 Chatos arrived from the Soviet Union, taking the total number supplied to the Republicans to 116. These new fighters greatly enhanced the strength of the I-15 Grupo.
After arrival, an escuadrilla of I-16 fighters, designated 1a Escuadrilla of Grupo de Caza No 21 (1a/21), was organized under the command of kapitan Ivan Yeremenko while Andrés García La Calle was to undergo further training in the Soviet Union. Initially this unit performed defensive duties from Cartagena and Elche to Alicante, protecting Republican warships and cargo vessels from insurgent air raids. Following the redeployment of the I-16s to the north, and the poor quality of the latest batch of I-16s to reach Spain and during a period of forced inaction in June 1937, half of the group was sent to Los Alcazares airfield, where it was re-equipped with the new I-15s. The new escuadrilla was later designated 1a/26 and commanded by kapitan Ivan Yeremenko.
The Russian pilots in this escuadrilla included Yevgeniy Antonov, Ivan Karpov, Georgii Masterov, Mikhail Petrov, Leonid Rybkin, Anatoly Serov, Nikolai Sobolev, Sergei Shalyganov and Mikhail Yakushin. The 1a/26 was completed by pilots of different origin; three Spanish, two Austrian, two Americans (one of them was Harold Dahl) and Petrovich. It is also known that leytenant Leonid Rybkin served as a Patrulla leader and Harold Dahl was part of this Patrulla. Another Patrulla leader was Yevgeniy Antonov.
The escuadrilla, was based at El Soto, had already become operational two days after the Brunete campaign began and where aviation played considerable role. The insurgents increased their presence in the air battles by using German and Italian units armed with the newest aircraft. Nevertheless, Soviet fliers gained considerable success there, claiming numerous enemy aircraft shot down.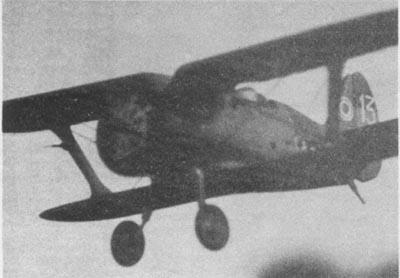 Petrovich's I-15.
Image kindly provided by Branko Krnic.

He made his first claim when he claimed a CR.32 (mistakenly identified as a He 51) on 2 June 1937 in the Sierra de Guadarrama area.
In July his squadron operated from Campo Soto airfield near Algete over the Madrid-Brunete front.
In the morning of 6 July, a German Do 17 was claimed shot down near Madrid by the escuadrilla leader kapitan Ivan Yeremenko together with his wingman Petrovich of the 1a Escuadrilla.
The Nationalists side does not admit this loss.
In the evening on the same day, Petrovich claimed a CR.32 in the Madrid-Brunete area while starshiy leytenant Anatoly Serov and leytenant Mikhail Yakushin of the 1a Escuadrilla claimed a shared Fiat CR.32.
In the early morning on 7 July, kapitan Ivan Yeremenko was ordered to take off at 07:00 with his escuadrilla (1a/26) and fly towards Madrid to join with Lakeyev's Escuadrilla (1a/21) in the air. Meanwhile the escuadrilla of Aleksandr Minayev (3a/21) was flying over the front line. The antiaircraft defence opened fire upon the Republican fighters over the Delicias railroad station. Fiat CR.32s appeared from the Princess Bridge side. Dogfights began over the Delicias railroad station, Andalusia Bridge, and Tobacco Manufacture. A group of Ju 52/3ms and Do 17s appeared from the western side and Minayev's escuadrilla flew to intercept the bombers but Fiats attacked the I-15s and dispersed them.
Sargento José Redondo Martín, the Spanish pilot of one of the I-15s, was wounded and leytenant Leonid Rybkin shielded him, but both were forced to fight nine Fiats. One Fiat collided with another and was set on fire; it was in fact credited to Rybkin. Rybkin and Redondo joined with M. Petrov and I. Karpov whom had flown to help. At that moment leytenant Mikhail Yakushin, kapitan Yeremenko, and starshiy leytenant Anatoly Serov of the 1a Escuadrilla attacked the leading group of Fiats from above. One Fiat was shot down and the pilot bailed out (claimed as a shared between Yakushin, Yeremenko, and Serov). Pilots of I-15s and I-16s had seen four Bf 109s in the area, but they did not attack the Republican fighter.
The I-15 of the Austrian Walter Koraus was attacked by a Fiat and was shot down. Yakushin immediately attacked this Fiat and destroyed it in the air.
Starshiy leytenant Serov claimed two more CR.32 during this day while Petrovich claimed a CR.32 in the Madrid-Brunete area.
It seems that three I-15s from the 1a/26 were lost, with Karpov killed, Shalhiganov wounded and Austrian Walter Koraus surviving unscathed. Flight leader Serov and his wingman Yakushin managed to nurse their badly damaged biplanes back to base. Nikolai Aleksandrovich D'yakonov, who was leading an I-16 flight, suffered serious wounds in combat possibly from Capitano Degli Incerti's gunfire, and he died later that day after landing in Republican territory.
The Aviazione Legionaria reported that during the morning between Madrid and Brunete, 14 CR.32s of 19a and 20a Squadriglie, led by Maggiore Andrea Zotti (CO XXIII Gruppo), encountered nine I-15s and eight I-16s that were escorting nine R-Zs. The Republican aircraft were joined by other flights from a formation of 20 I-16s as they flew over Madrid. Italian pilots were credited with shooting down seven 'Curtiss fighters' during the clash, one of which was claimed by Maggiore Zotti. Three 'Ratas' were also destroyed, one of which was credited to Capitano Enrico Degli Incerti (CO 19a Squadriglia), while Sergente Maggiore Alfonso Mattei downed an R-Z but was then forced to take to his parachute after his CR.32 was hit by return fire from the R-Z. He landed in Nationalist territory near Pozuelo de Alarcón.
After claiming his I-15, Zotti shared the destruction of a second I-15 with his two wingmen. Ten minutes later, however, his CR.32 was shot up by an I-16, the Italian being wounded in the thigh. His engine was also hit, and as it began to overheat Zotti was forced to land at nearby Griñon airfield. Sergente Maggiore Gino Passeri (19a Squadriglia) protected his CO until he was safely down, only to then be bounced by another I-16 upon re-joining the battle and killed. Sergente Giuseppe Ruzzin (19a Squadriglia) (CR.32 "3-12" no. 435) claimed an I-15 ("Curtiss") but was then attacked by an I-16. He was saved by his leader Capitano Degli Incerti, who damaged the Rata, which quickly broke off. Sergente Giuseppe Mottet (20a Squadriglia) claimed an I-15.
Totally after this confusing and slightly contradicting battle it seems that the Republican pilots at least claimed six CR.32s while losing three I-15s and getting several damaged. The Aviazione Legionaria claimed seven I-15s, three I-16s and one R-Z for the loss of two CR.32s.
It seems that Republican I-16s also took part in this combat but no claims nor losses has been found.
On 8 July, one Bf 109 was credited to Petrovich as a shared with the Soviet fighter's senior commander Evgeniy Ptukhin flying one I-16, on the same front.
This claim can't be verified with Nationalist records.
On 9 July he claimed a CR.32 in the Madrid-Brunete area.
In the morning on 12 July, Petrovich claimed a shared He 111 with Leonid Rybkin and Sardina in the Madrid area.
Around 17.00 in the evening, there was a big air combat west of Madrid. During this combat Petrovich of the 1a Escaudrilla saved his leader kapitan Ivan Yeremenko from the dangerous attack of a CR.32, probably piloted by capitán Joaquín García Morato, but the I-15 of the Serbian pilot was seen to crash, maybe out of control or shot down by a CR.32 flown by teniente Miguel García Pardo (2-E-3) (CR.32 NC 596/3-60). Petrovich lost his life in the crash.
Both Yeremenko and Petrovich are credited with one CR.32 each in this combat.
International Brigades, which was involved in the battle at Brunete, went to Campo Soto airfield to visit his brother, only to learn that he has been killed few minutes before. As Bozidar, Dobre asked to enter in the Air Force to take the place of his brother, and this was authorized. He was also trained on the biplane fighter I-15 at Los Alcazares flying school near Cartagena and entered the same 1. Escuadrilla in October 1937, now commanded by new leaders, Anatoly Serov and Yevgeniy Antonov, operating on the Aragon front.
At the time of his death, Petrovich was credited with 5 biplane victories.
Claims:

| | | | | | | | | | |
| --- | --- | --- | --- | --- | --- | --- | --- | --- | --- |
| Kill no. | Date | Time | Number | Type | Result | Plane type | Serial no. | Locality | Unit |
| | 1937 | | | | | | | | |
| 1 | 02/06/37 | | 1 | CR.32 (a) | Destroyed | I-15 | | Sierra de Guadarrama area | 1a/26 |
| | 06/07/37 | morning | 1/2 | Do 17 (b) | Shared destroyed | I-15 | | Madrid-Brunete area | 1a/26 |
| 2 | 06/07/37 | evening | 1 | CR.32 (c) | Destroyed | I-15 | | Madrid-Brunete area | 1a/26 |
| 3 | 07/07/37 | 07:00- | 1 | CR.32 (d) | Destroyed | I-15 | | near Madrid | 1a/26 |
| | 08/07/37 | | 1/2 | Bf 109 (e) | Shared destroyed | I-15 | | Madrid-Brunete area | 1a/26 |
| 4 | 09/07/37 | | 1 | CR.32 | Destroyed | I-15 | | Madrid-Brunete area | 1a/26 |
| | 12/07/37 | morning | 1/3 | He 111 | Shared destroyed | I-15 | | Madrid area | 1a/26 |
| 5 | 12/07/37 | 17:00 | 1 | CR.32 | Destroyed | I-15 | | W Madrid | 1a/26 |
Biplane victories: 5 and 3 shared destroyed.
TOTAL: 5 and 3 shared destroyed.
(a) Mistakenly identified as a He 51. This loss can't be confirmed with Nationalist records.
(b) This loss can't be confirmed with Nationalist records.
(c) Republican fighters claim at least 2 CR.32 during the afternoon in the Brunete area. Only 1 CR.32 was lost, when Sottotenente Vercellio from the 19a Squadriglia was KIA in the afternoon.
(d) In this confusing battle it seems that the Republican pilots at least claimed 6 CR.32s while losing 3 I-15s and getting several damaged. The Aviazione Legionaria claimed 7 I-15s, 3 I-16s and 1 R-Z for the loss of 2 CR.32s.
(e) This loss can't be confirmed with Nationalist records.

Sources:
Air War over Spain - Jesus Salas Larrazabal, 1974 Ian Allan Ltd, Shepperton, Surrey, ISBN 0-7110-0521-4
Arde el Cielo - A. Arias Arias, 1995, A. Delgado Romero, Silla kindly provided by Alfredo Logoluso
Chatos indut v ataku - S. Shingarev, 1971, Moskovskij Rabochij, Moskva kindly provided by Alfredo Logoluso
En la primera batalla contra el fascismo - M. Yakushin, Bajo la bandera de la España Republicana, Editorial Progreso, Moscu' kindly provided by Alfredo Logoluso
Fiat CR.32 Aces of the Spanish Civil War - Alfredo Logoluso, 2010 Osprey Publishing, Oxford, ISBN 978-1-84603-983-6
People And Planes - Predrag Jelic', 2001 Aviation History November 2001 kindly provided by Massimo Cappone
The Legion Condor - Karl Ries and Hans Ring, 1992 Schiffer Publishing, ISBN 0-88740-339-5
Yugoslav Brothers in the Spanish Civil War - M. Zhirorkov and I. Gordelianov, 2000, Small Air Forces Observer Vol. 24 N. 2 (94) July 2000 kindly provided by Alfredo Logoluso
Much additional information kindly provided by Alfredo Logoluso




Last modified 13 August 2021