Biplane fighter aces

Italy

Capitano Enrico Degli Incerti
1909 – 22 July 1938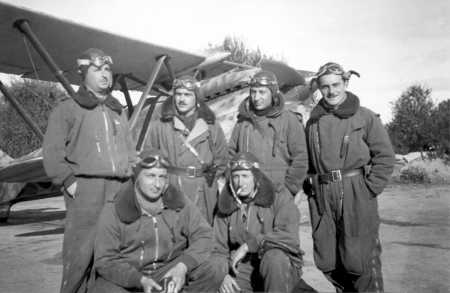 Pilots from the 1a Squadriglia of the Aviazione Legionaria, at Torrijos, Spain, January 1936.
From left: Sergente Sirio Salvadori ('Salvo'), Tenente Degli Incerti ('Tocci '), Oreste Minuto ('Proietti '), Sergente Giuseppe Ruzzin ('Grazzi ')
Front row: Sergente Maggiore Silvio Costigliolo ('Castiglini ') and Sergente Bruno Castellani ('Ribaudo ').
Image kindly provided by Fulvio Chianese at GORIZIA ed il QUARTO STORMO.
Enrico Degli Incerti was born in 1909.
He joined the Regia Aeronautica as a Cadet in 1931, being promoted to Sottotenente in October 1932.
He volunteered for the Spanish Civil War as part of the Aviacion Legonaria and landed in Sevilla in January 1937.
During the Spanish Civil War, he used the nom de guerre "Valentino Tocci".
Between November 1936 and January 1937 an additional 60 Fiat CR.32 arrived in Spain (thus so far making the total 120 CR.32). The bulk of these aircraft departed La Spezia aboard the Aniene in late December and arrived in Seville on 1 January 1937.
Among the fighters supplied were 20 examples of the CR.32bis quadriarmi (four-gun). These machines boasted two 12.7 mm guns fitted above the forward fuselage and synchronised to fire through the propeller arc, as well as a pair of 7.7 mm guns housed within the lower wings. The CR.32bis was also fitted with the improved Fiat A 30 RAbis engine.
Accompanying the aircraft aboard the Aniene were eight engine mechanics, six riggers, eight armourers, three airmen of other categories and 33 fighter pilots. Leading the expedition was Tenente Colonnello Alberto Canaveri ('Franco Signorelli'), who had orders to command the Reggimento or Stormo da Caccia of the Aviazione Legionaria. Other pilots included the squadriglia commanders, Capitani Armando François ('Martori') and Luigi Lodi ('Marcelli'), Tenenti Degli Incerti and Alfiero Mezzetti ('Mariani') and ten Sottotenenti and 18 Sottufficiali.
Aniene delivered 12 more CR.32s during a voyage from La Spezia that ended on 4 February. With this shipment arrived squadriglia commander Capitano Mario Viola ('Viotti') and an additional 11 pilots – five Sottotenenti and six Sottufficiali.
With the arrival of these new fighters there were now sufficient aircraft in-theatre to organise the CR.32 stormo into two gruppi of three squadriglie each. These took the form of the already established I Gruppo (formerly Gruppo Caccia di Torrijos) (CO Maggiore Tarcisio Fagnani) and including the reformed:

1a Squadriglia (CO Tenente Degli Incerti from 15 January)
2a Squadriglia (CO Capitano Guido Nobili)
3a Squadriglia (CO Tenente Corrado Ricci (followed by Capitani Luigi Lodi and Mario Viola)

The newly formed II Gruppo (CO Tenente Colonnello Alberto Canaveri) and including:

4a Squadriglia (CO Capitano Vincenzo Dequal)
5a Squadriglia (CO Capitano Armando François from 19 January)
6a Squadriglia (initially remained in reserve, although it was later commanded by Tenente Antonio Larsimont Pergameni)

On 7 February, he flew his first sortie but didn't encounter any enemy aircraft.
Returning from an escort mission on 13 February in the Arganda area, Tenente Degli Incerti's formation was jumped by enemy fighters. In the ensuing combat Degli Incerti damaged two I-16s, and then suddenly found himself surrounded by three hostile fighters, which hit his CR.32. One I-16 got behind him and every effort from Degli Incerti to shake him off failed. He managed to dodge the bullets until he saw a chance to escape. Suddenly he pulled the stick back into his stomach and the Fiat shot upward. Out of imminent danger, he looked around and noticed a damaged Fiat limping homeward. He flew alongside until the crippled fighter landed on the airfield, then he returned to the combat area but the sky was empty.
In the afternoon on 16 February, 24 CR.32s flew close escort to Ju 52/3ms out to bomb Arganda del Rey. Polikarpov I-15s intercepted them from behind and above. The Republican fighters didn't attack the Nationalist aircraft but over the target three I-15s broke formation and raced towards the bombers. Before the escort could intervene, one Ju 52/3m bomber flown by a Spanish crew was shot down. Banking sharply to the port, Tenente Degli Incerti intercepted the leader of the I-15s and opened fire. This prompt action caused the enemy pilot to discontinue the attack, but as he tried to evade Degli Incerti, he presented an excellent target. Degli Incerti saw his bullets disappearing in the I-15s fuselage and he remained behind it, sending burst after burst into it until it began to burn. He then followed it down until it hit the ground. The shot down I-15 was also as confirmed by observers from the tri-motor formation.
It seems that Sergente Maggiore Silvio Costigliolo claimed a I-16 during the same mission since he claimed one of Russian monoplanes (reported as a 'Boeing') south of Arganda, during an escort mission of Junkers Ju 52/3ms and IMAM Ro.37 bombers.
I-16s from Escuadrilla Tarkhov also took part in this interception when Leitenant Andrei Morozov and Leitenant Petr Khara claimed a CR.32 each and leitenant Sergey Denisov claimed a Ju 52 3/m.
It seems that Frank Tinker of the Escuadrilla La Calle was shot down during this combat.
One Nationalist Ju 52 3/m was lost with its Spanish crew; capitán Jose Calderon Katseli, tenente Francisco Taillefer and sargento Felipe Rojas Gomez were killed while the other two crew members were captured.
In the early morning on 18 February, two Nationalist Ro.37s (flown by Spanish pilots) took off, followed by three Ju 52/3ms escorted by the Spanish Patrulla Azul and the Italian Fiat Group (totally 25 CR.32 including the Spanish). When they arrived over the front at Jarama, the CR.32s turned so that they were patrolling parallel to the front, while a large formation of Polikarpov fighters waited on the other side. When the Ro.37s and Ju 52/3ms were safe and returning, capitán Joaquín García Morato broke formation and, followed by teniente Julio Salvador Díaz-Benjumea and capitán Narciso Bermúdes de Castro, launched himself into Soviet fighters near Arganda. Disregarding recent orders restricting them from engaging superior numbers of enemy aircraft, Italian pilots tenente Corrado Ricci, tenente Degli Incerti, capitano Guido Nobili and Fiacchino went to the assistance of their Spanish comrades by leading their respective flights against the large Republican formation of Polikarpov fighters. Finally, the entire group took part in the battle, fighting a reportedly 21 I-15s and 18 I-16s, and the Italians claimed for four "Curtiss fighters" destroyed and four probables, as well as four Ratas destroyed and one probables. One I-16 and two probable I-15s were claimed by tenente Degli Incerti while sergente maggiore Silvio Costigliolo claimed an I-15 in the Arganda area. Sergente maggiore Guido Presel claimed two I-15s and a probable and sergente maggiore Brunetto di Montegnacco claimed two I-16s. Among the Spaniards, capitán Morato, who returned with damage to his fighter, was credited with an I-15 and another as a probable while teniente Salvador was credited with and I-16 and a second fighter as a probable.
The Italians suffered no losses during this action, and only a solitary pilot was forced to make an emergency landing after he was wounded; the damage to his CR.32 was quickly repaired.
Tenente Degli Incerti described the combat:
"We were on the return leg of an escort mission, and having made sure that our bombers were safe, we had the airfield in sight and prepared to land. It was at that very moment that the three Spanish CR.32 pilots following us, but still flying over enemy territory, decided to take on a large Soviet formation. Although the enemy aircraft were still some distance away, we performed a hasty 180-degree turn at full throttle and joined the fray. All the Italian fighter flights following suit, despite us having orders only to intervene following provocation – our duty was to fight as courageously as possible to the end.
Once we had engaged the enemy, both sides formed a long line of aircraft, and this was turning, banking and circling. The fighters alternated in this single file trail, with two or three "Reds" for every Nationalist. It was as if this formation had been planned. Many tracer rounds flashed through the sky from the aircraft, turning the dogfight into an infernal ballet. Smoke trails of death suddenly appeared, and the long line broke into smaller rows.
The battle threw up numerous small skirmishes that ended inconclusively. Despite being outnumbered, we legionnaires stood together, compact, protecting each other. All of a sudden in the centre of the melee an aircraft caught fire and a parachute opened. The former fell away and crashed to the ground, while the latter floated away to safety. A "Red" had been shot down. Four of his comrades, fearing that we'd shoot at the pilot, circled him for his protection. Two CR.32s engaged them. This turn of events split the battle into two groups, within which fierce fighting continued.
The "Curtiss fighter" section then broke off their attack, unable to defeat our concentrated gunfire. They tried to escape, but this move failed and two of the stubby fighters fell in flames.
Thirty minutes into the battle, thousands of bullets had crossed the sky over Villaconejos. By now the revolving aircraft and chatter of the guns had diminished. The fighting faded slowly away, and within a short time we remained as the sole masters of the sky over the Jarama front."
Reportedly this battle was fought at 11:00 against at least the I-15s of the Escuadrilla La Calle and Escuadrilla José (the Escuadrilla led by Ivan Kopets) and the I-16s from Escuadrilla Kolesnikov (1a/21). The Republican pilots reported meeting six "Junkers" and 50 fighters (other sources states 85 (!) Heinkel He 51s) over the front. Immediately the Escuadrilla went into a tight horizontal circle ("Lufbery circle"). The first enemy aircraft fired randomly at the I-15s as they dived past the Escuadrilla's defensive pattern. Unwillingly to challenge the Republican fighters, the remainder of the Nationalist pilots followed suit, executing a single strafing pass, and then flying lazily below the I-15s in hopes of enticing a few green Republican pilots away of the defensive protection. Ben Leider took the bait and started down after one of the easy-looking targets, only to attract three enemy fighters on his tail. As Frank Tinker peered over his shoulder during the swirling melee of aircraft, he saw Leider's I-15 to shudder as the CR.32s flashed past. Tinker's heart sank as he noticed Leider veer toward friendly territory in a shallow dive. Twice, Leider tried to land his fighter in a small field before slamming into the side of a hill, killing him.
The Escuadrilla leader Andrés García La Calle's version of Leider's end differed markedly from Tinker's perspective. As Leider dived, breaking away from the "Lufbery circle" to attack a "Heinkel" below, an enemy fighter locked on his tail. La Calle pulled behind Leider's pursuer and frightened him away with his machineguns. Repeatedly La Calle then tried to herd Leider's intended victim back away from Nationalist lines so that the American could down the enemy fighter. La Calle wanted Leider to destroy the enemy fighter as a morale boost for the Escuadrilla and to appease Leider's Communist backers. When the Nationalist pilot made a third attempt to cross his lines, La Calle shot him down. Irritated by the turn of events and Leider's seeming inability to shoot down his adversary, the Spanish Commander signalled Leider to head for home. During the flight back to base, Leider flew just behind the Escuadrille leader's wing. Halfway home, La Calle glanced around only to discover that Leider was gone. Having landed he learned that no one knew of the American's whereabouts: his comrades saw him re-join their homebound group and never again. There was no other news until Leider's "Chato" was located.
Evidence from the crash site gave Leider's fellow pilots a clue as to his final seconds on earth. During the dogfight, three rounds penetrated his cockpit, one passing through his leg. Instinctively he loosened his seat belt and harness. As Leider prepared to bale out, he had second thoughts about giving up his I-15, so he decided to attempt to set down his aircraft. His loss of blood caused him to faint at the controls.
Jim Allison and Harold Dahl followed Leider down after the Nationalist fighters. Allison shot down his intended victim before three enemy fighters reached him. Allison's I-15 gave a jerk, then it executed a perfect Immelmann and headed back to base but he was forced to make an emergency landing. Allison had received a serious leg wound during the combat. Dahl prepared to trip his guns on a careless adversary when he noticed the same three enemy fighters flash past. Almost simultaneously, he became aware that his machine was not answering the controls. A glance back revealed that the entire tail of his fighter had been shot away.
The remaining I-15s of the Escuadrilla La Calle maintained the "Lufbery circle" when another Escuadrilla of I-15s appeared piloted by Russian volunteers (probably from Escuadrilla José). Fighting their way through the curtain of enemy fighters, the Soviets joined La Calle's men in the wheel formation until the two Escuadrillas were rescued by a third Escuadrilla of I-16s (probably Escuadrilla Kolesnikov).
Totally, the Republican pilots claimed eight enemy fighters for the loss of six aircraft - three from Escuadrilla La Calle, two from Escuadrilla José and one from Escuadrilla Kolesnikov. Leytenant Petr Ugrovatov from Escuadrilla José parachuted to safety over friendly territory from his stricken I-15 although he was badly burned while leytenant Filipp Zamashanskii, patrol leader of the I-16-equipped Escuadrilla Kolesnikov, was killed trying to crash-land his fighter after it had been shot up. Soviet volunteers claimed six victories, these being claimed by leytenant Ivan Lakeev, Konstantin Dubkov, starshiy leytenant Aleksandr Tarasov, Nikolai Nikitin, leytenant Petr Kuznetsov and one shared between starshiy leytenant Aleksii Minaev and leytenant Petr Khara (all I-16s from Escuadrilla Kolesnikov).
Both Allison and Dahl re-joined their unit the next day.
Allison's leg wound was serious, and he went to the American Hospital in Neuilly, where the doctors saved his leg.
After the battle, Morato thanked tenente Ricci for coming to his aid, as he knew that he owed him his life following the Italian pilots' timely intervention. General Kindelán recommended that Morato be awarded the Cruz Laureada de San Fernando; Spain's highest military honour for bravery while Salvador was proposed for the Military Medal. The Nationalist Government also exploited the success of this fight against the odds to lobby Italy for additional CR.32s.

During the offensive on Guadalajara, the CR.32s of the 1a and 3a Squadriglie moved from Torrijos to Soria, where the S.81s of the Gruppo Marelli and the Ro.37bis were already concentrated. The first to come in to land on 14 March was Tenente Degli Incerti in CR.32 "3-1". During the landing, he turned over the aircraft due to the muddy airfield. Degli Incerti was unharmed and the aircraft was later recovered.

Due to uselessness of Soria airfield, the fighters moved to Burgo de Osma and three weeks later to Sevilla.

They didn't stay long at Sevilla. Salamanca was their next stop then, almost immediately, Alfamen emergency airstrip in the Zaragoza-Terual sector.
The escort sorties continued, sometimes three missions a day, but no aerial opposition was encountered.
Soon they were on the move again. From Torrijos they flew patrols over the Madrid-Toledo front without meeting the enemy in the air.

On 22 April 1937, the Aviazione Legionaria CR.32 units were reorganised and increased in size. I and II Gruppi were disbanded, re-designated and replaced by two Gruppi that each controlled three Squadriglie as before. A third new gruppo the VI, was also formed.
The XVI Gruppo Caccia under the command of Maggiore Giuseppe Casero ('Casetti') included:

24a Squadriglia (formerly 4a Squadriglia, CO Capitano Bruno Brambilla)
25a Squadriglia (formerly 5a Squadriglia, CO Capitano Armando François)
26a Squadriglia (formerly 2a Squadriglia, CO Capitano Mario Viola)
The unit adopted the name Gruppo Cucaracha, which it inherited from the first Tercio CR.32 squadriglia in Spain. Its insignia was a winged Moroccan cockroach (synonymous with a popular song of the period), which was applied to the fuselage sides of the gruppo's aircraft.
The XXIII Gruppo Caccia was formed under the command of Maggiore Andrea Zotti ('Biondi') and included:

18a Squadriglia (formerly 3a Squadriglia, CO Capitano Guido Nobili)
19a Squadriglia (formerly 1a Squadriglia, CO Tenente Degli Incerti)
20a Squadriglia (formerly 6a Squadriglia, CO Capitano Antonio Larsimont Pergameni)
The gruppo was named Asso di Bastoni (ace of clubs) and its CR.32s were adorned with a marking adapted from Neapolitan playing cards showing a weapon used by the squadre d'azione fasciste (fascist action squads).

At the end of May, the Squadriglia was rushed to Olmedo, were a Republican offensive was in progress. Joined by another Squadriglia, several escort and strafing missions were flown between 30 May and 15 June.

On 1 July, Degli Incerti was promoted to Capitano.

When the Republican offensive towards Brunete started on 6 July 1937, the defence of the central front was supported by just the two CR.32 squadriglie present in this area at Torrijos-Barcience; the 19a and 20a Squadriglie from XXIII Gruppo, commanded by Maggiore Andrea Zotti, with squadriglia commanders Degli Incerti and Antonio Larsimont Pergameni.
Capitano Guido Nobili's 18a Squadriglia was transferred in from Soria to reinforce these units, thus completing the makeup of the gruppo. The XXIII Gruppo now had 29 CR.32s available, but only 17 of these remained serviceable following a series of actions on 6-7 July.
Maggiore Giuseppe Casero's XVI Gruppo (24a, 25a and 26a Squadriglie, led by Capitani Bruno Brambilla, Armando François and Mario Viola, respectively, although the latter was recalled to Italy and replaced by Tenente Corrado Ricci on 11 July) arrived at Torrijos-Barcience from Ávila three days later, as did six CR.32s from capitan Morato's Grupo 2-G-3.

On 6 July, the 19a and 20a Squadriglie participated in four separate aerial battles near Brunete, engaging Republican formations twice in the morning and twice in the afternoon.
Three light bombers, one 'Martin bomber', seven 'Curtiss fighters' and five 'Ratas' were claimed, but Sottotenente Vercellio from the 19a Squadriglia was killed during the third encounter. Sergente Giuseppe Mottet (20a Squadriglia) claimed one of the I-15s. One of the I-16s destroyed was credited to Maggiore Andrea Zotti (CO XXIII Gruppo) as his first victory, its pilot taking to his parachute over the battlefield at Villanueva de la Cañada. Another 'Rata' downed minutes later was credited to Capitano Degli Incerti (CO 19a Squadriglia), who subsequently recalled:
"Each one of us chose his quarry and the melee began. Our guns splendidly spat out a barrage, and our adversaries replied in kind. It was a matter of life or death. I pounced on a Rata and shot at it. It appeared that I had scored a direct hit. I kept following him until I thought that he was clearly falling away. However, as I broke off my chase he zigzagged, dropped a little further and then climbed. He attempted to turn onto my tail, so I quickly hit him again. He pulled up abruptly after diving down a few hundred feet, so I fired at him once more. It looked to me as if the bullets had found their mark – the tracers clearly indicated that I was aiming correctly – but the Rata pilot continued to defend himself.
I persevered with my foe, despite now feeling that I was possibly coming under attack. I looked over my shoulder and spotted three enemy aeroplanes, still at a distance, heading in my direction with their guns blazing. Moments later my prey finally fell headlong into a thickly wooded area. Staying with him had made me lose precious height, and as I looked up I could see that the fighting was still continuing above me.
I climbed back up into the battle at full throttle, and saw a "Red" aeroplane chasing a Fiat. Turning tightly, I managed to get in behind the pursuing fighter. He then tried to disengage, but I made the most of my superior position and fired several long bursts at him. I succeeded in forcing him to take flight. Other enemy survivors duly abandoned the fight, and we reformed on our leader after he waggled his wings. We all landed with visible scars of battle on our aircraft."
The pilot that had been shot down by Capitano Degli Incerti was almost certainly Leitenant Aleksey Sergeyevich Trusov, who had been in Spain for just a matter of weeks.
A third I-16 was claimed over Villanueva de la Cañada by Tenente Bruno Trevisan (19a Squadriglia). This was probably Leitenant Grigorii Nikolaevich Khozyainov of 2a/21, who force-landed his damaged I-16 (#35) in Nationalist territory and was taken prisoner (according to some sources Khozyainov was shot down on 8 July). Khozyainov was released and returned home on 7 February 1939.

In the early morning on 7 July, Kapitan Ivan Yeremenko was ordered to take off at 07:00 with his escuadrilla (1a/26) and fly towards Madrid to join with Lakeyev's Escuadrilla (1a/21) in the air. Meanwhile the escuadrilla of Aleksandr Minayev (3a/21) was flying over the front line. The antiaircraft defence opened fire upon the Republican fighters over the Delicias railroad station. Fiat CR.32s appeared from the Princess Bridge side. Dogfights began over the Delicias railroad station, Andalusia Bridge, and Tobacco Manufacture. A group of Ju 52/3ms and Do 17s appeared from the western side and Minayev's escuadrilla flew to intercept the bombers but Fiats attacked the I-15s and dispersed them.
Sargento José Redondo Martín, the Spanish pilot of one of the I-15s, was wounded and Leitenant Leonid Rybkin shielded him, but both were forced to fight nine Fiats. One Fiat collided with another and was set on fire; it was in fact credited to Rybkin. Rybkin and Redondo joined with M. Petrov and I. Karpov whom had flown to help. At that moment Leitenant Mikhail Yakushin, Kapitan Yeremenko, and Starshii Leitenant Anatoly Serov of the 1a Escuadrilla attacked the leading group of Fiats from above. One Fiat was shot down and the pilot bailed out (claimed as a shared between Yakushin, Yeremenko, and Serov). Pilots of I-15s and I-16s had seen four Bf 109s in the area, but they did not attack the Republican fighter.
The I-15 of the Austrian Walter Koraus was attacked by a Fiat and was shot down. Yakushin immediately attacked this Fiat and destroyed it in the air.
Starshii Leitenant Serov claimed two more CR.32 during this day while Bozidar Petrovich claimed a CR.32 in the Madrid-Brunete area.
It seems that three I-15s from the 1a/26 were lost, with Karpov killed, Shalhiganov wounded and Austrian Walter Koraus surviving unscathed. Flight leader Serov and his wingman Yakushin managed to nurse their badly damaged biplanes back to base. Nikolai Aleksandrovich D'yakonov, who was leading an I-16 flight, suffered serious wounds in combat possibly from Capitano Degli Incerti's gunfire, and he died later that day after landing in Republican territory.
The Aviazione Legionaria reported that during the morning between Madrid and Brunete, 14 CR.32s of 19a and 20a Squadriglie, led by Maggiore Andrea Zotti (CO XXIII Gruppo), encountered nine I-15s and eight I-16s that were escorting nine R-Zs. The Republican aircraft were joined by other flights from a formation of 20 I-16s as they flew over Madrid. Italian pilots were credited with shooting down seven 'Curtiss fighters' during the clash, one of which was claimed by Maggiore Zotti. Three 'Ratas' were also destroyed, one of which was credited to Capitano Degli Incerti (CO 19a Squadriglia), while Sergente Maggiore Alfonso Mattei downed an R-Z but was then forced to take to his parachute after his CR.32 was hit by return fire from the R-Z. He landed in Nationalist territory near Pozuelo de Alarcón.
After claiming his I-15, Zotti shared the destruction of a second I-15 with his two wingmen. Ten minutes later, however, his CR.32 was shot up by an I-16, the Italian being wounded in the thigh. His engine was also hit, and as it began to overheat Zotti was forced to land at nearby Griñon airfield. Sergente Maggiore Gino Passeri (19a Squadriglia) protected his CO until he was safely down, only to then be bounced by another I-16 upon re-joining the battle and killed. Sergente Giuseppe Ruzzin (19a Squadriglia) (CR.32 "3-12" no. 435) claimed an I-15 ("Curtiss") but was then attacked by an I-16. He was saved by his leader Capitano Degli Incerti, who damaged the Rata, which quickly broke off. Sergente Giuseppe Mottet (20a Squadriglia) claimed an I-15.
Totally after this confusing and slightly contradicting battle it seems that the Republican pilots at least claimed six CR.32s while losing three I-15s and getting several damaged. The Aviazione Legionaria claimed seven I-15s, three I-16s and one R-Z for the loss of two CR.32s.
It seems that Republican I-16s also took part in this combat but no claims nor losses has been found.

After the end of the battle of Brunete on 26 July, the XXIII Gruppo Caccia was awarded the Medalla Militar Colectiva (Collective Military Medal) by general Franco following its performance during the first few days of the Republican offensive. Two pilots from the unit had lost their lives in combat and three had been wounded, yet the gruppo continued to engage a numerically superior enemy until reinforcements were brought in.

After the Republican offensive in the Aragon started on 24 August, the Nationalists immediately bolstered the aerial defence of the Aragon front by sending XXIII Gruppo Caccia to Saragossa-Sanjurjo. Led by Maggiore Andrea Zotti, the gruppo was comprised of 18a, 19a and 20a Squadriglie, led by Capitani Guido Nobili, Degli Incerti and Antonio Larsimont Pergameni, respectively.
On 25 August these units were joined by the CR.32s of capitán Joaquín García Morato's Grupo 2-G-3 and Maggiore Giuseppe Casero's XVI Gruppo, consisting of 24a, 25a and 26a Squadriglie, led by Capitani Bruno Brambilla and Armando François and Tenente Alfiero Mezzetti (CO from 3 August), respectively.
Finally, Maggiore Eugenio Leotta's VI Gruppo was also transferred from Villarcayo to Alfamèn on 28 August with its 31a and 32a Squadriglie, led by Capitani Luigi Borgogno and Ernesto Botto.
This was virtually all the CR.32s on mainland Spain with both the Spanish CR.32 Grupo and the whole 3o Stormo Caccia dell'Aviazione Legionaria.

In the morning on 26 August, the CR.32s escorted 19 bombers to Villamajor. Close to the bombers was the 20a Squadriglia, while the 18a and 19a Squadriglie stayed above them. The weather was far from ideal and soon a layer of cloud separated the two higher flying Squadriglie from the rest. The minutes slowly ticked away as the formation moved toward the target area. Suddenly the clouds broke and Capitano Degli Incerti noticed a swarm of enemy aircraft below. Followed by his wingmen, he dived through the tattered clouds and found himself in perfect position behind an I-15. Five short bursts and the fighter began to fall. Degli Incerti followed his victim and saw it crashing into the Ebro River.
In order to gain altitude, he pulled the stick back – only to discover five I-15s at 3,000 feet, coming straight for him. His wingmen were nowhere in sight. The Republican leader, as he soon found out, was a very able pilot. He attacked the Italian at once, and while he engaged his adversary, the four other I-15s flew around them and sent bursts toward the CR.32 at close range. Bullets smashed the windscreen, tore into the parachute pack and holed the fuselage, but Degli Incerti's luck held. He threw the Fiat into a steep dive, but his foe clung to him. Bullets broke instruments on the panel and one bullet tore the belt off his waist without wounding him. Degli Incerti didn't even try to aim anymore. He just shot wildly in the direction where a winged shadow appeared. Only three minutes went by, yet they seemed an eternity. Using all the tricks he had ever learned or heard of, he somehow managed to evade the fire of his adversaries. Then suddenly, the Republican leader's tail came into sight. His fighter instinct made him aim and fire, but at the same second, another I-15 sent a burst into the Fiat. There was no pain, but the warmth of blood rolling down his leg made him realize that he was wounded. In desperation, he opened the throttle full, but the crippled machine didn't respond. Glancing back, he saw a thin streak of smoke trailing him. The engine's revolutions dropped from 2900 to 1000 and it seemed a miracle that the CR.32 was still airborne. The I-15s attacked with renewed fury and the Fiat descended more rapidly while the Republican leader closed in for the coup de grace. A hail of bullets hit the aircraft but it continued to fly. Degli Incerti noted with some relief that he had just crossed into Nationalist territory. But the attacks of his pursuers became more determined as they tried to finish him off. The I-15s opened up again and he put the Fiat's nose down. Somehow, he managed to pull the machine out and found himself alone. He smelled smoke then felt the rapidly increasing heat of the burning fuselage. To add to his troubles, the engine suddenly stopped. Luckily, however, the ground was only a few meters below, so he switched the fuel off and landed the fighter. The burning Fiat's tail rose into the air and then luckily fell back to the ground. Paralyzing pain knifed into his wounded leg as he tried to get out of the cockpit. However, the will for survival made his muscles move and set his body into motion out of the burning aircraft.
The 20a Squadriglia lost two pilots when Tenente Gilberto Caselli and Sottotenente Enrico Schievano were shot down over Villamajor and killed (Caselli was shot down wounded and captured but died of his wounds in hospital). Both pilots later received a posthumous Medaglia d'oro al valor militare.
It seems that at least some of the bombers escorted by the 20a Squadriglia were He 46s from 3-G-11 led by the unit's CO commandante José Pérez Pardo, who was shot down and killed together with his observer Salvador Blanco. They had possibly been intercepted by I-15s from 1a/26 led by Kapitan Anatoly Serov and it seems that they claimed three destroyed He 46s, one of them claimed by Kapitan Yevgeniy Antonov.
It also seems that 2a/26 (I-15) took part in this combat and while flying from Alcañiz during the Belchite offensive, sargento Vicente Castillo Monzó claimed one CR.32 over Fuentes de Ebro and a Ro.37 over Caspe.
The CO of the unit, teniente Chindasvinto González García claimed two CR.32s shot down.
Sargento José Redondo Martín was mentioned in dispatches as follows:
"A major air battle over the Aragon front near Saragossa this morning ended in complete success for the Republican air force, which managed to shoot down five enemy aeroplanes - four Fiats and a Romeo - without loss to our escuadrillas. Worthy of mention in this combat is the conduct of a recently graduated sargento, José Redondo, son of the former mayor of Madrid, Cayetano Redondo. In combat with a Fiat, Redondo shot it down, despite numerous machine gun hits to his own aircraft, several of which damaged its port wing. After shooting down the Fiat Redondo flew his aircraft the considerable distance back to his airfield. The groundcrew found it hard to understand how Redondo had managed to make it to their airfield with such damage to his fighter aircraft and a serious leg wound.
The Minister of National Defence congratulated the heroic pilot, and in the presence of all the personnel of the fighter escuadrillas at the airfield, promoted him to teniente. Several captured enemy airmen stated that our offensive in Aragon had occupied a great deal of the aviation forces operating on the Santander fronts. One of the captured airmen, comandante Pérez Pardo, has a serious stomach wound and is in hospital."
After twelve days in hospital, he returned to his unit, which, in the meantime, had transferred to Torrijos.
Then it was once more sent back to the Zaragoza sector.
On 28 September, XXIII Gruppo transferred to Almaluèz, near Belchite.
On 12 October, the Republican Air Force intervened heavily to support International battalions and tanks in an attempt to break through the enemy lines at Fuentes del Ebro.
During the day, the VI Gruppo lost a good part of numerical, considering that part of the 31a Squadriglia had previously been detached to Córdoba. Therefore, immediately the same morning, the Comando dell'Aviazione Legionaria ordered the XXIII Gruppo to transfer to Sanjurio (Zaragoza).
At 10.30, 29 CR.32s led by Maggiore Andrea Zotti, took off from Almaluèz and arrived over Sanjurio around noon. However, before landing, Maggiore Zotti decided to lead his pilots to explore the area between Villafranca and Fuentes del Ebro. Here they spotted four Polikarpov RZ "Natachas" escorted by nine I-16s "Ratas" (above them) and 15 I-15 "Curtiss" (below them). The Italian fighters attacked the Republican aircraft and at the end of the dogfight, that lasted about fifteen minutes, the Italians claimed seven (eleven according to other sources) fighters destroyed for no losses, although several CR.32s were hit and damaged. Combat was very hard for the Italians because their fighters were weighted by pilots' personal luggage. Pilots that scored, either individually or jointly, were Maggiore Zotti (1 I-15), Sergente Giuseppe Mottet (20a Squadriglia) (1 I-16), Sottotenente Giampiero Del Prete, Capitano Antonio Larsimont Pergameni (CO of the 20a Squadriglia), Sergente Francesco Penna, Sottotenente Aldo Felici, Capitano Degli Incerti (CO of the 19a Squadriglia) (1 I-16), Sottotenente Pio Tomaselli (19a Squadriglia), Sottotenente Franco Lucchini (19a Squadriglia), Capitano Guido Nobili (CO of the 18a Squadriglia), Sergente Maggiore Giovanni Carmello, Sergente Carlo Dentis, Sottotenente Giuseppe Enrico Zuffi, Sergente Federico Tassinari (19a Squadriglia), Sergente Maggiore Alfonso Mattei and Sottotenente Bruno Trevisan (19a Squadriglia). It seems that Lucchini's, Tassinari's and Mattei's claims was a shared between these three pilots.
In the afternoon on the same day, Degli Incerti claimed an additional I-16.
On 15 November, Capitano Degli Incerti left as CO of the 19a Squadriglia, which he had commanded since January.
For his service in Spain, he was decorated with the Medaglia d'argento al valor militare three times.
He was replaced by Capitano Ettore Foschini.
In Spain, Degli Incerti was credited with 8 and 5 shared victories and 3 probables.
He was appointed to command the 151a Squadriglia, 6o Stormo C.T. in December 1937.
On 22 July 1938, while doing aerobatics with a formation of Fiat CR.32s at 1,000 feet over Rimini, the propeller of his aircraft developed a defect. Coming down for an emergency landing, the Fiat suddenly rolled right and crashed into the side of a building. Degli Incerti was instantly killed.
He was posthumously decorated with the Medaglia d'oro al valor aeronautico.
At the time of his death, Degli Incerti was credited with 8 biplane victories.
By this time, he had written a book about his experiences in Spain under the pseudonym "Valentino Tocci" (his nom de guerre during the Spanish Civil War), which was published posthumously.
Claims:

| | | | | | | | | | |
| --- | --- | --- | --- | --- | --- | --- | --- | --- | --- |
| Kill no. | Date | Time | Number | Type | Result | Plane type | Serial no. | Locality | Unit |
| | 1937 | | | | | | | | |
| | 13/02/37 | | 1 | I-16 | Damaged | Fiat CR.32 | | Arganda area | 1a Squadriglia |
| | 13/02/37 | | 1 | I-16 | Damaged | Fiat CR.32 | | Arganda area | 1a Squadriglia |
| 1 | 16/02/37 | afternoon | 1 | I-15 | Destroyed | Fiat CR.32 | | Arganda del Rey area | 1a Squadriglia |
| 2 | 18/02/37 | 11:00 | 1 | I-16 (a) | Destroyed | Fiat CR.32 | | Jarama area | 1a Squadriglia |
| | 18/02/37 | 11:00 | 1 | I-15 (a) | Probably destroyed | Fiat CR.32 | | Jarama area | 1a Squadriglia |
| | 18/02/37 | 11:00 | 1 | I-15 (a) | Probably destroyed | Fiat CR.32 | | Jarama area | 1a Squadriglia |
| 3 | 06/07/37 | | 1 | I-16 (b) | Destroyed | Fiat CR.32 | | Villanueva de la Cañada | 19a Squadriglia |
| 4 | 07/07/37 | 07:00- | 1 | I-16 (c) | Destroyed | Fiat CR.32 | | Brunete area | 19a Squadriglia |
| | 07/07/37 | 07:00- | 1 | I-16 (c) | Damaged | Fiat CR.32 | | Brunete area | 19a Squadriglia |
| 6 | 26/08/37 | morning | 1 | I-15 | Destroyed | Fiat CR.32 | | Villamajor area | 19a Squadriglia |
| 7 | 12/10/37 | 10:30- | 1 | I-16 | Destroyed | Fiat CR.32 | | Villafranca-Fuentes del Ebro | 19a Squadriglia |
| 8 | 12/10/37 | afternoon | 1 | I-16 | Destroyed | Fiat CR.32 | | | 19a Squadriglia |
Biplane victories: 8 and 5 shared destroyed, 3 probably destroyed, 3 damaged.
TOTAL: 8 and 5 shared destroyed, 3 probably destroyed, 3 damaged.
(a) The CR.32s claimed 4 and 4 probable I-15s and 4 and 1 probable I-16s shot down with 2 CR.32s damaged. Republican pilots claimed 8 enemy aircraft for the loss of 6 aircraft.
(b) Possibly Leitenant Aleksey Sergeyevich Trusov.
(c) In this confusing battle it seems that the Republican pilots at least claimed 6 CR.32s while losing 3 I-15s and getting several damaged. The Aviazione Legionaria claimed 7 I-15s, 3 I-16s and 1 R-Z for the loss of 2 CR.32s.

Sources:
53o Stormo - Marco Mattioli, 2010 Osprey Publishing, Oxford, ISBN 978-1-84603-977-5
Airmen without a portfolio: U.S. mercenaries in civil war Spain - John Carver Edwards, 2003 Global Book Publisher, ISBN 1-59457-175-9
Air War over Spain - Jesus Salas Larrazabal, 1974 Ian Allan Ltd, Shepperton, Surrey, ISBN 0-7110-0521-4
Ali d'Aquila - Flaminio Pagani, 1999 Genoa kindly provided by Stefano Lazzaro
Ali in Spagna - Giuseppe Federico Ghergo and Angelo Emiliani, kindly provided by Ludovico Slongo
Ali nella tragedia - Giulio Lazzati, 1970 Mursia, Milan, ISBN 88-425-2132-9, kindly provided by Stefano Lazzaro
Assi Italiani Della Caccia 1936-1945 - 1999 Aerofan no. 69 apr.-giu. 1999
Aviatori Italiani - Franco Pagliano, 1964 Longanesi Milano, kindly provided by Ludovico Slongo
Aviobrigada X - Alfredo Lagoluso, 2001 no. 97, 98 and 99 of Storia Militare (October-December 2001), kindly provided by Ludovico Slongo
Fiat CR.32 Aces of the Spanish Civil War - Alfredo Logoluso, 2010 Osprey Publishing, Oxford, ISBN 978-1-84603-983-6
Guerra di Spagna e Aviazione Italiana - Ferdinando Pedriali, 1992 USSMA, Rome, kindly provided by Stefano Lazzaro
Il 23o Gruppo Caccia - Nicola Malizia, 1974 Bizzarri, Roma, kindly provided by Stefano Lazzaro
Le giovani aquile – Antonio Trizzino, 1972 Longanesi Milano, kindly provided by Stefano Lazzaro
Quelli del Cavallino Rampante - Antonio Duma, 1981 Editore Dell'Ateneo, Roma, kindly provided by Stefano Lazzaro
Legionaire Ace – Julius R. Gaal, 1972, Aero Album Volume 5 Number 1 Spring 1972
Några leva än - F. G. Tinker, 1939 T. V. Scheutz Bokförlag AB, Stockholm
Soviet airmen in the Spanish civil war 1936-1939 - Paul Whelan, 2014 Schiffer Publishing Ltd, ISBN 978-0-7643-0
Spanish Republican Aces – Rafael A. Permuy López, 2012 Osprey Publishing, Oxford, ISBN 978-1-84908-668-4
Wings Over Spain - Emiliani Ghergo, 1997 Giorgio Apostolo Editore, Milano
Additional information kindly provided by Eugenio Costigliolo and Stefano Lazzaro.




Last modified 23 January 2020