Biplane fighter aces

Italy

Generale Corrado Ricci
13 September 1912 – 1995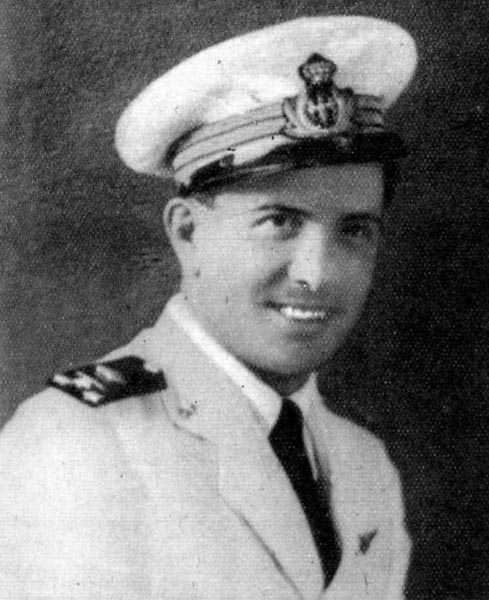 Decorations

| | | |
| --- | --- | --- |
| Date | Decoration | Note |
| ??/??/40 | Medaglia d'argento al valor militare (1st) | O.M.S. |
| ??/??/40 | Medaglia d'argento al valor militare (2nd) | 1940-43 |
| ??/??/44 | Medaglia d'argento al valor militare (3rd) | 1940-43 |
| ??/??/?? | Croce al merito di guerra | 1940-43 |
| ??/??/?? | Medaglia commemorativa della campagna di Spagna (1936-1939) | O.M.S. |
| ??/??/?? | Medaglia di benemerenza per i volontari della guerra Spagna | O.M.S. |
Corrado Ricci was born on 13 September 1912 and was from Borgo S.Lorenzo (Firenze).
He joined the Regia Aeronautica in 1931.
On 1 October 1933, he was commissioned (in Servizio Permanente Effettivo).
By 1936 he was flying CR.32s with 79a Squadriglia, 6o Gruppo, 1o Stormo, which became 153a Squadriglia, 3o Gruppo, 6o Stormo.
He volunteered for service in the Spanish Civil War under the nom de guerre "Rocca" and arrived there on 3 November 1936.
He was posted to the 3a Escuadrilla de Caza del Tercio, which was equipped with Fiat CR.32s.
Ricci usually flew a CR.32 with fuselage code 3-5 and with his initials CR painted on the engine cowling.
On 13 November, 14 Fiat CR.32s escorted five "Junkers" and three "Romeos". Over the Paseo de Rosales (Madrid) they were surprised by 16 I-15s led by Starshiy Leytenant Pavel Rychagov, which dived on them from above out of the sun. Despite immediately being on the defensive, the Fiat pilots managed to protect the bombers as the air battle broke up into a series of individual combats.
The Soviet pilots claimed six victories (three of them fell in Republican territory) while two I-15s were lost when Karp Kovtun and Petr A. Purtov were shot down by Fiats and killed. Kovtun's death was witnessed by Starshiy Leytenant Georgiy Zakharov, who also took part in this combat.
On their return flight, the Nationalist pilots encountered five Katiuskas, bombing Getafe and Cuatro Vientos from a height of 5000m. Capitán Ángel Salas damaged one so severely that the crew had to take to their parachutes, and capitán Joaquín García Morato damaged three others.
Totally the CR.32 pilots were credited with ten victories (nine "Curtisses" and one SB). Sergente GianLino Baschirotto (who reported that the I-15 was seen falling out of the sky smoking) and Ricci were among the Italians to be awarded a "Curtiss" each while Capitano Guido Nobili was credited with a probable. A Soviet fighter, whose pilot escaped by parachute, was shot down by Capitano Goliardo Mosca. The latter was in turn badly wounded in his right thigh and forced to limp back to Talavera, where he crash-landed. Capitano Mariotti force-landed outside the airfield at Getafe, but without damaging his aircraft. Capitán Morato claimed one I-15 (plus three damaged SBs), capitán Salas damaged three I-15s (plus one SB destroyed) and Julio Salvador claimed another I-15.
Capitán Morato recounted:
"Fiat Squadriglia. Bomber escort. "Junkers" and "Romeos" bombing Rosales (Madrid) clashed with 13 "Curtiss fighters". I shot down one that caught fire in the air, and then machine gunned three "Sophias" till my ammunition ran out. Saw Anti-aircraft fire.
Total flying time 1 hour 30 minutes."
Capitán Salas recalled:
"Fiat number 128. 1 hour 30 minutes.
Torrijos to Madrid, escorting five Junkers. Fourteen Fiats attacked 13 "Curtiss fighters" – three combats, one frontal, fired on the second while banking, and on the third from behind. Noticed several hits on the fuselage of one aircraft, but could not follow him due to the presence of others. Remained alone throughout, and eventually saw five "Martin bombers" attacking Getafe and Cuatro Vientos from 5000 metres. I fired at them twice until my guns stopped. On landing, Noreña, Celier and Betancour told me that one of the bombers I had attacked lost a wing and fell to the ground, its crew escaping by parachute."
In the afternoon on 19 November, four S.81s, 12 Ro.37s and 18 Ju 52/3ms dropped about 40 tons of bombs on Madrid. Escorting nine He 51s and 16 Fiats fought against a large number of 'Ratas' and 'Chatos' (reportedly 33 Republican fighters were counted).
One Ju 52/3m was lost although its Spanish crew survived. Seven Soviet fighters were claimed as destroyed. Capitán Ángel Salas fired off practically all his ammunition against one I-16, which was last seen in a dive behind its own lines (credited as a damaged). Tenente Ricci of the 3a Escuadrilla claimed an I-16. Capitano Guido Nobili and Sergente Maggiore Vittorino Daffara claimed two I-15s each.
The Republicans claimed four aircraft destroyed (three fighters and one Ju 52/3m) with two more damaged Ju 52/3ms for the loss of two fighters. Sargento Fernando Roig Vilalta was shot down and killed in an I-15s as was Kapitan Dimitriy I. Zedanov, who crashed to his death in his heavily damaged I-16 two kilometres short of his airfield.
Zedanov, who was leading a section of I-16s, was probably shot down between Madrid and Barajas by Tenente Ricci.
On 3 December Ricci and Bernardino Serafini claimed a shared Martin bomber (SB) over Madrid.
This claim can't be verified with certainty by either Republican and Nationalist records.
On 6 December two Ratas were claimed shot down over Madrid by Ricci and ten other Italian and three Spanish pilots.
He claimed two shared Ratas together with five other pilots over Las Rozas on 20 December.
His final claim for 1936 was a shared Potez 54, which was claimed with four other pilots over Madrid on 22 December.
Aniene delivered 12 more CR.32s during a voyage from La Spezia that ended on 4 February. With this shipment arrived squadriglia commander Capitano Mario Viola ('Viotti') and an additional 11 pilots – five Sottotenenti and six Sottufficiali.
With the arrival of these new fighters there were now sufficient aircraft in-theatre to organise the CR.32 stormo into two gruppi of three squadriglie each. These took the form of the already established I Gruppo (formerly Gruppo Caccia di Torrijos) (CO Maggiore Tarcisio Fagnani) and including the reformed:

1a Squadriglia (CO Tenente Enrico Degli Incerti from 15 January)
2a Squadriglia (CO Capitano Guido Nobili)
3a Squadriglia (CO Tenente Ricci (followed by Capitani Luigi Lodi and Mario Viola)

The newly formed II Gruppo (CO Tenente Colonnello Alberto Canaveri) and including:

4a Squadriglia (CO Capitano Vincenzo Dequal)
5a Squadriglia (CO Capitano Armando François from 19 January)
6a Squadriglia (initially remained in reserve, although it was later commanded by Tenente Antonio Larsimont Pergameni)

In the early morning on 18 February, two Nationalist Ro.37s (flown by Spanish pilots) took off, followed by three Ju 52/3ms escorted by the Spanish Patrulla Azul and the Italian Fiat Group (totally 25 CR.32 including the Spanish). When they arrived over the front at Jarama, the CR.32s turned so that they were patrolling parallel to the front, while a large formation of Polikarpov fighters waited on the other side. When the Ro.37s and Ju 52/3ms were safe and returning, capitán Joaquín García Morato broke formation and, followed by teniente Julio Salvador Díaz-Benjumea and capitán Narciso Bermúdes de Castro, launched himself into Soviet fighters near Arganda. Disregarding recent orders restricting them from engaging superior numbers of enemy aircraft, Italian pilots tenente Ricci, tenente Enrico Degli Incerti, capitano Guido Nobili and Fiacchino went to the assistance of their Spanish comrades by leading their respective flights against the large Republican formation of Polikarpov fighters. Finally, the entire group took part in the battle, fighting a reportedly 21 I-15s and 18 I-16s, and the Italians claimed for four "Curtiss fighters" destroyed and four probables, as well as four Ratas destroyed and one probables. One I-16 and two probable I-15s were claimed by tenente Degli Incerti while sergente maggiore Silvio Costigliolo claimed an I-15 in the Arganda area. Sergente maggiore Guido Presel claimed two I-15s and a probable and sergente maggiore Brunetto di Montegnacco claimed two I-16s. Among the Spaniards, capitán Morato, who returned with damage to his fighter, was credited with an I-15 and another as a probable while teniente Salvador was credited with and I-16 and a second fighter as a probable.
The Italians suffered no losses during this action, and only a solitary pilot was forced to make an emergency landing after he was wounded; the damage to his CR.32 was quickly repaired.
Tenente Degli Incerti described the combat:
"We were on the return leg of an escort mission, and having made sure that our bombers were safe, we had the airfield in sight and prepared to land. It was at that very moment that the three Spanish CR.32 pilots following us, but still flying over enemy territory, decided to take on a large Soviet formation. Although the enemy aircraft were still some distance away, we performed a hasty 180-degree turn at full throttle and joined the fray. All the Italian fighter flights following suit, despite us having orders only to intervene following provocation – our duty was to fight as courageously as possible to the end.
Once we had engaged the enemy, both sides formed a long line of aircraft, and this was turning, banking and circling. The fighters alternated in this single file trail, with two or three "Reds" for every Nationalist. It was as if this formation had been planned. Many tracer rounds flashed through the sky from the aircraft, turning the dogfight into an infernal ballet. Smoke trails of death suddenly appeared, and the long line broke into smaller rows.
The battle threw up numerous small skirmishes that ended inconclusively. Despite being outnumbered, we legionnaires stood together, compact, protecting each other. All of a sudden in the centre of the melee an aircraft caught fire and a parachute opened. The former fell away and crashed to the ground, while the latter floated away to safety. A "Red" had been shot down. Four of his comrades, fearing that we'd shoot at the pilot, circled him for his protection. Two CR.32s engaged them. This turn of events split the battle into two groups, within which fierce fighting continued.
The "Curtiss fighter" section then broke off their attack, unable to defeat our concentrated gunfire. They tried to escape, but this move failed and two of the stubby fighters fell in flames.
Thirty minutes into the battle, thousands of bullets had crossed the sky over Villaconejos. By now the revolving aircraft and chatter of the guns had diminished. The fighting faded slowly away, and within a short time we remained as the sole masters of the sky over the Jarama front."
Reportedly this battle was fought at 11:00 against at least the I-15s of the Escuadrilla La Calle and Escuadrilla José (the Escuadrilla led by Ivan Kopets) and the I-16s from Escuadrilla Kolesnikov (1a/21). The Republican pilots reported meeting six "Junkers" and 50 fighters (other sources states 85 (!) Heinkel He 51s) over the front. Immediately the Escuadrilla went into a tight horizontal circle ("Lufbery circle"). The first enemy aircraft fired randomly at the I-15s as they dived past the Escuadrilla's defensive pattern. Unwillingly to challenge the Republican fighters, the remainder of the Nationalist pilots followed suit, executing a single strafing pass, and then flying lazily below the I-15s in hopes of enticing a few green Republican pilots away of the defensive protection. Ben Leider took the bait and started down after one of the easy-looking targets, only to attract three enemy fighters on his tail. As Frank Tinker peered over his shoulder during the swirling melee of aircraft, he saw Leider's I-15 to shudder as the CR.32s flashed past. Tinker's heart sank as he noticed Leider veer toward friendly territory in a shallow dive. Twice, Leider tried to land his fighter in a small field before slamming into the side of a hill, killing him.
The Escuadrilla leader Andrés García La Calle's version of Leider's end differed markedly from Tinker's perspective. As Leider dived, breaking away from the "Lufbery circle" to attack a "Heinkel" below, an enemy fighter locked on his tail. La Calle pulled behind Leider's pursuer and frightened him away with his machineguns. Repeatedly La Calle then tried to herd Leider's intended victim back away from Nationalist lines so that the American could down the enemy fighter. La Calle wanted Leider to destroy the enemy fighter as a morale boost for the Escuadrilla and to appease Leider's Communist backers. When the Nationalist pilot made a third attempt to cross his lines, La Calle shot him down. Irritated by the turn of events and Leider's seeming inability to shoot down his adversary, the Spanish Commander signalled Leider to head for home. During the flight back to base, Leider flew just behind the Escuadrille leader's wing. Halfway home, La Calle glanced around only to discover that Leider was gone. Having landed he learned that no one knew of the American's whereabouts: his comrades saw him re-join their homebound group and never again. There was no other news until Leider's "Chato" was located.
Evidence from the crash site gave Leider's fellow pilots a clue as to his final seconds on earth. During the dogfight, three rounds penetrated his cockpit, one passing through his leg. Instinctively he loosened his seat belt and harness. As Leider prepared to bale out, he had second thoughts about giving up his I-15, so he decided to attempt to set down his aircraft. His loss of blood caused him to faint at the controls.
Jim Allison and Harold Dahl followed Leider down after the Nationalist fighters. Allison shot down his intended victim before three enemy fighters reached him. Allison's I-15 gave a jerk, then it executed a perfect Immelmann and headed back to base but he was forced to make an emergency landing. Allison had received a serious leg wound during the combat. Dahl prepared to trip his guns on a careless adversary when he noticed the same three enemy fighters flash past. Almost simultaneously, he became aware that his machine was not answering the controls. A glance back revealed that the entire tail of his fighter had been shot away.
The remaining I-15s of the Escuadrilla La Calle maintained the "Lufbery circle" when another Escuadrilla of I-15s appeared piloted by Russian volunteers (probably from Escuadrilla José). Fighting their way through the curtain of enemy fighters, the Soviets joined La Calle's men in the wheel formation until the two Escuadrillas were rescued by a third Escuadrilla of I-16s (probably Escuadrilla Kolesnikov).
Totally, the Republican pilots claimed eight enemy fighters for the loss of six aircraft - three from Escuadrilla La Calle, two from Escuadrilla José and one from Escuadrilla Kolesnikov. Leytenant Petr Ugrovatov from Escuadrilla José parachuted to safety over friendly territory from his stricken I-15 although he was badly burned while leytenant Filipp Zamashanskii, patrol leader of the I-16-equipped Escuadrilla Kolesnikov, was killed trying to crash-land his fighter after it had been shot up. Soviet volunteers claimed six victories, these being claimed by leytenant Ivan Lakeev, Konstantin Dubkov, starshiy leytenant Aleksandr Tarasov, Nikolai Nikitin, leytenant Petr Kuznetsov and one shared between starshiy leytenant Aleksii Minaev and leytenant Petr Khara (all I-16s from Escuadrilla Kolesnikov).
Both Allison and Dahl re-joined their unit the next day.
Allison's leg wound was serious, and he went to the American Hospital in Neuilly, where the doctors saved his leg.
After the battle, Morato thanked tenente Ricci for coming to his aid, as he knew that he owed him his life following the Italian pilots' timely intervention. General Kindelán recommended that Morato be awarded the Cruz Laureada de San Fernando; Spain's highest military honour for bravery while Salvador was proposed for the Military Medal. The Nationalist Government also exploited the success of this fight against the odds to lobby Italy for additional CR.32s.

Between 14:20 and 15:40 on 20 February, Sergente Maggiore Silvio Costigliolo claimed an I-16 over Morata de Tajuna during an escort mission of Ju 52/3m bombers. Tenente Ricci of the 3a Squadriglia claimed a shared victory (Curtiss?) together with eight other Italian pilots during the same mission,

The 3a Squadriglia took part in the battles around Madrid, including the Battle of Jarama in February 1937, and the Battle of Guadaljara in March.

When the Nationalist attack on the Basque Country began in the end of March 1937, I Gruppo was moved north and 3a Squadriglia was stationed at Vitoria.
The 3a Squadriglia was commanded by Capitano Mario Viola ("Viotti") who led the 1st Flight of five aircraft (with reserve pilots) usually including Tenente Luigi Mariotti, Ottorinio Cappellini, Giannoti ("Vitullo"), Curilli, Sartori and Romagnoli.
The 2nd Flight was led by Tenente Ricci and usually included (with reserve pilots) Tenente Giuseppe Mollo, Sergente Maggiore Guido Presel, Sergente Maggiore Brunetto di Montegnacco, Eugenio Salvi, Galadini, Bernardino Serafini and Guido Pongiluppi.

In April 1937, XVI Gruppo "Cucaracha" was formed and included 24a (formerly 4a), 25a (formerly 5a) and 26a (formerly 2a) Squadriglie.

During the attack on the Basque town of Guernica on 26 April at least the 2nd Flight and possibly also the 1st Flight provided escort to the German bombers when they left the target area in the afternoon and evening.

During a patrol by the 26a Squadriglia on 5 June, they strafed Somorrostro airfield. They destroyed six I-15s of Escuadrilla Baquedano on the ground, three which were claimed by Tenente Ricci while Sergente Maggiore Guido Presel (CR.32 NC 208/3-2) claimed two (it seems that one of them in fact had just taken off when Presel shot it down) and Sergente Maggiore Brunetto di Montegnacco one. The latter also shot down another I-15 in the vicinity of Castro Urdiales.
Twenty minutes after the attack on the airfield had commenced, teniente Rafael Magriña Vidal, patrulla CO of the Escuadrilla de Chatos del Norte, appeared over the base after returning from Santander in a repaired I-15. Diving on the CR.32s out of the sun, teniente Magriña immediately latched onto the tail of the patrol leader Tenente Ricci, taking him by surprise. The latter pilot, who had been concentrating on strafing Republican fighters at low level and low speed, now found himself in grave danger. Sergente Maggiore Presel quickly came to his aid, but without opening fire, as he had either used up all his ammunition or his guns had jammed after his long strafing attacks.
Presel's timely intervention allowed Ricci to shake off his opponent, who made a sharp turn to the left and went after Presel's CR.32 instead. The Italian, flying at 1,500 ft, was in a banking turn to the right at the time. Making the most of the I-15's manoeuvrability, and the Fiat fighter's limited speed following Presel's low-level strafing attack, Magriña succeeded in getting in behind the CR.32 and shooting it down into the sea just offshore. Presel was killed before the aircraft hit the water, having been shot through his right side and his neck. His body and his wrecked aeroplane were retrieved a short while later and briefly displayed on the sandy beach. Magriña himself arranged for Presel's burial in a cemetery near to the town of San Juan.

When the Republican offensive towards Brunete started on 6 July 1937, the defence of the central front was supported by just the two CR.32 squadriglie present in this area at Torrijos-Barcience; the 19a and 20a Squadriglie from XXIII Gruppo, commanded by Maggiore Andrea Zotti, with squadriglia commanders Capitani Enrico Degli Incerti and Antonio Larsimont Pergameni.
Capitano Guido Nobili's 18a Squadriglia was transferred in from Soria to reinforce these units, thus completing the makeup of the gruppo. The XXIII Gruppo now had 29 CR.32s available, but only 17 of these remained serviceable following a series of actions on 6-7 July.
Maggiore Giuseppe Casero's XVI Gruppo (24a, 25a and 26a Squadriglie, led by Capitani Bruno Brambilla, Armando François and Mario Viola, respectively, although the latter was recalled to Italy and replaced by Tenente Ricci on 11 July) arrived at Torrijos-Barcience from Ávila three days later, as did six CR.32s from capitan Morato's Grupo 2-G-3.

On 18 July, 23 CR.32s from XVI Gruppo and four from 2-G-3 intercepted a formation of 12 light bombers, escorted by 32 I-15s and I-16s, between Valdemorillo and Navalcarnero. Italian pilots were credited with 14 victories - eight light bombers (R-Zs from Grupo No 30), five 'Ratas' and a 'Curtiss fighter' - for the loss of Tenente Giuseppe Mollo from 26a Squadriglia. One of the R-Zs was claimed by capitán Joaquín García Morato. Six R-Zs and at least three of the fighters claimed by the CR.32 pilots were actually lost, both Capitano Armando François (25a Squadriglia) and Sottotenente Giuseppe Aurili (24a Squadriglia) downing light bombers to give them their fifth individual victories while Bruno Alessandrini (24a Squadriglia) claimed another R-Z over Brunete as his first victory. Tenente Ricci (26a Squadriglia) claimed a "Papagayo" (R-Z or Aero 101) over Brunete. Two of the Ratas were credited to Sergente Maggiore Brunetto di Montegnacco (26a Squadriglia), whose tally now stood at 15 individual victories. Of this action he wrote:
"Fighter escort for bombing raid over the Brunete-Valdemorillo front. Gruppo formation. Collective attack on enemy "Praga" [Aero A-101 light bomber] aircraft. I spotted three Ratas diving down at us from above, and I tried to disrupt their attack by throwing myself straight at them. I shot one down and forced another to break away from us. The third fighter, rolling onto its back, caught up with Tenente Ricci and hit him with a round that, fortunately, only perforated his parachute. Seeing more Ratas, I quickly despatched a second Republican fighter but couldn't follow it all the way to the ground as I was attacked by two "Curtiss fighters". My first Rata fell east of Valdemorillo and the second crashed a short distance away from it."
On 26 July, Ricci claimed a shared Martin bomber (SB) together with other pilots from XVI Gruppo and a second as a probable by himself over Valdemorillo.
Bruno Alessandrini (24a Squadriglia) claimed an I-15 in the same area.
This was Ricci's last claim in Spain before returning to Italy.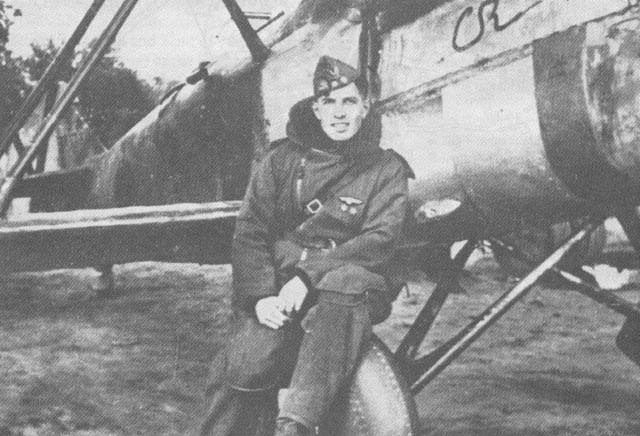 Tenente Corrado Ricci in Spain with his Fiat CR.32 '3-5'.
After the end of the battle of Brunete on 26 July, the XXIII Gruppo Caccia was awarded the Medalla Militar Colectiva (Collective Military Medal) by general Franco following its performance during the first few days of the Republican offensive. Two pilots from the unit had lost their lives in combat and three had been wounded, yet the gruppo continued to engage a numerically superior enemy until reinforcements were brought in.
In the East African campaign of 1940-41 he served with the 410a Squadriglia, equipped with Fiat CR.32s.
When the war started in East Africa on 10 June, the 410a Squadriglia was equipped with nine Fiat CR.32s and based at Diredawa. Pilots in the unit were Colonnello Mario Pezzi, Capitano Ricci, Tennete Elio Pesce, Sottotenente Vincenzo Forcheri, Sottotenente Alberto Veronese, Sottotenente Osvaldo Bartolozzi, Sergente Maggiore Antonio Giardinà, Sergente Maggiore Enzo Omiccioli, Sergente Maggiore Alberto Puliti, Sergente Maggiore Athos Tieghi, Sergente Giovanni Tellurio and Sergente Ugo Zoino.
On 22 June, one Ro.37bis piloted by Colonnello Mario Pezzi, one CR.32 piloted by Capitano Ricci, and equipped with bomb throwers for two 25 kg and thirteen 2 kg bombs, four more Ro.37bis of the 110a Squadriglia and three CR.42 of the 413a Squadriglia took off from Dire Dawa and carried out a strafing and dive-bombing attack of the airfield of Djibouti. The formation took off at 05:40 and landed back at 08:30 (according with other sources, the CR.42 were four and the time was 07:00-11:00, the latter time is consistent only with the endurance of the Ro 37bis). On landing back, the Ro.37bis MM 10767 crash-landed overturning and was declared RD; the pilot was unhurt.
Three aircraft, believed being French, suddenly attacked Dire Dawa at 13:30 (12:15 according to the 410a diary), favored by bad weather.
Sottotenente Miroslav Komjanc tried to scramble, but his aircraft was hit and burned by a bomb before he could mount in it; he was luckily unhurt. The other pilot on alarm duty, Sergente Maggiore Gaetano Volpe of the 410a Squadriglia, was taking off, but a splinter stopped him by damaging the engine of his CR.32 MM4648. Another fighter was damaged, one of ground personnel was killed and two wounded. Capitano Ricci, CO of the 410a Squadriglia, recalled the episode:
"…We couldn't start to have our lunch that a bomb rain, damned close, hurries us: who runs to recovery, who lies on ground, … windows glass shatters and breaks, roof vibrates and a rain of debris and powder covers us and our maccheroni, floor shatters and it seems that explosions never end.
Santoro is on the ground beside me, we're flat as soles as we look on one another, while the hell continues: we're both pale… As soon the explosions cease we jump up and run to the airport. There had been three bombers, absolutely unexpected: a driver is dead, hit by a splinter; Colonnello Pezzi shows me it, a few grams of iron, and says: "For this small bit of damned iron a life has gone… and I'll have to write this to his mother!"
Two more airmen have been slightly wounded, a fighter burns at the end of the field, the oil sump of my engine has been penetrated from side to side. Sottotenente Komjanc was on alarm duty and was running towards his CR.42, which his engineer had soon started. While he was wearing his parachute, some bombs dropped nearby and the shock wave threw him on ground. As he rose up, he saw his fighter burning: he's now telling this to Santoro, and he's desperate for having lost an aircraft. It seems he still doesn't realize of the extraordinary luck that protected him!"
At 08:00 on 1 August 1940, the two secret Italian landing grounds at Shinele, near Diredawa, was discovered and strafed by two Blenheims.
A dozen Blenheims from Aden, six each from 8 and 39 Squadrons, escorted by two Blenheims IVFs of 203 Squadron, were sent off to attack the fields in the afternoon. At 15:00, the bombers approached at 16,000 feet and dived to 10,000 feet to bomb. AA fire was encountered and fighters from Diredawa, eight miles away, attacked the two Blenheims IVFs, which were escorting the 39 Squadron formation, which had bombed first. One of the fighter Blenheims was hit by one bullet, and a possible hit on one CR.42 was claimed.
Tenente Luciano Cacciavillani of the 413a Squadriglia, after having spotted eight of them, attacked the Blenheim IVFs and claimed one probably shared destroyed. Tenente Cacciavillani had taken off at 14:50 and landed at 16:10.
Later than the rest of the fighters at Diredawa, Capitano Ricci, commanding officer of the 410a Squadriglia, had taken off in his CR.32 as the second wave of bombers approached, and he chased and these. He later told:
"I look around; nothing to see. But... something is coming from the sunshine... Here they are; six diving bombers. It seems to me they are heading towards our secret airfields. I hope they had been alerted! They are flying over Diredawa; I'll chase them out of the town border. They hadn't bombed the town, so they're really heading to the airfields. They are going to pass at my side, at my same level, fast as a bolide! I attack the front section of three from the side, the other section still being to the rear. While I'm firing, I find myself in their trail; I shoot at the leader, then at the right wingman; the two aircraft seem to leave tiny trails of smoke, but I'm not sure of it. One of my machine gun jams, but I don't recharge it because I don't want to lose aim. Tracer shells passed nearby my side, I hear shots behind me; I am attacked too. I evade with a large, barrel-shaped tonneau; while I'm upside down I can see the second section passing at my right side, slightly lower than me. At the end of the manoeuvre I'm at six of the left wingman, but in the meanwhile I recharged the jammed gun, so I shoot again, sharing my rounds to all three, while bombs are falling. First section is far ahead, the two aircraft I fired at are still smoking. [...] I concentrate on the aiming: it's the turn of the right wingman now. The gun jams again! I recharge it. All three aircraft leave a light trail of smoke, like the two of the first section. I shoot again... the aircraft I'm shooting at seems to slow down... is it an illusion? No, it is really slowing down: while the other two are going, it extracts the gun turret and begins to shoot at me. I fire again; the British pilot manoeuvres to prevent me to hide behind his tail. I discharge brief bursts... I must slow down to not collide with him. We are at ten meters from ground; the British extracts the flaps and lands on the sand in a cloud of dust."
The aircraft shot down by Ricci was Blenheim L8406 of 8 Squadron, Sergeant J. C. Franks (pilot), Sergeant Thain (observer) and Leading Aircraftsman Cumner-Price (wireless operator/air gunner) becoming prisoners.

At 05:25 on 8 August, two CR.32s of the 410a Squadriglia (Capitano Ricci and Sergente Maggiore Giovanni Tellurio) and two CR.42s of the 413a Squadriglia (Tenente Luciano Cacciavillani and Sottotenente Miroslav Komjanc) took off from Hargeisa (British Somaliland) advanced camp to attack Berbera airfield. Tenente Cacciavillani aborted the take-off. The remaining three aircraft arrived by surprise at Berbera at 06:00. Two 94 Squadron Gladiators were on the ground and the standby pilot had got into the cockpit of N5778, but had not got the engine started when the attack began, and as Capitano Ricci opened fire, he leapt out and ran to shelter. Failing to inflict telling damage in the first pass, Ricci returned for a second attack, and this time he set the Gladiator alight and it burned fiercely, being totally destroyed. The second Gladiator (N5890) was also set on fire by the attacks of Sergente Maggiore Tellurio and Sottotenente Komjanc, the rear fuselage and tail being burnt off. Next day the second Gladiator was dismantled and shipped back to Aden but it was considered destroyed beyond repair. Ricci recalled the mission:
"I was the first to take off, with Tellurio at my wing; soon after started Cacciavillani and Komjanc, but the first skipped on ground, and then stood with tail up: what could have happened to him? Komjanc joined us. I checked my compass with a pocket light to keep the course. After half an hour of flight, the light is coming, but we could not yet see Berbera; five minutes more: nothing again... I again checked the chart; the course is right, but I have no reference point on the ground because it is so flat; I know that the wind is strong, and its direction change as the sun rise, but I can't evaluate it. I continue a little bit on chance. At the end, I decide to turn 90-degrees left; after a few minutes, a sparkling ahead makes me happy: it's the sea! I start a light dive, and I increase it as we are approaching, so we find us to fly grazing to the yellowish sand: it's the only way to come unseen! I can see the town, it's small, whitish; there's a ship in the harbour. Here is the airfield: two dark aircraft, side by side, stand out. They are Gladiators. My wingmen close at me, and this bothers me; slowly, I gain speed and I put them away from me. We are skimming the ground and some small hills cover us to enemy's sight; just a little bit... Here we are! With a steep climb, I gain 500 m height, then I dive on the fighter at left; while I'm aiming a man leaves it and falls headlong... what a long-legged he is! I shoot: a strong wind disturbs my shoot, my rounds are on ground, but some hit the target. I pull hard, quite skimming the wing of the enemy aircraft; I hear behind my shoulders that Tellurio and Komjanc are firing too. The anti-aircraft weapons awake; bluish tracer shells, shrapnel explosions; the ships fires like a volcano, the machine-guns in their nest at the airfield's edge are shooting: the air is hot! A big turn: the other Gloster is burning, mine is not, but with a second burst, I get it burning too. We can go! I take a snapshot with my old camera that I bring with me at every flight: I have to prove the results of the action. We go away, with a grazing flight. A sand column rise just in front of me; here another and other around: they are the British grenades. I climb to 200 m altitude: black burst around us, some other sand gush here and there, then all is over."
The fighters landed at Jijiga at 07:25. A total of 252 x 7.7mm and 158 x 12.7mm rounds had been fired.

In the beginning of December, he made an emergency crash-landing after that the engine on his CR.32 had failed.
After this incident he was sent for a period of convalescence in the Dankalia highland. While here he witnessed Alberto Veronese and Athos Tieghi shooting down a Martin 167F (initially identified by Ricci as a Marauder) on 16 December. He immediately phoned his Squadriglia to get the names of the pilots involved.

During the early months of 1941 Ricci received a radio-equipped CR.32. With this he started to intercept the Blenheims on the route to and from Dessiè or Addis Ababa. This forced the Blenheims to make only a fast pass on the target, instead of two or three, which had been possible earlier.

Six Blenheims of 8 Squadron from Aden bombed Diredawa early on 9 March 1941, six CR.42s and a single monoplane being reported seen on the ground, although only two or three fighters were actually present; the monoplane was a S.81, already damaged beyond repair, but retained as a decoy.
Three CR.32s of the 410a Squadriglia approached the bombers head on, and the leader, Capitano Ricci, turned sharply to attack the right hand Blenheim. This manoeuvred to evade him and Ricci found himself formatting closely with the leading aircraft, L8504 piloted by Squadron Leader Hanlon. The turret gunner opened fire on him and incendiary bullets struck the wings of his Fiat. Bouncing around in the bomber's slipstream, Ricci opened fire as it begun to pull away from him, and saw his bullets exploding on the rear of the right-hand engine nacelle. Thinking he had damaged it badly, he then attacked another Blenheim and fought with it for minutes before his guns jammed and he had to land. He was credited with the bomber as probably destroyed but Squadron Leader Hanlon had to force-land on Perim Island during the homeward flight as a result of the damaged sustained. Two more Blenheims were claimed damaged.
Little damaged had been done to the airfield, but the native quarter was hit and twenty of the inhabitants killed. Ricci was pleased since thanks to the radio in his aircraft and as a result of guidance given from the ground, he had been able to intercept the bombers and attack them before they had dropped their bombs. He recalled:
"A morning I scramble with Puliti and I'm radio-guided to intercept two sections of three Blenheims each, which were going to bomb Diredawa. I think I could made only a single front attack, because, since they are faster than me, I could never reach them for a second pass; so, I decide to attack them from the rear to increase my possibilities. With a big turn I dive on the formation, which at a certain point is hidden from my sight by my wing; I fear to collide with them, but meanwhile I think that however they should take care to avoid me! Indeed I came very close to the right wingman, which suddenly veered away from the patrol and was soon attacked by Puliti, while I find myself right on the side of the leader, after having risked to hit its wing with my plane. I immediately start to fire, aiming at the right engine, but the slipstream shatters my aim, while the rudder dangerously pass me by; but a long, black smoke trail came from the engine, just while an piece tears off from the fuselage. I think to have got it, and I go to attack another alone one, that escapes me by diving. Here is a third one, it's alone too: I attack it. He's a courageous pilot: instead to evade, he challenges to me with beautiful turns; I'm surprised to see little smoke trails from its fuselage, but perhaps it's the gunner that's shooting at me. During the manoeuvres my weapons continue to jam while I'm shooting in tight turns, but at the end I find myself in a good advantage; the foe realizes it and, with a good overturn, go in a vertical dive, then heads towards Dankalia while I'm pursue him, shooting, while it leaves me behind, more and more. He disappears, apparently undamaged. The ground observers, however, don't see it pass: they spot only five while heading home. Some time after, we knew that a Blenheim force-landed in the Tajura area, in the French Somalia, but the crew should have been able to return to Arabia: perhaps they are those!"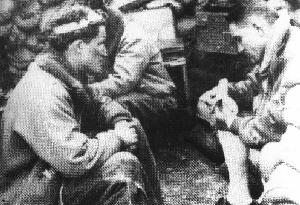 Pilots of 410a Squadriglia in a sandbagged shelter at Jigga.
On the left is Sottoten Alberto Veronese and on the right, enjoying a banana, Capitano Corrado Ricci.
Ricci was allowed to return to Italy in April 1941 because he was suffering of appendicitis (a potentially lethal pathology in pre-antibiotic era), but he missed the rendezvous with a S.82 at Sifani on 11 April, because the Caproni that had to bring him there had incorrect flight maps and became lost en route! Ricci had to wait for another S.82 from Italy the following month. He took off on 3 May at 17:00 as the only passenger: in fact the payload was important military documents that had to be brought back to Rome. The SIAI headed to the Red Sea, flew over the Dahlak Archipelago and over Port Sudan, then turned to Benghazi, where it landed the following morning. Ricci left to Italy on 7 May, on the same aircraft, following the coast until Tunisia, then heading to Rome.
Later in the war he formed and commanded the first specialized night fighter unit in the Regia Aeronautica, the 300a Squadriglia. This unit was based at Ciampino and tasked with the night defence of Rome from January to May 1942. The unit was equipped with CR.42CNs and Re2001s.
He was promoted to Maggiore on 24 August 1942.
Later in the war his unit was issued with a few ex-Armée de l'Air Dewoitine D520s, and he was involved in some interceptions of USAAF B-24s in one of these fighters during 1943.
In April 1943 the prototype twin-engined FC.20bis was flown to Guidonia to Capua by Maggiore Ricci.
It made only one interception and was found too slow to catch the B-24s it was sent after.
After that it moved to Furbara.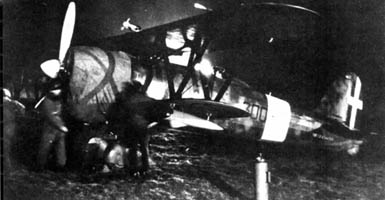 Fiat CR.42CN MM7584 '300-7' flown by Capitano Corrado Ricci in the night defence of Rome.
Following the Armistice of September 1943, Ricci served with the Italian Co-Belligerent Air Force.
Ricci ended the war with 5 victories, all of them claimed while flying biplanes during the Spanish Civil War and the Second World War.
He remained in the Air Force after the war, becoming Chief of Personnel. His subsequent successor following his retirement was another ex-East African pilot, Romano Palmera.
Following the tragic death of several of his children in accidents, he left Italy to start a new life in Gabon, where he set up a carpentry business. Subsequently he coupled that work with service as a missionary for the Roman Catholic Church.
Ricci passed away in 1995.
Claims:

| | | | | | | | | | |
| --- | --- | --- | --- | --- | --- | --- | --- | --- | --- |
| Kill no. | Date | Time | Number | Type | Result | Plane type | Serial no. | Locality | Unit |
| | 1936 | | | | | | | | |
| 1 | 13/11/36 | | 1 | I-15 (a) | Destroyed | Fiat CR.32 | | Madrid | 3a Escuadrilla de Caza del Tercio |
| 2 | 19/11/36 | afternoon | 1 | I-16 (b) | Destroyed | Fiat CR.32 | | Madrid-Barajas | 3a Escuadrilla de Caza del Tercio |
| | 03/12/36 | | ½ | SB (c) | Shared probably destroyed | Fiat CR.32 | | Madrid | 3a Squadriglia |
| | 06/12/36 | | 1/14 | I-16 | Shared destroyed | Fiat CR.32 | | Madrid | 3a Squadriglia |
| | 06/12/36 | | 1/14 | I-16 | Shared destroyed | Fiat CR.32 | | Madrid | 3a Squadriglia |
| | 20/12/36 | | 1/6 | I-16 | Shared destroyed | Fiat CR.32 | | Las Rozas | 3a Squadriglia |
| | 20/12/36 | | 1/6 | I-16 | Shared destroyed | Fiat CR.32 | | Las Rozas | 3a Squadriglia |
| | 22/12/36 | | 1/5 | Potez 54 | Shared destroyed | Fiat CR.32 | | Madrid | 3a Squadriglia |
| | 1937 | | | | | | | | |
| | 20/02/37 | 14:20-15:40 | 1/9 | Enemy aircraft | Shared destroyed | Fiat CR.32 | | Morata de Tajuna | 3a Squadriglia |
| | 05/06/37 | | 1 | I-15 | Destroyed on the ground | Fiat CR.32 | | San Juan de Somorrostro | 26a Squadriglia |
| | 05/06/37 | | 1 | I-15 | Destroyed on the ground | Fiat CR.32 | | San Juan de Somorrostro airfield | 26a Squadriglia |
| | 05/06/37 | | 1 | I-15 | Destroyed on the ground | Fiat CR.32 | | San Juan de Somorrostro airfield | 26a Squadriglia |
| 3 | 18/07/37 | | 1 | "Papagayo" (d) | Destroyed | Fiat CR.32 | | Brunete | 26a Squadriglia |
| | 26/07/37 | | 1 | SB | Shared destroyed | Fiat CR.32 | | Valdemorillo | 26a Squadriglia |
| | 26/07/37 | | 1 | SB | Probable | Fiat CR.32 | | Valdemorillo | 26a Squadriglia |
| | 1940 | | | | | | | | |
| 4 | 01/08/40 | 15:00- | 1 | Blenheim (e) | Destroyed | Fiat CR.32 | | Shinele | 410a Squadriglia |
| | 08/08/40 | 05:25-07:25 | 1 | Gladiator (f) | Destroyed on the ground | Fiat CR.32 | | Berbera | 410a Squadriglia |
| | 1941 | | | | | | | | |
| 5 | 09/03/41 | | 1 | Blenheim (g) | Destroyed | Fiat CR.32 | | Diredawa | 410a Squadriglia |
Biplane victories: 5 and 7 shared destroyed, 1 and 1 shared probable, 4 destroyed on the ground.
TOTAL: 5 and 7 shared destroyed, 1 and 1 shared probable, 4 destroyed on the ground.
(a) Nationalist forces claimed nine I-15s and 1 SB while losing 1 CR.32 and 1 force-landed. Republican forces claimed 6 CR.42 while losing 2 I-15s (Karp Kovtun and Petr A. Purov) and 1 SB (reportedly to AA fire).
(b) Possibly Kapitan Dimitriy I. Zedanov shot down and KIA. Totally 7 fighters claimed shot down for the loss of 1 Ju 52/3m. The Republicans claimed 4 aircraft destroyed (3 fighters and 1 Ju 52/3m) with 2 more damaged Ju 52/3ms for the loss of 2 fighters.
(c) This claim can't be verified with certainty by either Republican and Nationalist records.
(d) The CR.32s claimed 8 light bombers, 5 I-16s and 1 I-15 for the loss of 1 CR.32. It seems that 6 R-Zs and 3 fighters are verified with Republican records.
(e) Blenheim L8406 of 8 Squadron; Sergeant J. C. Franks (pilot), Sergeant Thain (observer) and Leading Aircraftsman Cumner-Price (wireless operator/air gunner) becoming prisoners.
(f) Gladiator (N5778) of 94 Squadron destroyed on the ground.
(g) Blenheim (L8504) of 8 Squadron flown by Squadron Leader Hanlon; force-landed.

Sources:
Luciano Cacciavillani's personal logbook courtesy of Cacciavillani family (Luciano jr and Alberto)
410a Squadriglia war diary (1940) kindly provided by Stefano Lazzaro.
Aircraft Losses during the Spanish Civil War 1936-1939 - James B. Haycraft, 1991 Air Enterprise Publication, Newark kindly provided by Santiago Flores
Air War over Spain - Jesus Salas Larrazabal, 1974 Ian Allan Ltd, Shepperton, Surrey, ISBN 0-7110-0521-4
Annuario Ufficiale Delle Forze Armate Del Regno D'Italia Anno 1943. Part III Regia Aeronautica – 1943 Istituto Poligrafico Dello Stato, Roma
Assi Italiani Della Caccia 1936-1945 - 1999 Aerofan no. 69 apr.-giu. 1999
Comando Aeronautica Africa Orientale war diary (June 1940) kindly provided by Stefano Lazzaro.
Courage Alone - Chris Dunning, 1998 Hikoki Publications, Aldershot
Dust Clouds in the Middle East - Christopher Shores, 1996 Grub Street, London, ISBN 1-898697-37-X
Elenco Nominativo dei Militari dell' A. M. Decorati al V. M. Durante it Periodo 1929 - 1945 2 Volume M - Z
Esa mezivalecneho obdobi - Tomas Polak, 1995 Plastic Kits Revue 43/95, Ostrava, Czech Republic kindly provided by Ondrej Repka.
Fiat CR.32 Aces of the Spanish Civil War - Alfredo Logoluso, 2010 Osprey Publishing, Oxford, ISBN 978-1-84603-983-6
La romantica Squadriglia – Corrado Ricci, Edizioni Cielo, Rome kindly provided by Stefano Lazzaro
Mussolini's Eagles Over Guernica, April 26,1937 - Paul Whelan and Tom Sarbaugh, 1989 Skyways Vol.12, October 1989 kindly provided by Santiago Flores
Spanish Republican Aces – Rafael A. Permuy López, 2012 Osprey Publishing, Oxford, ISBN 978-1-84908-668-4
Springbok Fighter Victory: East Africa Volume 1 1940 – 1941 – Michael Shoeman, 2002 African Aviation The Bristol Blenheim: A complete history – Graham Warner, 2002 Crécy Publishing Limited, Manchester, ISBN 0-947554-92-0
The Legion Condor - Karl Ries and Hans Ring, 1992 Schiffer Publishing
Vita di Pilota - Corrado Ricci kindly provided by Santiago Flores
Additional info kindly provided by Eugenio Costigliolo, Stefano Lazzaro, Alfredo Logoluso, Giovanni Massimello, Michele Palermo, Ludovico Slongo and Mirek Wawrzynski.




Last modified 24 March 2022