Biplane fighter aces

Italy

Tenente Luciano Cacciavillani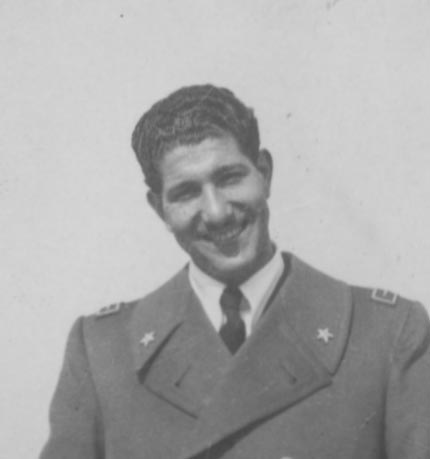 25 September 1916 - 18 February 1947
Luciano Cacciavillani was born in Isola della Scala (Verona) on 25 September 1916, his parents coming from Valdagno (Vicenza). He was officially registered in his birthplace, possibly by mistake, as Lucigno Cazzavillan; however he always signed himself as Luciano Cacciavillani.
At the age of twelve, he returned with his family in Vicenza.
At eighteen, he went to study Law at the University of Padua, but in 1936, he left for the Regia Accademia Aeronautica in Caserta.
He gained his pilot license at Capua (Naples) airport in 1937.
On 1 October 1938, he was commissioned (in Servizio Permanente Effettivo).
On 31 July 1939 he ended the course, and on the following 22 August he was assigned to the 364a Squadriglia, 150o Gruppo, 53o Stormo Caccia in Turin, on FIAT CR.32s.
In 1939, he trained on the new CR.42.
On 25 February 1940, he was assigned to the 413a Squadriglia Autonoma Caccia, based at Gura (Eritrea), led by Capitano Corrado Santoro.
He was promoted to Tenente on 8 April 1940.
On 6 June, the Squadriglia moved to Assab (Ethiopia). Italy entered the war just four days later.
His first mission was on 11 June, when he scrambled at 12:45 to intercept four Blenheims that were believed going to bomb Assab airport; no results are registered in his logbook. This was his first mission of the war.
It seems that Sottotenente Miroslav Komjanc of the 413a Squadriglia also scrambled at the same time for the same Blenheims.
Actually, that first day of war, Blenheim Is of 203 Squadron were performing reconnaissance over Assab, Massawa, Diredawa, Harar, Jijiga and Dessie.
After this, he every day performed up to three patrol missions per day, alternated to scrambles.
On 20 June, between 08:15 and 09:15, Tenente Cacciavillani claimed one of a reported seven Blenheims shared probably destroyed together with Sergente Maggiore Antonio Giardinà of the 410a Squadriglia (who spent 320 rounds of 7.7mm).
Five Blenheims of 8 Squadron had attacked Diredawa with no appreciable results but reported being intercepted by three CR.42s, which attacked the outside aircraft. They disengaged easily due to their faster speed, and returned home with no damage.
Around midday on 24 June 1940, four Blenheims of 39 Squadron (take-off from Sheikh Othman at 11:15) and two of 11 Squadron in two flights of three approached Diredawa for the fifth raid on this airfield. Sergente Maggiore Antonio Giardinà of the 410a Squadriglia was up on a standing patrol in his CR.32. He dived out of the sun on the leading flight and attacked them very effectively, all three bombers being damaged. He was seen by his unit commander to pass over the area in pursuit of the bombers, one of which was trailing white smoke and another appeared to be losing oil. Blenheim L4920 flown by Pilot Officer D. G. Hunter of 39 Squadron began to lag behind with one engine stopped, but Giardinà's guns now jammed and he was forced to retire.
Meanwhile, Tenente Cacciavillani and another CR.32 had scrambled, and continued to attack on Pilot Officer Hunter's aircraft. It was seen losing height steadily and was later found by British troops force-landed 95km north-east of Hargeisa in Italian Somaliland. Hunter and his observer, Sergeant R. G. D. Ellis, were both injured but were assisted by Somalis to reach Allied ground forces, while 23-year-old Leading Aircraftsman Reginald Olley (wireless operator/air gunner) (RAF no. 520817), who had gone to seek assistance were missing. Olley was later found but died of his injuries on 29 June.
Tenente Cacciavillani declared three Blenheim spotted and one destroyed in his logbook, his mission lasting from 12:40 to 13:25.
On 30 June he went to K.91 alternative airfield (Shinele, a few kilometres north of Diredawa), where the following day he reached Diredawa and then Jijiga. Here he made several patrol missions, then returned to Diredawa on 7 July.
On 16 July, he scrambled at 11:30 and shot at a Blenheim from 39 Squadron, that was making a reconnaissance over Kinele K.92 airfield, north-north-east of Diredawa, claiming it as probably destroyed. British sources declared that the bomber had just the starboard flap damaged.
At 08:00 on 1 August 1940, the two secret Italian landing grounds at Shinele, near Diredawa, was discovered and strafed by two Blenheims.
A dozen Blenheims from Aden, six each from 8 and 39 Squadrons, escorted by two Blenheims IVFs of 203 Squadron, were sent off to attack the fields in the afternoon. At 15:00, the bombers approached at 16,000 feet and dived to 10,000 feet to bomb. AA fire was encountered and fighters from Diredawa, eight miles away, attacked the two Blenheims IVFs, which were escorting the 39 Squadron formation, which had bombed first. One of the fighter Blenheims was hit by one bullet, and a possible hit on one CR.42 was claimed.
Tenente Cacciavillani, after having spotted eight of them, attacked the Blenheim IVFs and claimed one probably shared destroyed. Cacciavillani had taken off at 14:50 and landed at 16:10.
Later than the rest of the fighters at Diredawa, Capitano Corrado Ricci, commanding officer of the 410a Squadriglia, had taken off in his CR.32 as the second wave of bombers approached, and he chased and these. He later told:
"I look around; nothing to see. But... something is coming from the sunshine... Here they are; six diving bombers. It seems to me they are heading towards our secret airfields. I hope they had been alerted! They are flying over Diredawa; I'll chase them out of the town border. They hadn't bombed the town, so they're really heading to the airfields. They are going to pass at my side, at my same level, fast as a bolide! I attack the front section of three from the side, the other section still being to the rear. While I'm firing, I find myself in their trail; I shoot at the leader, then at the right wingman; the two aircraft seem to leave tiny trails of smoke, but I'm not sure of it. One of my machine gun jams, but I don't recharge it because I don't want to lose aim. Tracer shells passed nearby my side, I hear shots behind me; I am attacked too. I evade with a large, barrel-shaped tonneau; while I'm upside down I can see the second section passing at my right side, slightly lower than me. At the end of the manoeuvre I'm at six of the left wingman, but in the meanwhile I recharged the jammed gun, so I shoot again, sharing my rounds to all three, while bombs are falling. First section is far ahead, the two aircraft I fired at are still smoking. [...] I concentrate on the aiming: it's the turn of the right wingman now. The gun jams again! I recharge it. All three aircraft leave a light trail of smoke, like the two of the first section. I shoot again... the aircraft I'm shooting at seems to slow down... is it an illusion? No, it is really slowing down: while the other two are going, it extracts the gun turret and begins to shoot at me. I fire again; the British pilot manoeuvres to prevent me to hide behind his tail. I discharge brief bursts... I must slow down to not collide with him. We are at ten meters from ground; the British extracts the flaps and lands on the sand in a cloud of dust."
The aircraft shot down by Ricci was Blenheim L8406 of 8 Squadron, Sergeant J. C. Franks (pilot), Sergeant Thain (observer) and Leading Aircraftsman Cumner-Price (wireless operator/air gunner) becoming prisoners.

Early on 2 August, Blenheims of 45 Squadron's Detachement attacked Asmara, bombing five Savoia bombers on the ground, while five Blenheims of 39 Squadron aircraft raided Shinele again. The CR.42s scrambled at 11:15 and attacked them, Tenente Cacciavillani claiming one as probably destroyed with another pilot. The Blenheim bombers were unhurt and Tenente Cacciavillani landed at 12:35.

He transferred to Jijiga on 4 August, by where the same day (between 11:15-13:45) he flew a troops' protecting mission over the Hargeysa (Somaliland) front. He flew the same mission at the same time the following day and the next (6 August). That same day he went to Jijiga, and the following day he returned to Diredawa.

At 05:25 on 8 August, two CR.32s of the 410a Squadriglia (Capitano Corrado Ricci and Sergente Maggiore Giovanni Tellurio) and two CR.42s of the 413a Squadriglia (Tenente Cacciavillani and Sottotenente Miroslav Komjanc) took off from Hargeisa (British Somaliland) advanced camp to attack Berbera airfield. Tenente Cacciavillani aborted the take-off. The remaining three aircraft arrived by surprise at Berbera at 06:00. Two 94 Squadron Gladiators were on the ground and the standby pilot had got into the cockpit of N5778, but had not got the engine started when the attack began, and as Capitano Ricci opened fire, he leapt out and ran to shelter. Failing to inflict telling damage in the first pass, Ricci returned for a second attack, and this time he set the Gladiator alight and it burned fiercely, being totally destroyed. The second Gladiator (N5890) was also set on fire by the attacks of Sergente Maggiore Tellurio and Sottotenente Komjanc, the rear fuselage and tail being burnt off. Next day the second Gladiator was dismantled and shipped back to Aden but it was considered destroyed beyond repair. Ricci recalled the mission:
"I was the first to take off, with Tellurio at my wing; soon after started Cacciavillani and Komjanc, but the first skipped on ground, and then stood with tail up: what could have happened to him? Komjanc joined us. I checked my compass with a pocket light to keep the course. After half an hour of flight, the light is coming, but we could not yet see Berbera; five minutes more: nothing again... I again checked the chart; the course is right, but I have no reference point on the ground because it is so flat; I know that the wind is strong, and its direction change as the sun rise, but I can't evaluate it. I continue a little bit on chance. At the end, I decide to turn 90-degrees left; after a few minutes, a sparkling ahead makes me happy: it's the sea! I start a light dive, and I increase it as we are approaching, so we find us to fly grazing to the yellowish sand: it's the only way to come unseen! I can see the town, it's small, whitish; there's a ship in the harbour. Here is the airfield: two dark aircraft, side by side, stand out. They are Gladiators. My wingmen close at me, and this bothers me; slowly, I gain speed and I put them away from me. We are skimming the ground and some small hills cover us to enemy's sight; just a little bit... Here we are! With a steep climb, I gain 500 m height, then I dive on the fighter at left; while I'm aiming a man leaves it and falls headlong... what a long-legged he is! I shoot: a strong wind disturbs my shoot, my rounds are on ground, but some hit the target. I pull hard, quite skimming the wing of the enemy aircraft; I hear behind my shoulders that Tellurio and Komjanc are firing too. The anti-aircraft weapons awake; bluish tracer shells, shrapnel explosions; the ships fires like a volcano, the machine-guns in their nest at the airfield's edge are shooting: the air is hot! A big turn: the other Gloster is burning, mine is not, but with a second burst, I get it burning too. We can go! I take a snapshot with my old camera that I bring with me at every flight: I have to prove the results of the action. We go away, with a grazing flight. A sand column rise just in front of me; here another and other around: they are the British grenades. I climb to 200 m altitude: black burst around us, some other sand gush here and there, then all is over."
The fighters landed at Jijiga at 07:25. A total of 252 x 7.7mm and 158 x 12.7mm rounds had been fired.

On 13 August, he took off at 12:30 to a strafing mission on Berbera airfield and trucks on the Faruk-Berbera road. He landed at Jijiga at 14:30, and returned to Diredawa the following day.

By 25 September, he was based at Addis Ababa airport, to perform the usual patrol flights and overhaul his aircraft.

To give an idea on how wide was the territory to cover, we know he went, as part of a section, to Yavello (Ethiopia) airfield on 9 October, and then to Lugh Ferrandi (Italian Somalia) and Mogadishu on 2 November. He wandered to Gobwen (7 November), El Volud (9 November, to test a new airstrip), Mogadishu (22 November), Lugh Ferrandi, Negele (Ethiopia), Shashamana and Addis Ababa (23 November).

By 28 November, he made daily patrol flights by Addis Ababa to Bedi (some 15km north-west of it) and return, even twice a day.

In early December, Tenente Cacciavillani was attached to the 412a Squadriglia (Capitano Antonio Raffi) with two other CR.42s, for the actions against Sudan-based Commonwealth forces. Therefore, he transferred to Gura via Dessie on 7 December, and to Barentu four days later.

On 12 December, the 412a Squadriglia launched an airfield strafe on the advanced strip at Gaz Regeb, where 237 Squadron's 'B' Flight was based.
In the morning, five aircraft took off led by a S.79 (Tenente Colonnello Liberati). At 06:10, three of them (Capitano Antonio Raffi, Tenente Carlo Canella and Tenente Mario Visintini) attacked the parked Hawker Hardys, destroying K4053, K4308, K4055 and K4307 while the other two CR.42s (Tenente Cacciavillani (detached from the 413a Squadriglia) and Sottotenente Giovanni Levi) remained above as cover.
Capitano Raffi, CO of the 412a Squadriglia, made several attacks on one aircraft, which consistently refused to burn, but his own aircraft was then hit in the oil sump by fire from the Sudan Defence Force detachment guarding the airfield. Trailing smoke, he headed for his base, but the engine finally seized and stopped some 100 kilometres from the target and he force-landed east of Aroma, near the Atbarah River. Tenente Visintini landed alongside, took his CO aboard and seated on Raffi's knees after dispensing his parachute, took off and returned successfully. Once at Barentu, after refurbishing, Tenente Visintini, Tenente Cacciavillani and Sottotenente Levi returned to destroy Raffi's abandoned fighter to ensure its total destruction.
The Italian pilots claimed to have destroyed five Vickers Vincents on the ground at Qawz Rajab, together with three armoured cars near the downed Fiat.

Cacciavillani returned to the 413a Squadriglia in Addis Ababa, via Gondar, on 1 January 1941, and by the 6th he reprised to fly patrol missions between Addis Ababa and Bedi.

On 23 January, he was again attached to the 412a Squadriglia at Gura.

On the morning on 27 January 1941, six Hurricanes and six Gladiators of 1 SAAF Squadron, using Sabderat as an advanced landing ground for refuelling, attacked Gura airfield during the day, many aircraft being seen there. While Major Wilmot, Lieutenant Theron and a third pilot remained above as top cover, the other nine strafed, claiming hits on nine S.79s, seven S.81s and three Ca.133s.
The Gladiators taking part in the strafe were led by Captain Brian Boyle (Gladiator N5815) and the other five pilots were Lieutenants Servaas de K. Viljoen, Robin Pare, Andrew Duncan, John Coetzer and Taylor. Hurricane pilots included Major Wilmot, Captain K. W. Driver, Lieutenant John Hewitson and Lieutenant Leonard le Clues Theron.
It seems that the attack was contested since Tenente Cacciavillani reported in his logbook that he scrambled at 12:35 and fought against a couple of Hurricanes, with no results.
After the strafe at Gura, Captain Driver and Lieutenant Hewitson continued to Adi Ugri where Driver strafed four more S.81s, claiming damaged to two of them. Hewitson meanwhile strafed other ground target.
The Italians reported that three S.79s and four S.81 were substantially damaged.

Two days later, he scrambled twice; at 11:35 when he together with a wingman attacked four Blenheims of 14 Squadron, which were going to bomb Gura (four more attacked Mai Edaga), shooting 170 rounds of 12.7mm and 205 rounds of 7.7mm. Two bombers were damaged according to sources; however, there are no claims in his logbook.
At 14:00 on 29 January, 1 SAAF Squadron took off to attack Gura, with six Hurricanes (Major Lawrence Wilmot, Captain K. W. Driver, Lieutenants John Hewitson, Andrew Duncan, Hendrik Johannes Piet Burger and Leonard le Clues Theron) flying as top cover to five Gladiators, which would strafe. As they approached the Hurricanes run into several S.79s and a large number of CR.42s, which were seen over the airfield, the bombers having just returned from a raid over the front, and the fighters having scrambled at the approach of the South African aircraft. Captain Driver at once attacked an S.79 as it was going in to land, and shot it down in flames, two members of the crew baling out. The Gladiators then arrived, led by Captain Brian Boyle. These also met the Fiats, Lieutenant H. P. Smith (Gladiator N5851) and Lieutenant E. A. Jarvis each claiming one shot down.
Capitano Antonio Raffi, commander of the 412a Squadriglia, was above with two of his pilots, Tenente Cacciavillani and Maresciallo Aroldo Soffritti (they scrambled at 15:20), and he saw the Hurricane shoot down the S.79 before he could intervene. He then spotted the Gladiators, which he believed to be six strong, and at once, a great dogfight begun, during which the South Africans saw many Fiats falling away. Driver meanwhile had seen Adi Ugri landing ground on which four S.81s were dispersed, and attacking these, he left one (claimed as a S.79) in flames.
On return to base the combat with the Fiats was fully discussed, and it was decided that five had been shot down, one each by Lieutenant Smith and Lieutenant Jarvis, the other three being impossible to allocate to individual pilots. All the SAAF aircraft returned safely, although one Gladiator (N5831) had been hit by a single bullet.
This proves how easy it was to overestimate the damage caused, and indeed the numbers involved, in a whirling dogfight. Although several CR.42s were hit and damaged, none was in fact shot down. Tenente Cacciavillani's CR.42 was badly damaged by 50 hits, and Maresciallo Soffritti's was also damaged. Capitano Raffi's own aircraft was hit five times and he recorded that he took ten bullets in his parachute and lost the fabric in the fuselage close to the cockpit and the tail plane. It seems that Raffi's fire hit and damaged Lieutenant Smith Gladiator, who landed unhurt. The Italians reported combat against four Hurricanes and six Gladiators and reported one Gladiator shot down. Tenente Cacciavillani fired 60 rounds of 7.7mm, and claimed a Gladiator probably destroyed (shared) (strangely enough, this claim has been cancelled by a pen line in his logbook).

In the meanwhile, the Commonwealth offensive had begun, and the airfields closer to the border were abandoned by Italians.

Between 13:35-14:50 on 1 February, Cacciavillani escorted S.81 bombers to the Agordat front.

On 2 and 3 February, he made two recon missions over Barentu, now in British hands, at 12:15 to 13:45 respectively 06:35 to 08:00. The latter day he went back to his original unit, the 413a Squadriglia, now in Makale (Ethiopia).

From Aden two Blenheim IVFs of 203 Squadron, flown by Squadron Leader J. M. N. Pike and Flight Lieutenant J. P. D. Gethin, made a low-level strafing attack on Makale airfield, the following day, on 4 February.
Tenente Cacciavillani of the 413a Squadriglia together with two CR.32s from the 410a Squadriglia flown by Sottotenente Alberto Veronese and Sottotenente Vincenzo Forcheri, scrambled at 10:30 under the enemy strafing and attacked the two Blenheims, which were both badly damaged, one losing a propeller and crash-landing at its base. Notwithstanding this, they claimed a CR.42 shot down. Indeed, hit by defensive fire in his engine, Cacciavillani was forced to land. He had fired 120 rounds of 7.7mm and 74 of 12.7mm.

Cacciavillani returned to Gura on 15 February.
That same day, Captain Brian Boyle of 1 SAAF Squadron led Lieutenants Andrew Duncan, Robin Pare and van der Merwe on a patrol over the Gura area in support of a Wellesley of 47 Squadron on a reconnaissance mission over Mai Edaga. Three CR.42s were spotted flying towards Massawa and one of them attacked the Wellesley. Captain Boyle engaging one without result.
Later in the day Major Wilmot, Captain Boyle and Lieutenant Leonard le Clues Theron flew an offensive patrol to Gura though they took a circuitous route, as it was believed that the Italian fighters tended to make off on the SAAF's approach to the place. They found three CR.42s again, headed at low level for Massawa. This time Boyle shot one down, the pilot being seen to crawl out of his wrecked Fiat and to limp away.
It is possible that the CR.42 claimed by Boyle was in fact Tenente Cacciavillani, who reported that he scrambled with five others at 16:30 against four Hurricanes, but his aircraft was hit during take-off and he made an emergency landing.

On 21 February, Cacciavillani was back once again at his 413a Squadriglia in Addis Ababa, via Asmara, Makale and Dessie.

He transferred to Kuyu (a secret airfield 95km NNW of Addis Ababa) on 4 March and the same day, between 09:40 and 11:55, he escorted a Ca.133 to Burye and patrolled twice the area between Burye and Denbecha.

The following days he protected troops in the Denbecha area, always landing at Kuyu and returning later to Addis Ababa.

He then escorted S.81 bombers to Burye (17 March between 06:45-09:15), Denbecha (19 March between 07:25-09:10) and the Baremma-Denbecha area (21 March between 12:30-14:20).

He transferred to Diredawa on 22 March.

The following day, 23 March, he strafed Jijiga airfield (spending 30x7.7mm and 20x12.7mm rounds) and made a recon in the area. This mission lasted between 05:25-07:15.
That same day he returned to Addis Ababa.

Cacciavillani flew two missions on 26 March. One between 06:30-09:00 when he escorted S.79 bombers to Babile then strafed trucks in the Miesso-Gawani area (60x7.7mm and 100x12.7mm) and a second between 11:45-14:45 when he again strafed trucks at Babile with 130 rounds of 7.7mm and 120 of 12.7mm.

There was a scramble at 10:40 on 28 March, when he damaged a Glen Martin with 115 rounds of 12.7mm and 460 of 7.7mm. This was possibly a Maryland from 12 SAAF Squadron that reported being attacked by CR.42s during a reconnaissance mission but which returned safely to Jijiga.
In the afternoon on the same day, Tenente Luciano Cacciavillani with four other CR.42s led by Tenente Franco De Micheli, patrolled the railway Moggio-Awash and landed at Ganami.

At this airfield, the following day, on 29 March, all the five CR.42s of the 413a Squadriglia (Tenente Franco De Micheli, Tenente Cacciavillani, Sergente Maggiore Danesin and two more pilots) and two CR.32s of the 410a Squadriglia (Sottotenente Silvano and Sergente Maggiore Antonio Giardinà) took off at 06:05.
At 07:00, four of the aircraft (including Cacciavillani) strafed the main landing ground of Jijiga airport while the other three circled overhead as top cover. In the first pass a Ju 52/3m (No. 660), a Valentia (No. 264) and a Hartbeeste were set on fire; two of the Ju 52/3ms that were damaged in an attack on the 26th were also shot up again (three was claimed by the Italian pilots as damaged according to Cacciavillani's logbook), as was a Leopard Moth of the Communcation Squadron (not claimed by the Italian pilots).
The Italians did not discover the fighter satellite strip and two stand-by Hurricanes of 3 SAAF Squadron flown by Captain S van Breda Theron and Lieutenant Venter at once took off. Theron was no sooner in the air than his aircraft received a bullet in the cooling system (from an airfield defence Lewis gun, it was suspected); he went in to land again, but as he did so he was attacked by Sergente Maggiore Antonia Giardinà in a CR.32. The Hurricane was set on fire and Theron was wounded in the leg. As soon as Giardinà saw Theron leap out on to the wing, which he did the moment his Hurricane touched the ground, the Fiat pilot ceased firing. A CR.42 then arrived on the scene and opened fire on the Hurricane, although to the personnel on the ground it appeared that it was the fleeing pilot who was the target.
Tenente Cacciavillani reported being attacked by Hurricanes and at the end of the fight, he claimed two of them destroyed and one more probable shared.
Lieutenant Venter meanwhile was attacked by three Fiats and his aircraft was riddled with bullets, but he managed to shot down one Fiat, which fell in flames and crashed, the pilot, Sottotenente Silvano (This aircraft was claimed as a CR.42, but was in fact one of the CR.32s). AA gunners of the 5th Battery, SAA, claimed to have shot down a CR.42 also, but only Silvano's aircraft was lost during the attack. During the attack on the main airfield a 41 SAAF Squadron gunner had climbed into the rear cockpit of a Hartbeeste to return fire, while more Hurricanes were now scrambling, giving chase as the enemy fighters sped away towards the hills around Diredawa. Captain Frost chased two CR.42s flown by De Micheli and Sergente Maggiore Danesin, following them through valleys and over peaks, finally getting close enough to them without being seen, to shoot down Danesin's aircraft, the pilot being killed.
That same morning Cacciavillani returned to Addis Ababa.

Cacciavillani's last mission was on 2 April, when he patrolled the river Auade in the morning.
The following day he went to Dessie, where he surrendered on 26 April.

He spent the rest of the war as a POW in Camp 28/2 in Bombay (India).

Cacciavillani ended the war with 3 biplane victories, these being claimed while flying the Fiat CR.42.
During the war, he was decorated with one Medaglia d'argento al valor militare.

As soon as he had returned to Italy, he died in a Repatriated Veteran Center, either at Bari or Naples, on 18 February 1947, probably due to malaria he had caught in prisoner camp.

On 8 February 1948, the University of Padua posthumously honoured him with a honoris causa graduation in Law.

Claims:

| | | | | | | | | | |
| --- | --- | --- | --- | --- | --- | --- | --- | --- | --- |
| Kill no. | Date | Time | Number | Type | Result | Plane type | Serial no. | Locality | Unit |
| | 1940 | | | | | | | | |
| | 20/06/40 | 08:15-09:15 | ½ | Blenheim (a) | Shared probably destroyed | Fiat CR.42 | | Diredawa area | 413a Squadriglia |
| 1 | 24/06/40 | 12:40-13:25 | 1 | Blenheim (b) | Destroyed | Fiat CR.42 | | Diredawa area | 413a Squadriglia |
| | 16/07/40 | 11:30- | 1 | Blenheim (c) | Probably destroyed | Fiat CR.42 | | Kinele airfield | 413a Squadriglia |
| | 01/08/40 | 14:50-16:10 | ½ | Blenheim (d) | Shared probably destroyed | Fiat CR.42 | | Shinele airfield | 413a Squadriglia |
| | 02/08/40 | 11:15-12:35 | ½ | Blenheim (e) | Shared probably destroyed | Fiat CR.42 | | Shinele airfield | 413a Squadriglia |
| | 1941 | | | | | | | | |
| | 04/02/41 | 10:30- | 1/3 | Blenheim (f) | Shared damaged | Fiat CR.42 | | Makale airfield | 413a Squadriglia |
| | 04/02/41 | 10:30- | 1/3 | Blenheim (f) | Shared damaged | Fiat CR.42 | | Makale airfield | 413a Squadriglia |
| | 28/03/41 | 10:40- | 1 | Glen Martin (g) | Damaged | Fiat CR.42 | | Addis Ababa area | 413a Squadriglia |
| | 29/03/41 | 07:00- | 1/4 | Ju 52/3m (h) | Shared destroyed on the ground | Fiat CR.42 | | Jijiga airfield | 413a Squadriglia |
| | 29/03/41 | 07:00- | 1/4 | Valentia (i) | Shared destroyed on the ground | Fiat CR.42 | | Jijiga airfield | 413a Squadriglia |
| | 29/03/41 | 07:00- | 1/4 | Hartbeeste | Shared destroyed on the ground | Fiat CR.42 | | Jijiga airfield | 413a Squadriglia |
| | 29/03/41 | 07:00- | 1/4 | Ju 52/3m | Shared damaged on the ground | Fiat CR.42 | | Jijiga airfield | 413a Squadriglia |
| | 29/03/41 | 07:00- | 1/4 | Ju 52/3m | Shared damaged on the ground | Fiat CR.42 | | Jijiga airfield | 413a Squadriglia |
| | 29/03/41 | 07:00- | 1/4 | Ju 52/3m | Shared damaged on the ground | Fiat CR.42 | | Jijiga airfield | 413a Squadriglia |
| 2 | 29/03/41 | 07:00- | 1 | Hurricane (j) | Destroyed | Fiat CR.42 | | Jijiga airfield | 413a Squadriglia |
| 3 | 29/03/41 | 07:00- | 1 | Hurricane (j) | Destroyed | Fiat CR.42 | | Jijiga airfield | 413a Squadriglia |
| | 29/03/41 | 07:00- | 1 | Hurricane (j) | Shared probably destroyed | Fiat CR.42 | | Jijiga airfield | 413a Squadriglia |
Biplane victories: 3 destroyed, 1 and 4 shared probably destroyed, 1 and 2 shared damaged, 3 shared destroyed on the ground, 3 shared damaged on the ground.
TOTAL: 3 destroyed, 1 and 4 shared probably destroyed, 1 and 2 shared damaged, 3 shared destroyed on the ground, 3 shared damaged on the ground.
(a) Claimed in combat with Blenheims from 8 Squadron, which didn't suffer any damage.
(b) Blenheim L4920 of 39 Squadron shot down; two of the crew rescued and one KIA. In fact, shared with Antonio Giardinà.
(c) Blenheim from 39 Squadron damaged.
(d) Blenheim from 203 Squadron damaged.
(e) Claimed in combat with Blenheims from 39 Squadron, which didn't suffer any damage.
(f) Blenheim IVFs of 203 Squadron, flown by Squadron Leader J. M. N. Pike and Flight Lieutenant J. P. D. Gethin; both damaged and one had to crash-land at base in Aden.
(g) Possibly a Maryland from 12 SAAF Squadron, which returned safely.
(h) Ju 52/3m no. 660 destroyed.
(i) Valentia no. 264 destroyed.
(j) Claimed in combat with Hurricanes from 3 SAAF Squadron, which lost 1 Hurricane and got another damaged while claiming 2 CR.42s shot down. 413a and 410a Squadriglie claimed at least 3 and 1 probable Hurricanes while losing 1 CR.32 and 1 CR.42.

Sources:
Luciano Cacciavillani's personal logbook and photo courtesy of Cacciavillani family (Luciano jr and Alberto)
410a Squadriglia war diary (1940) kindly provided by Stefano Lazzaro.
Annuario Ufficiale Delle Forze Armate Del Regno D'Italia Anno 1943. Part III Regia Aeronautica – 1943 Istituto Poligrafico Dello Stato, Roma
Comando Aeronautica Africa Orientale war diary (June 1940) kindly provided by Stefano Lazzaro.
Dust Clouds in the Middle East - Christopher Shores, 1996 Grub Street, London, ISBN 1-898697-37-X
Springbok Fighter Victory: East Africa Volume 1 1940 – 1941 – Michael Shoeman, 2002 African Aviation The Commonwealth War Graves Commission
Additional information kindly provided by Stefano Lazzaro, Michele Palermo and Ludovico Slongo.




Last modified 03 September 2020