Biplane fighter aces

The Commonwealth

Pilot Officer Leonard Lawrence 'Len' Bartley, RAF no. 42182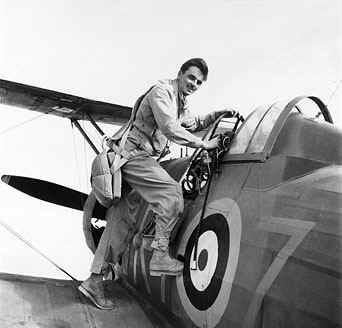 Pilot Officer Leonard Bartley climbs into his Gloster Gladiator Mk.II N5829/RT-Z.
Leonard Bartley was a Canadian from Saskatoon, Saskatchewan.
He joined the Royal Navy during 1932, serving briefly until 1933.
In 1938, still not having reached his 24th birthday, he joined the RAF and was granted a short service commission on 24 June 1939, being confirmed as a Pilot Officer on 1 May 1940.
On completion of training, he was posted to 55 Squadron in Egypt to fly Blenheims.
He was posted to 112 Squadron on 30 July 1940.
On 20 November, 208 Squadron despatched two Lysanders to reconnoitre an area bounded by Sollum, Sofali and Buq-Buq. They were L4724 piloted by Flight Lieutenant Burnard and L4728 piloted by Pilot Officer Waymark that took off from Qasaba at 14:20 and 14:15 landing back at 16:35 and 16:20 respectively (another Lysander, possibly L6874, an attached 6 Squadron aircraft piloted by Flying Officer T. H. Davison, was out in the same area). 33 Squadron provided nine Hurricanes (including Flying Officer Vernon Woodward (N2498), Flight Lieutenant Ernest Dean (P 3818), Flying Officer John Mackie (P3724), Squadron Leader Charles Ryley (P3970), Flight Sergeant Harry Goodchild (N2640), Flying Officer Frank Holman (P3724) and Pilot Officer Charles Dyson (N2640)) as escort. It is possible that the unaccounted pilots were one or two pilots from 274 Squadron since a quartet of Hurricanes from this Squadron, piloted by Flight Lieutenant R. V. Evers-Swindell, Pilot Officer Ernest Mason, Pilot Officer Thomas Patterson and Second Lieutenant Frederick Johannes Joubert, together with Pilot Officer Strange and Second Lieutenant Bester (who followed with the ground party) were detached on attachment to 33 Squadron on 14 November. On 21 November, Evers-Swindell, flew back from Fuka to have repairs on his fighter, reportedly damaged in a running fight with CR.42s. It seems almost sure that the "running fight" was the below described action, so it is possible that R. V. Evers-Swindell was present.
The escort took off from Fuka Satellite airfield at 14:15, with one section of three protecting each Lysander while a third section provided top cover. At the same time, a formation of six Gladiators from 112 Squadron would sweep the same general area.
East of Sidi Barrani, 18 CR.42s intercepted them and one Fiat half-rolled and dived away after being fired on by a Hurricane. It is possible that this aircraft later was credited as a destroyed to Flying Officer Mackie, who in a letter sent home to Canada on 4 December recalled:
"Just before I went on leave we had one of two bits of fun up here. On one occasion, you may have heard about it on the radio, fifteen of us got mixed up with sixty wop fighters. We lost none, and got at least eight of them. I got one of these, although not in a very convincing way from my point of view, as I didn't see it go in. Another pilot saw the start and the finish of it. Anyhow, it sure was a mix-up. I have never seen so many machines milling around in such a small amount of sky."
However, after this both sides started to guard each other without giving battle with the Italians uncertain to tangle with the faster Hurricanes and the British finding it difficult to close in on their more manoeuvrable opponents.
The Hurricanes of the two sections dealing with the direct escort of the Lysanders now started to brake off since they were being out-manoeuvred by their opponents and at this moment a huge formation of a reportedly 25-30 Italian fighters was seen higher. The top cover section of 33 Squadron climbed to engage but reportedly without avail because the Italian turned back towards Libya without engaging.
The Italian formation was composed by 18 aircraft from all three Squadriglie of the 9o Gruppo led by Maggiore Ernesto Botto (at the head of the 73a Squadriglia). Six of the CR.42s were from the 96a Squadriglia (Capitano Roberto Fassi leading Tenente Aldo Gon, Sottotenente Carlo Agnelli, Sottotenente Armando Moresi and Sergente Vittorio Pozzati together with 4o Stormo's adjutant, Capitano Mario Pluda), five were from the 73a Squadriglia (Tenente Valerio De Campo, Tenente Pietro Bonfatti, Maresciallo Mario Ruffilli, Sergente Maggiore Antonio Valle and Sergente Santo Gino) and six were from the 97a Squadriglia (Capitano Antonio Larsimont Pergameni, Tenente Ezio Viglione Borghese, Sottotenente Jacopo Frigerio, Maresciallo Rinaldo Damiani, Sergente Francesco Putzu and Sergente Franco Sarasino). They had taken off from El Adem at 14:40 to cover Italian troops in the Bir Enba area (and probably indirectly escorting a reconnaissance plane) when Botto discovered a Bristol Blenheim escorted by several Hurricanes flying lower and attacked.
At this moment, with the 9o Gruppo's attention focused elsewhere, the 112 Squadron's Gladiators intervened and managed to surprise the Italian formation over Sidi Barrani. They claimed eight of the Fiats without losses. All of the six pilots made claims and Flight Lieutenant R. J. Abrahams claimed one and one shared with Pilot Officer Richard Acworth, who also claimed one additional. Flying Officer R. J. Bennett claimed one, Pilot Officer Alfred Costello claimed one, Pilot Officer Bartley claimed two and Sergeant 'Paddy' Donaldson finally claimed one. 112 Squadron didn't record any losses in this combat even if Pilot Officer Acworth in his memories spoke of a couple of planes obliged to force-land and the unit's aircraft retuned to Fuka between 16:20 and 17:25. For this one-sided action, they were noted in the press for the first time.
Richard Acworth remembered this combat in a short story written in the 1960's but never published.
"The Lysanders were to be 'covered' against enemy air attacks by six Gladiators from my squadron… three flying at 12,000 feet, and three, led by myself, at 15,000 feet. 'Top cover' was to be provided by six Hurricanes, flying at 20,000 feet. The Hurricanes had strict orders to beat a hasty retreat if they met with enemy aircraft in large numbers, as it was thought at that time that they would be 'easy meat' for the move manoeuvrable C.R. 42's, the single-seater Italian opposite number of the Gladiator.
We had been patrolling for about 10 minutes, when I reported forty CR 42s, in eight sections of five, flying from the direction of Libya, at approximately 25,000 feet, 5,000 feet higher that the Hurricane 'top-cover'. To my dismay, the Hurricanes were soon speeding home, with a CR 42 sitting neatly on each tail. Our six Gladiators were left to finish the fight, for the Lysanders, their task completed, were heading for home, too.
There was not a friendly cloud in the sky, and the powerful desert sun made the enemy aircraft very difficult to see. Forthwith, they carried out the German tactics of remaining aloft, and sending down their more experienced men to finish us off one by one….but it was not to be!
With the first attacks, we broke formation, and it was every man for himself. I soon found myself very much alone, until unfriendly tracer bullets from behind, passed through the space between my right wings. I immediately steep-turned to the left, and caught sight of my attacker as he completed his dive and prepared to re-join his pals up higher, by means of a roll off the top of a loop.
Seizing my chance, I opened full throttle and followed him to the top of his loop, half rolled in formation with him, and was just about to open fire, when my aircraft stalled and flicked into a spin….not enough speed! I decided my best means of survival was to continue the spin, in the hope that he would think I had been badly hit. This was a fighter tactic from World War I, and it worked! Whilst I was spinning, I looked upwards and caught a glimpse of my adversary circling at his original height, waiting for me to crash into the desert. I came out of the spin at about 8,000 feet, no doubt much to his surprise, and didn't have to wait long for him to dive down to finish me off.
So started a long tail-chasing session. At first, my mouth became rather dry, but after a second or two, my mind became crystal clear, and I was determined to turn the tables on him. Slowly I began to gain ground, and soon part of his tail was in my sights, but I realized it would not have been great enough. When his engine came into my sights, I pressed the firing button, and was immediately cheered to see pieces of fabric or metal ripping off his fuselage, just behind the cockpit.
The Italian pilot turned so quickly in his mad effort to escape, that he pulled his aircraft into a spin, following a 'high-speed stall'. I followed him down, and fired at him as he tried to recover, and he promptly went into another one. On recovering from his second spin, he must have pulled an emergency boost control to give him extra speed, for he left my Gladiator 'standing'.
However, my opponent was not easily scared, and turned about a mile away to come back at me like a bull at a gate. We both opened fire, and when it seemed that a head-on collision was inevitable, he pulled out to my left in a climbing turn. For a second, I was able to fire at his exposed fuselage, and then, with throttle fully open, I climbed into the sun, into an advantageous position. To my horror, my engine stalled near the top of the climb, and I had to carry out the usual drill of closing the throttle and opening it again, slowly. Full power came back, and looking down, I could see my opponent looking for me. This time, I had the advantage of height, and I was nicely lining him up in my sights when he saw me, and tried to turn in underneath me.
Slowly twisting, and with the right deflection, I raked him with bullets from nose to tail, at almost point-blank range. I pulled out of my dive, to regain height, and saw him commence another spin from which he did not recover. I felt immensely relieved, somewhat shaken, and eventually joined up with two stray Gladiators, and returned to Mersa Matruh. I was pleased to learn later that seven aircraft had been shot down in the engagement, and that all the Gladiator pilots had survived the fight, although two had made forced landings.
I shall never forget that day. It was my first one-against-one air battle, and the longest time I had engaged a single enemy aircraft..."
The 9o Gruppo actually lost only three shot down and four damaged but two pilots were killed. The three shot down pilots were Sottotenente Carlo Agnelli of the 96a Squadriglia, who was killed, Sergente Francesco Putzu of the 97a Squadriglia, who was killed, and Tenente Gon (who usually flew CR.42 MM5605/96-2), who recalled:
"This day [strangely enough he recorded it as on 1 November but this is for certain an error] I lost the dearest of all my wingmen [Carlo Agnelli]. We were up with all the Gruppo and the three Squadriglie were stepped at different heights. The lowest escorting a reconnaissance plane, mine (96a Squadriglia) at 3000 metres while the third stay higher. The highest group had already engaged the enemy when I saw one of our planes diving almost vertically followed by a Gloster. I made a violent overturning that my wingmen were unable to follow [again without radio equipment the Italian formation was broken at the beginning of the combat and whatever numerical advantage was impossible to put into full use] when I reach a distance suitable to open fire I had to wait because there was the risk of hitting my comrade [with the same burst aimed at the fighter that was following him] I had to concentrate only on the aim [the wingmen were far away] so I couldn't look around and was attacked by two Glosters. With the first burst of fire they shot away my propeller, so without propulsion I could only manoeuvre to avoid further damage. All the height lost I force-landed and the English pilots that had already stopped firing while I was gliding down for my final approach flew past me waving their hands.
[Gon, tried to burn his plane without success and succeeded to reach an Italian outpost the day after]
Back at base, I discovered that information about the missing pilots (we were three) were lacking.
A sergeant [Sergente Francesco Putzu] was seen to jump with parachute and another of our planes was seen to crash after a hard fight, all believed it was mine because the other missing pilot (my dear wingman) was too "green" to be able to fight against three enemies as the pilot of the crashed plane did.
The encounter with Botto was tragicomically. I went to his room and he was waiting for me near the door and as just as he saw me he threw himself right into my arms through the three steps that divided us. But I was too weak and was unable to sustain him so we fell embraced on the ground."
According to the official records of the 4o Stormo, however, it seems that during the dive Gon's guns went out of synchronisation and when opening fire he cut his propeller with the first shots.
Seven confirmed and probable victories were credited to the pilots of the Gruppo after that they had landed at 16:30. This overclaiming was the result of that the Stormo's records had to be re-recorded in 1941 after they had been lost. This re-recording was done by Tenente Giulio Reiner, who was then adjutant of the Gruppo. Obviously Reiner's reconstruction was not as accurate as a complete debriefing immediately after the battle could be.
Roberto Fassi was credited with a Blenheim, a probable Gladiator and two damaged Gladiators. Pozzati, who was wounded on the right foot, was credited with a Gladiator while Gon was credited with a Gladiator (a victory that he didn't mention at all in his memories). Pluda claimed another Gladiator and Moresi one probable Gladiator. The 73a and 97a Squadriglie claimed one Gladiator and two Hurricanes shot down and four fighters damaged, all shared. Final assessment of the combat was four Gladiators, two Hurricanes and a Blenheim confirmed and two Gladiators probably destroyed (the actual number of confirmed claims varies between the reconstructed Diari of the involved Squadriglias to seven or eight destroyed).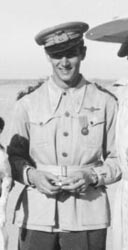 Sottotenente Carlo Agnelli of the 96a Squadriglia, who was killed in combat with Hurricanes from 33 Squadron and Gladiators from 112 Squadron on 20 November 1940.
Image kindly provided by Fulvio Chianese at GORIZIA ed il QUARTO STORMO.

On 4 December 1940, Flight Lieutenant Lloyd Schwab, Flying Officer R. J. Bennett, Flying Officer Richard Acworth (who was promoted to Flying Officer during the day with effect from 29 August 1940), Pilot Officer Bartley, Pilot Officer Jack Groves, Pilot Officer D. G. H. McDonald, Pilot Officer R.H. MacDonald, Sergeant G. M. Donaldson of 112 Squadron left Sidi Haneish to ferry Gladiators to the Royal Hellenic Air Force. Four fighters were to be handed over to the Greek while the other four would remain on attachment to 80 Squadron with the attached pilots.
Twelve of the sixteen 112 Squadron pilots that had left for Greece on ferry flights returned to Sidi Haneish in a Bombay on 7 December. The pilots were Flight Lieutenant Lloyd Schwab, Flying Officer Richard Acworth, Pilot Officer Bartley, Pilot Officer Jack Groves, Pilot Officer D. G. H. McDonald, Pilot Officer R. H. MacDonald, Sergeant G. M. Donaldson, Flight Lieutenant R. J. Abrahams, Flight Lieutenant Joseph Fraser, Flying Officer Edwin Banks, Flying Officer Homer Cochrane, Pilot Officer Alfred Costello. The other four pilots remained in Greece (Flight Lieutenant Charles Fry, Flying Officer R. J. Bennett, Pilot Officer R. H. Smith, Second Lieutenant H. H. Geraty) attached to 80 Squadron.

In Greece, when the retreat from Yannina began, Bartley lost his chance to fly a Gladiator to Eleusis through the toss of a coin and was obliged to hitchhike his way to Athens with five of the ground crew. A Blenheim took him to Crete.
On 5 May Ju 88s were intercepted over the Heraklion sector by two 112 Squadron Gladiators flown by Pilot Officer Bartley and Pilot Officer Gerald Westenra. Each pilot claiming a bomber damaged.
On the 2 June, a day after the British forces on Crete had surrendered, three of 112 squadron airmen, ACI McLennan (539503 ACI McLennan, G R, Fitter IIE), LAC Harrington and AC Malloy, together with Flying Officer R. J. Bennett and Pilot Officer Bartley and men of various other units, found two abandoned German invasion barges on the rocks of the south coast of Crete in the Tymbaki area. One was holed and the other had an unserviceable engine so the airmen transferred the good engine to the seaworthy barge. They managed to launch it and, having collected water and rations (during the day a Blenheim swooped low over the party and dropped a quantity of most welcome rations) and fuel, set off for Egypt. Aboard were six officers and 66 men. Other known officers were Lieutenant E. G. Ford of 24 SAAF Squadron, and his observer, Second Lieutenant G. L. W. Gill (both from a Maryland that was shot down on 25 May) and a wounded Australian officer.
In the early morning of the second day when the barge was about 30 miles out a submarine commander in perfect English hailed them. Believing this to be a Royal Naval vessel they answered cheerfully and received a burst of machine-gun fire in return. The Italian submarine commander probably then realised the British were unarmed and the officers were then ordered to swim to the submarine, but whilst attempting to do so, Gill was tragically drowned. The wounded Australian officer who had been left aboard was now ordered to return the craft to Crete, but Sergeant D. D. McWilliam, one of the Maryland crew, assumed command, decided to ignore the order and continued towards the North African coast.
After four days, travelling at about 4 knots, 'McLennan's barge' reached the Egyptian coast. After a while they recognised the sand dunes of Mersa Matruh and, seeing British troops, came ashore.
On board the submarine, the prisoners, who had not been able to wash for many days, were not only rather unwholesome but were also infested with fleas so the Italians took immediate steps to have them landed at Taranto, their first port of call.
From there Bartley was taken to a PoW camp at Sulmona, some 75 miles east of Rome where he languished for the next twenty-eight months.
In September 1943, when the Italians surrendered to the Allies, it seemed possible that all the prisoners would be released, but the Germans began moving in to take over control of the PoW camps. There were rumours that there would be a massacre of prisoners and the Italian guards attempted to defend them. In the confused fighting outside the wire Bartley made his escape, using a homemade wire-cutter.
Once free he, in his own words, `kept running for 24 hours without stopping!' Although disguised by the old clothes he wore he inevitably aroused suspicion and was frequently interrogated by civilians as he made his way south but he managed to shake them off and only once did he find himself in any danger when a seemingly friendly farmer gave him a bed for the night in his barn. Later he discovered that the barn door had been bolted on the outside and he realised his host was probably getting in touch with the local Military.
Determined not to be captured again, Bartley cut his way out and continued his journey south. At a place called Alberona, on a tributary of the river Salsola, Bartley was able to meet the mayor of the town who spoke English and who controlled a band of partisans. This group set off hoping to reach Allied lines but their garrulously argumentative progress was so noisy that they alerted a German road block and in the shoot out that followed Bartley was wounded in both legs. Nevertheless he was able to avoid being captured and somehow made contact with `Popsky's Private Army' (a small scouting force attached to the 8th Army commanded by Lieutenant Colonel V. Peniakoff a Russo-Belgian officer who had at one time been associated with the North African Long Range Desert Group), which was operating in the area behind enemy lines. With their help he reached Lucera, north of Foggia, and was soon liberated by the British advance.
Almost immediately, though, Bartley succumbed to malaria and his leg wounds and was hurried to hospital.
He did not see any further action before the end of war.
Bartley ended the war with 2 biplane victories, these being claimed while flying Gloster Gladiators.
He returned to Canada after the war, settling in Ottawa, where he ran Pathfinder Air Surveys.
'Len' Bartley died in 1985.
Claims:

| | | | | | | | | | |
| --- | --- | --- | --- | --- | --- | --- | --- | --- | --- |
| Kill no. | Date | Time | Number | Type | Result | Plane type | Serial no. | Locality | Unit |
| | 1940 | | | | | | | | |
| 1 | 20/11/40 | 14:40-16:30 | 1 | CR.42 (a) | Destroyed | Gladiator | | Sidi Barrani | 112 Squadron |
| 2 | 20/11/40 | 14:40-16:30 | 1 | CR.42 (a) | Destroyed | Gladiator | | Sidi Barrani | 112 Squadron |
| | 1941 | | | | | | | | |
| | 05/05/41 | | 1 | Ju 88 | Damaged | Gladiator | | Heraklion area | 112 Squadron |
Biplane victories: 2 destroyed, 1 damaged.
TOTAL: 2 destroyed, 1 damaged.
(a) Claimed in combat with CR.42s from the 9o Gruppo, which claimed seven victories and two probables while losing three CR.42s, getting four more damaged and losing two pilots KIA. 112 Squadron claimed eight victories for no losses, 274 Squadron possibly suffered one damaged Hurricane while 33 Squadron possibly claimed a CR.42 without losses.

Sources:
33 Squadron Operations Record Book
Air war for Yugoslavia, Greece and Crete - Christopher Shores, Brian Cull and Nicola Malizia, 1987 Grub Street, London, ISBN 0-948817-07-0
Aces High - Christopher Shores and Clive Williams, 1994 Grub Street, London, ISBN 1-898697-00-0
Aces High Volume 2 - Christopher Shores, 1999, Grub Street, London, ISBN 1-902304-03-9
Desert Prelude: Early clashes June-November 1940 - Håkan Gustavsson and Ludovico Slongo, 2010 MMP books, ISBN 978-83-89450-52-4
Desert Prelude: Operation Compass - Håkan Gustavsson and Ludovico Slongo, 2011 MMP books, ISBN 978-83-61421-18-4
Diario Storico 73a Squadriglia kindly provided by Ludovico Slongo
Diario Storico 97a Squadriglia kindly provided by Ludovico Slongo
Hurricanes over the sands: Part One - Michel Lavigne and James F. Edwards, 2003 Lavigne Aviation Publications, Victoriaville, ISBN 2-9806879-2-8
Hurricanes over Tobruk - Brian Cull with Don Minterne, 1999 Grub Street, London, ISBN 1-902304-11-X
Quelli del Cavallino Rampante - Antonio Duma, 1981 Editore Dell'Ateneo, Roma, kindly provided by Ludovico Slongo
Shark Squadron - The history of 112 Squadron 1917-1975 - Robin Brown, 1994 Crécy Books, ISBN 0-947554-33-5
Those Other Eagles – Christopher Shores, 2004 Grub Street, London, ISBN 1-904010-88-1
Woody - A Fighter Pilot's Album - Hugh A. Halliday, 1987 Canav Books, Toronto, ISBN 0-9690703-8-1
Additional information kindly provided by Rob Brown and Ludovico Slongo.




Last modified 23 October 2011