Biplane fighter aces

Italy

Capitano Aldo Gon
23 May 1914 – 12 July 1994
Decorations

| | | |
| --- | --- | --- |
| Date | Decoration | Note |
| ??/??/41 | Medaglia d'argento al valor militare (1st) | 1940-43 |
| ??/??/42 | Medaglia d'argento al valor militare (2nd) | 1940-43 |
| ??/??/?? | Croce al merito di guerra | 1940-43 |
| ??/??/?? | Medaglia commemorativa della campagna di Spagna (1936-1939) | O.M.S. |
| ??/??/?? | Medaglia di benemerenza per i volontari della guerra Spagna | O.M.S. |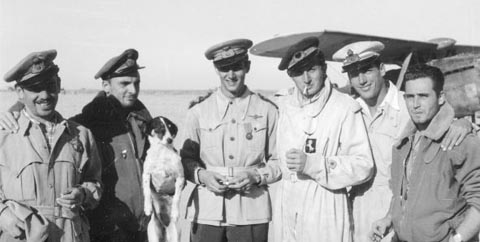 Pilots from 4o Stormo at El Adem, Cirenaica in front of a Fiat CR.32. The image is probably taken between September and November 1940.
From left to right: Aldo Gon, Giulio Reiner, Carlo Agnelli, Ezio Viglione Borghese, Armando Moresi and Alvaro Querci.
Image kindly provided by Fulvio Chianese at GORIZIA ed il QUARTO STORMO.

Aldo Gon was born on 23 May 1914 in Trieste.
On 3 December 1936, he was commissioned (in Servizio Permanente Effettivo).
He served as volunteer in the Spanish Civil War.
On 12 July 1940, the 9o Gruppo C.T. arrived at Tripoli from Comiso with 33 Fiat CR.42s under the command of Maggiore Ernesto Botto. The Gruppo consisted of 73a, 96a and 97a Squadriglie.
The 96a Squadriglia included Capitano Roberto Fassi (CO), Tenente Alessandro Viotti, Tenente Gon, Tenente Emanuele Annoni, Sottotenente Bruno Paolazzi, Sottotenente Carlo Agnelli, Sergente Maggiore Dante Labanti, Sergente Maggiore Graziadio Rizzati, Sergente Maggiore Giovanni Gallerani, Sergente Bruno Spitzl, Sergente Vittorio Pozzati, Sergente Gustavo Minelli, Sergente Bruno Biagini and Sergente Luigi Battaini. In fact, the Squadriglia moved to Libya with only seven non-commissioned officers (Battani was possibly the one who remained in Italy).
Together with the 10o Gruppo they formed the 4o Stormo C.T.
The Gruppo's Fiat CR.42s was wisely retrofitted with tropical kits for guns and engines, to avoid the problems suffered by the other Gruppi.

On 17 September, Sottotenente Riccardo Vaccari (97a Squadriglia) flew a night patrol from El Adem in the Sidi el Barrani area. During this mission, thanks to the moonlight, he discovered a British naval formation steaming north-east of Sollum. Returning to El Adem he gave the alarm and two SM 79s torpedo-bombers flown by Tenente Carlo Emanuele Buscaglia ("278-3" with the crew of Tenente Carlo Copello, Aviere Scelto motorista Neroni and Primo Aviere Marconista Giuseppe Dondi) and Tenente Guido Robone ("278-1"; with the crew of Sergente Deodato, Tenente di Vascello Osservatore Marazio, Primo aviere Marconista Mauri and Primo Aviere Motorista Sabatini) of the 278a Squadriglia Autonoma Aerosiluranti took off at 21:55.
Occupying spare room in the bombers were in "278-3" Tenente Giuseppe Aurili (84a Squadriglia) and Sottotenente Ezio Viglione (96a Squadriglia) sharing one parachute and in "278-1" Sottotenente Gon without a parachute.
At 22:40, near the coast of Ras Azzaz they discovered the enemy ships, it was the heavy cruiser HMS Kent with its escort, bound to bombard Bardia.
With the moon on the right side, lighting the target, the two SM 79s attacked in single line (Robone after Buscaglia) with an approach of 50 degrees with regard to the course of the ship. At 22:45, they launched their torpedoes from a distance of 700 metres. One of the torpedoes hit HMS Kent's stern near the propellers. It was the first serious damage caused to a British ship by Regia Aeronautica, and indeed HMS Kent, towed to Alexandria in two days with great difficulties, was unfit for further service in the Mediterranean. At this moment, it was the only 8-inch cruiser of the fleet because the other one assigned to Cunningham's fleet (HMS York) was still on its way towards Suez.
Back at base Buscaglia's aircraft was late in landing and Colonnello Grandinetti treated Gon with imprisonment since he held him responsible of "such a silly thing" and the loss of two pilots of the importance of Aurili and Viglione. After half an hour Buscaglia landed safely and it all ended well for Gon.

On 20 November, 208 Squadron despatched two Lysanders to reconnoitre an area bounded by Sollum, Sofali and Buq-Buq. They were L4724 piloted by Flight Lieutenant Burnard and L4728 piloted by Pilot Officer Waymark that took off from Qasaba at 14:20 and 14:15 landing back at 16:35 and 16:20 respectively (another Lysander, possibly L6874, an attached 6 Squadron aircraft piloted by Flying Officer T. H. Davison, was out in the same area). 33 Squadron provided nine Hurricanes (including Flying Officer Vernon Woodward (N2498), Flight Lieutenant Ernest Dean (P 3818), Flying Officer John Mackie (P3724), Squadron Leader Charles Ryley (P3970), Flight Sergeant Harry Goodchild (N2640), Flying Officer Frank Holman (P3724) and Pilot Officer Charles Dyson (N2640)) as escort. It is possible that the unaccounted pilots were one or two pilots from 274 Squadron since a quartet of Hurricanes from this Squadron, piloted by Flight Lieutenant R. V. Evers-Swindell, Pilot Officer Ernest Mason, Pilot Officer Thomas Patterson and Second Lieutenant Frederick Johannes Joubert, together with Pilot Officer Strange and Second Lieutenant Bester (who followed with the ground party) were detached on attachment to 33 Squadron on 14 November. On 21 November, Evers-Swindell, flew back from Fuka to have repairs on his fighter, reportedly damaged in a running fight with CR.42s. It seems almost sure that the "running fight" was the below described action, so it is possible that R. V. Evers-Swindell was present.
The escort took off from Fuka Satellite airfield at 14:15, with one section of three protecting each Lysander while a third section provided top cover. At the same time, a formation of six Gladiators from 112 Squadron would sweep the same general area.
East of Sidi Barrani, 18 CR.42s intercepted them and one Fiat half-rolled and dived away after being fired on by a Hurricane. It is possible that this aircraft later was credited as a destroyed to Flying Officer Mackie, who in a letter sent home to Canada on 4 December recalled:
"Just before I went on leave we had one of two bits of fun up here. On one occasion, you may have heard about it on the radio, fifteen of us got mixed up with sixty wop fighters. We lost none, and got at least eight of them. I got one of these, although not in a very convincing way from my point of view, as I didn't see it go in. Another pilot saw the start and the finish of it. Anyhow, it sure was a mix-up. I have never seen so many machines milling around in such a small amount of sky."
However, after this both sides started to guard each other without giving battle with the Italians uncertain to tangle with the faster Hurricanes and the British finding it difficult to close in on their more manoeuvrable opponents.
The Hurricanes of the two sections dealing with the direct escort of the Lysanders now started to brake off since they were being out-manoeuvred by their opponents and at this moment a huge formation of a reportedly 25-30 Italian fighters was seen higher. The top cover section of 33 Squadron climbed to engage but reportedly without avail because the Italian turned back towards Libya without engaging.
The Italian formation was composed by 18 aircraft from all three Squadriglie of the 9o Gruppo led by Maggiore Ernesto Botto (at the head of the 73a Squadriglia). Six of the CR.42s were from the 96a Squadriglia (Capitano Roberto Fassi leading Tenente Gon, Sottotenente Carlo Agnelli, Sottotenente Armando Moresi and Sergente Vittorio Pozzati together with 4o Stormo's adjutant, Capitano Mario Pluda), five were from the 73a Squadriglia (Tenente Valerio De Campo, Tenente Pietro Bonfatti, Maresciallo Mario Ruffilli, Sergente Maggiore Antonio Valle and Sergente Santo Gino) and six were from the 97a Squadriglia (Capitano Antonio Larsimont Pergameni, Tenente Ezio Viglione Borghese, Sottotenente Jacopo Frigerio, Maresciallo Rinaldo Damiani, Sergente Francesco Putzu and Sergente Franco Sarasino). They had taken off from El Adem at 14:40 to cover Italian troops in the Bir Enba area (and probably indirectly escorting a reconnaissance plane) when Botto discovered a Bristol Blenheim escorted by several Hurricanes flying lower and attacked.
At this moment, with the 9o Gruppo's attention focused elsewhere, the 112 Squadron's Gladiators intervened and managed to surprise the Italian formation over Sidi Barrani. They claimed eight of the Fiats without losses. All of the six pilots made claims and Flight Lieutenant R. J. Abrahams claimed one and one shared with Pilot Officer Richard Acworth, who also claimed one additional. Flying Officer R. J. Bennett claimed one, Pilot Officer Alfred Costello claimed one, Pilot Officer Leonard Bartley claimed two and Sergeant 'Paddy' Donaldson finally claimed one. 112 Squadron didn't record any losses in this combat even if Pilot Officer Acworth in his memories spoke of a couple of planes obliged to force-land and the unit's aircraft retuned to Fuka between 16:20 and 17:25. For this one-sided action, they were noted in the press for the first time.
Richard Acworth remembered this combat in a short story written in the 1960's but never published.
"The Lysanders were to be 'covered' against enemy air attacks by six Gladiators from my squadron… three flying at 12,000 feet, and three, led by myself, at 15,000 feet. 'Top cover' was to be provided by six Hurricanes, flying at 20,000 feet. The Hurricanes had strict orders to beat a hasty retreat if they met with enemy aircraft in large numbers, as it was thought at that time that they would be 'easy meat' for the move manoeuvrable C.R. 42's, the single-seater Italian opposite number of the Gladiator.
We had been patrolling for about 10 minutes, when I reported forty CR 42s, in eight sections of five, flying from the direction of Libya, at approximately 25,000 feet, 5,000 feet higher that the Hurricane 'top-cover'. To my dismay, the Hurricanes were soon speeding home, with a CR 42 sitting neatly on each tail. Our six Gladiators were left to finish the fight, for the Lysanders, their task completed, were heading for home, too.
There was not a friendly cloud in the sky, and the powerful desert sun made the enemy aircraft very difficult to see. Forthwith, they carried out the German tactics of remaining aloft, and sending down their more experienced men to finish us off one by one….but it was not to be!
With the first attacks, we broke formation, and it was every man for himself. I soon found myself very much alone, until unfriendly tracer bullets from behind, passed through the space between my right wings. I immediately steep-turned to the left, and caught sight of my attacker as he completed his dive and prepared to re-join his pals up higher, by means of a roll off the top of a loop.
Seizing my chance, I opened full throttle and followed him to the top of his loop, half rolled in formation with him, and was just about to open fire, when my aircraft stalled and flicked into a spin….not enough speed! I decided my best means of survival was to continue the spin, in the hope that he would think I had been badly hit. This was a fighter tactic from World War I, and it worked! Whilst I was spinning, I looked upwards and caught a glimpse of my adversary circling at his original height, waiting for me to crash into the desert. I came out of the spin at about 8,000 feet, no doubt much to his surprise, and didn't have to wait long for him to dive down to finish me off.
So started a long tail-chasing session. At first, my mouth became rather dry, but after a second or two, my mind became crystal clear, and I was determined to turn the tables on him. Slowly I began to gain ground, and soon part of his tail was in my sights, but I realized it would not have been great enough. When his engine came into my sights, I pressed the firing button, and was immediately cheered to see pieces of fabric or metal ripping off his fuselage, just behind the cockpit.
The Italian pilot turned so quickly in his mad effort to escape, that he pulled his aircraft into a spin, following a 'high-speed stall'. I followed him down, and fired at him as he tried to recover, and he promptly went into another one. On recovering from his second spin, he must have pulled an emergency boost control to give him extra speed, for he left my Gladiator 'standing'.
However, my opponent was not easily scared, and turned about a mile away to come back at me like a bull at a gate. We both opened fire, and when it seemed that a head-on collision was inevitable, he pulled out to my left in a climbing turn. For a second, I was able to fire at his exposed fuselage, and then, with throttle fully open, I climbed into the sun, into an advantageous position. To my horror, my engine stalled near the top of the climb, and I had to carry out the usual drill of closing the throttle and opening it again, slowly. Full power came back, and looking down, I could see my opponent looking for me. This time, I had the advantage of height, and I was nicely lining him up in my sights when he saw me, and tried to turn in underneath me.
Slowly twisting, and with the right deflection, I raked him with bullets from nose to tail, at almost point-blank range. I pulled out of my dive, to regain height, and saw him commence another spin from which he did not recover. I felt immensely relieved, somewhat shaken, and eventually joined up with two stray Gladiators, and returned to Mersa Matruh. I was pleased to learn later that seven aircraft had been shot down in the engagement, and that all the Gladiator pilots had survived the fight, although two had made forced landings.
I shall never forget that day. It was my first one-against-one air battle, and the longest time I had engaged a single enemy aircraft..."
The 9o Gruppo actually lost only three shot down and four damaged but two pilots were killed. The three shot down pilots were Sottotenente Carlo Agnelli of the 96a Squadriglia, who was killed, Sergente Francesco Putzu of the 97a Squadriglia, who was killed, and Tenente Gon (who usually flew CR.42 MM5605/96-2), who recalled:
"This day [strangely enough he recorded it as on 1 November but this is for certain an error] I lost the dearest of all my wingmen [Carlo Agnelli]. We were up with all the Gruppo and the three Squadriglie were stepped at different heights. The lowest escorting a reconnaissance plane, mine (96a Squadriglia) at 3000 metres while the third stay higher. The highest group had already engaged the enemy when I saw one of our planes diving almost vertically followed by a Gloster. I made a violent overturning that my wingmen were unable to follow [again without radio equipment the Italian formation was broken at the beginning of the combat and whatever numerical advantage was impossible to put into full use] when I reach a distance suitable to open fire I had to wait because there was the risk of hitting my comrade [with the same burst aimed at the fighter that was following him] I had to concentrate only on the aim [the wingmen were far away] so I couldn't look around and was attacked by two Glosters. With the first burst of fire they shot away my propeller, so without propulsion I could only manoeuvre to avoid further damage. All the height lost I force-landed and the English pilots that had already stopped firing while I was gliding down for my final approach flew past me waving their hands.
[Gon, tried to burn his plane without success and succeeded to reach an Italian outpost the day after]
Back at base, I discovered that information about the missing pilots (we were three) were lacking.
A sergeant [Sergente Francesco Putzu] was seen to jump with parachute and another of our planes was seen to crash after a hard fight, all believed it was mine because the other missing pilot (my dear wingman) was too "green" to be able to fight against three enemies as the pilot of the crashed plane did.
The encounter with Botto was tragicomically. I went to his room and he was waiting for me near the door and as just as he saw me he threw himself right into my arms through the three steps that divided us. But I was too weak and was unable to sustain him so we fell embraced on the ground."
According to the official records of the 4o Stormo, however, it seems that during the dive Gon's guns went out of synchronisation and when opening fire he cut his propeller with the first shots.
Seven confirmed and probable victories were credited to the pilots of the Gruppo after that they had landed at 16:30. This overclaiming was the result of that the Stormo's records had to be re-recorded in 1941 after they had been lost. This re-recording was done by Tenente Giulio Reiner, who was then adjutant of the Gruppo. Obviously Reiner's reconstruction was not as accurate as a complete debriefing immediately after the battle could be.
Roberto Fassi was credited with a Blenheim, a probable Gladiator and two damaged Gladiators. Pozzati, who was wounded on the right foot, was credited with a Gladiator while Gon was credited with a Gladiator (a victory that he didn't mention at all in his memories). Pluda claimed another Gladiator and Moresi one probable Gladiator. The 73a and 97a Squadriglie claimed one Gladiator and two Hurricanes shot down and four fighters damaged, all shared. Final assessment of the combat was four Gladiators, two Hurricanes and a Blenheim confirmed and two Gladiators probably destroyed (the actual number of confirmed claims varies between the reconstructed Diari of the involved Squadriglias to seven or eight destroyed).

At 08:26 on 9 December, a formation of eight Bristol Blenheims (five Mk.IVs and one Mk.I from 55 Squadron with one Mk.Is from 11 Squadron) bombed El Adem from 9,700 feet. Bombs were seen to fall on the buildings north of the hangars and some direct hits were claimed. Immediately after leaving the target three CR.42s intercepted. The engagement lasted five minutes and was indecisive. The Fiats attacked from long range and dead astern, finally breaking off to port. Back at Fuka at 10:45, only one bullet hole was discovered in one of the planes. The formation had taken off at 06:00, led by Squadron Leader Dudgeon in Blenheim Mk.I L4818.
The three Italian fighters were probably Tenente Gon, Sergente Maggiore Graziadio Rizzati and Sergente Gustavo Minelli of the 96a Squadriglia, 9o Gruppo, who scrambled from T3 at 08:20 after a Blenheim, which they were unable to catch. They landed again at 08:50.

In the afternoon on the same day, SM 79s were out to bomb British troops at the Sidi Barrani - Bir Enba area. They were to be escorted by 19 CR.42s of the 9o Gruppo led by Maggiore Ernesto Botto, which had taken off from El Adem at 14:55. The fighters included seven from the 73a Squadriglia (Tenente Valerio De Campo (CO), Tenente Giulio Reiner, Sottotenente Alvaro Querci, Sergente Maggiore Guglielmo Biffani, Sergente Maggiore Enrico Dallari, Sergente Maggiore Antonio Valle and Sergente Santo Gino) seven from the 97a Squadriglia (Capitano Antonio Larsimont Pergameni (CO), Tenente Ezio Viglione Borghese, Sottotenente Riccardo Vaccari, Sergente Maggiore Otello Perotti, Sergente Maggiore Massimo Salvatore, Sergente Angelo Golino and Sergente Alcide Leoni) and four from the 96a Squadriglia (Tenente Gon and Sergente Giuseppe Tomasi together with two unknown pilots).
More Italian fighters were up to escort the bombers and at 15:10, Sergente Maggiore Fiorenzo Milella of the 366a, 151o Gruppo, attached to a formation of nine CR.42s of the 368a Squadriglia (Capitano Bruno Locatelli, Sergente Maggiore Davide Colauzzi, Sergente Ernesto De Bellis, Sottotenente Furio Lauri, Sergente Maggiore Annibale Ricotti, Tenente Orfeo Paroli, Sergente Piero Hosquet, Sergente Stefano Fiore, Sergente Ottorino Ambrosi) were out to escorted Italian bombers in the Bir Enba area.
The rendezvous with the bombers over A3 failed and after 20 minutes, the fighters of the 9o Gruppo arrived and together they proceeded towards the front on a free sweep. Three SM 79s were discovered and escorted for a while. Over Buq-Buq, a Hurricane strafing along the coastal road was discovered and the SM 79s were left to the 9o Gruppo while the CR.42s of the 151o Gruppo attacked the British fighter. The Hurricane was claimed shot down in flames and credited to the formation (but in fact only Locatelli, Lauri, Paroli and De Bellis fired their guns).
The 151a Gruppo fighters returned to base at 16:50.
Meanwhile the fighters from the 9o Gruppo continued and 30 km south of Bir Enba they spotted some Gladiators at a lower level and dived on them, but suddenly the CR.42s were jumped by a reported two Squadrons of Hurricanes or Spitfires, attacking respectively the 73a Squadriglia and the 96a Squadriglia with the 97a Squadriglia. A large dogfight started and after 20 minutes of combat many claims were submitted by the Italian pilots
Tenente Vaccari fought alone against four Hurricanes, claiming one destroyed (as a Spitfire) and damaging the others before his Fiat was hit in the fuel tank and in the engine. He crash-landed near Sollum, the aircraft turning over and caught fire; he was burned in the face and hands. Sergente Maggiore Salvatore claimed a Spitfire and several damaged before being wounded in his left arm. He managed however to return to base. Sergente Golino was hit in his back, but managed to claim his attacker before being compelled to evade and land at Amseat A3. Sergente Maggiore Biffani (Fiat CR.42 MM5599/73-9) claimed a Hurricane but was at the same shot down by his victim and was captured. He recalled:
"In the afternoon of 9 December we were flying between Mersa Matruh and Buq-Buq, when my wingman, Sottotenente Alvaro Querci, warned me that we had enemies behind us. I alerted Botto by shooting a burst [Note that the CR.42 had no radio during this period], then I realized they were near my tail, so I made a 180-degree turn and I saw them pass: they were three Hurricanes. I climbed almost vertically and saw the 73a Squadriglia in front, the three Hurricanes behind it and 96a and 97a Squadriglia behind them, all in a vertical line that went down to the ground. Then I discovered a Hurricane that was breaking off from the combat, clearly he had seen the other Italian fighters on its tail. I continued to climb, now I was the highest fighter of them all, then I dived down at full throttle [towards the escaping Hurricane]. I arrived near it and then I reduced speed and put the revolutions between 1850 and 2250 because otherwise I would had cut my propeller as happened to Gon and others, because the airscrew went out of gear and the round was fired when it passed in front of the gun (…) . When I closed to it, I opened fire. I aimed and saw the explosive bullets that exploded on the wing. Why didn't anything happen? Was there no fuel at all? I fired at the other wing but it was the same, the bullets exploded but nothing happened. I fired into the engine, nothing happened. I saw the tracers very well, and after all, it wasn't the first time I was shooting. At Gorizia I used to hit the target balloon with ten rounds only. In the meantime, I was losing speed and falling behind, O.K. Goodbye! It passed and turned towards me again -so I hadn't caused any damage to it- , and I did the same. We found ourselves face to face at a distance of around 500-600 metres. I started firing and saw my tracers hitting it, then its wings lit up and in the same moment my plane caught fire, it was just an instant. My plane was severely damaged and while I was trying to land I saw the Hurricane that dived into the ground and exploded. I saw no parachute. I force-landed among British MTs and was immediately taken prisoner. I went back home after 63 months of POW!"
Additional Hurricanes were claimed by Botto, Sergente Dallari, Sergente Valle and an unknown pilot of the 73a Squadriglia (it is possible that this was a shared claim). It seems possible that also Sergente Maggiore Perotti claimed a victory (this claim is disallowed in the 97a Squadriglia diary, who only credits him with some Spitfires damaged).
Sergente Gino claimed a probable before his aircraft was badly damaged and he made an emergency landing near the frontline. Additional probables were claimed by Sottotenente De Campo and Reiner. Sergente Alcide Leoni together with other pilots claimed several damaged fighters. Capitano Larsimont Pergameni was attacked but was able to evade without claiming any hits on any enemy aircraft. Tenente Viglione was soon hit by a Hurricane, but manoeuvred to shoot at and damage it; however he was hit again in the engine by another enemy fighter, so he had to made an emergency landing near Buq-Buq.
Totally the Italian pilots claimed seven shot down (Biffani's claim was not initially credited since he was taken POW) and three probables (it's possible that some of the probables were claimed as shared). The Gruppo's Diary reduced these claims to four confirmed and three probables.
Totally during the combat one Fiat was shot down (Biffani POW) and three CR.42s carried out emergency landings (Viglione, Vaccari and Gino). Three pilots were wounded; Vaccari, Golino and Salvatore. Both Reiner's and Valle's aircraft returned lightly damaged while Tenente Gon and Sergente Giuseppe Tomasi landed at Amseat due to lack of fuel.
It seems that they had clashed with fighter from at least two RAF Squadrons. 12 Hurricanes from 33 Squadron had taken off with 10 minutes intervals to ground strafe the enemy's rear areas, concentrating on troops and motor transports. They reportedly caused much damage before they were intercepted by three formations of CR.42s. During the day, 33 Squadron's pilots claimed three Italian fighters and reported another going down out of control. One of the Squadron's Hurricanes had to force-land but the pilot was saved (this was probably claimed by the 151o Gruppo pilots). Considering that one of the claims should relate to the loss of Sergente Francesco Nanin in the morning then the other two are probably connected with this specific engagement. It is also known that Flying Officer Vernon Woodward shot down two of the Fiats claimed by his unit, one of them in flames, and damaged a third.
The second Squadron was five Hurricanes (Squadron Leader Patrick Dunn (P3723), Flight Lieutenant John Lapsley (V7293), Flying Officer Thomas Patterson (P3720), Flight Lieutenant Peter Wykeham-Barnes (V7300) and Pilot Officer Ernest 'Imshi' Mason (P3722)) from 274 Squadron, which had taken off at 15:00. They were flying in two vics at 15,000 feet when they spotted 27 CR.42s in tight vics (four main formations of 8, 7, 6 and 6 aircraft) over the Sidi Barrani-Sofafi area at 16:08. The Italian fighters were discovered at 9 o'clock, 10-12 miles away and stepped so that they were slightly above and 2000 feet below. The RAF pilots succeeded in approaching unobserved and then delivered a multiple direction attack followed by a general dogfight. The Hurricane pilots reporting five confirmed victories and three probables for one Hurricane damaged. In the unit's ORBs Form 541 victories were claimed by Flight Lieutenant Wykeham-Barnes (plus one probable), Squadron Leader Dunn (plus two probables), Flying Officer Patterson, Flight Lieutenant Lapsley and Pilot Officer Mason. However, in the unit's ORB Form 540, the number of confirmed victories raises to six with three more CR 42s severely damaged; the identity of the claimant of this last victory, however remained unknown even if the CFRs of the action would suggest Squadron Leader Dunn.
Squadron Leader Dunn (he delivered an aster attack) reported:
"The enemy engaged in dogfight. Claim one E a/c for certain (saw it hit the ground). Attacked two in tight vic and was at 200 yards point blank range and fell certain must have killed pilots. Got another good and point blank deflection shot at another. Closed from optimum to point blank range at first. Must (?) have shot down the first two but could not spare time to confirm. 3rd point blank deflection shot likely and fourth adversary saw it hit the ground (claim 1 confirmed and 2 others which I feel certain about but must go down as unconfirmed)."
Flight Lieutenant Lapsley (he delivered a head-on attack) reported:
"The enemy fired back. 1 CR 42 shot down and seen to hit the ground without burning. Several other machines were shot at individually. They can out manoeuvre a Hurricane but one can get away and then come back."
Pilot Officer Mason (he was discovered during the approach and had to dogfight from the beginning) reported:
"The enemy tried to turn inside me. 1 CR 42 shot at short range from above into cockpit. Aircraft turned (unreadable) with sparks from it. Followed it down until attacked by others CR 42s. Using 15o flap climb (unreadable) but not quite equal to 42. Speed on level far superior. Possible when attacked from above to turn and deliver short head on burst."
Flight Lieutenant Wykeham-Barnes reported:
"The enemy dog fought, during dogfight damaged two enemy and sent one down out of control but could not see it crash as another was in my tail. The enemy fairly aggressive."
Flying Officer Patterson (he delivered a quarter attack from port side) reported:
"The enemy started a general dogfight. 1 CR 42 shot down and seen to burn out on the ground".
The 274 Squadron Hurricanes all had landed at 17:00.
It is also highly likely that 112 Squadron's Gladiators were present. They were up, patrolling the Bir Enba area, and were noted and attacked by 9o Gruppo's pilots. The Squadron flew at least two patrols during the day but the unit's ORB don't report any engagement.
The escorted bombers were three SM 79s of the 29o Gruppo (one of 11a Squadriglia and two of 63a Squadriglia) commanded by Colonnello Mario Aramu that attacked at around 16:40 while the RAF fighters were busy with the CR.42s of 9o Gruppo. Aramu noted the combat between Italian and Commonwealth fighters and claime an effective bombing from 3000 metres coming back at Gambut at 17:50 while the other formation were four SM 79s of the 6a Squadriglia, 44o Gruppo, commanded by Maggiore Andrea Bosi who had taken off at 14:25 from Tmini M2. Before the mission Bosi had received order not to press home his attack (but to turn back) in case he failed the rendezvous with the escorting fighters over Sollum, so when the rendezvous with the escort failed he turned back and landed at Tmini M2 at 16:40. His were the bombers that were discovered by 9o Gruppo flying back towards Libya.

At 11:10 on 12 December, a mixed formation from the 4o Stormo took off for a free sweep in the Ogerin Bir El Kreighat area. After the sweep, they were to ground strafe targets of opportunity. Participating pilots from the 91a Squadriglia were Maggiore Carlo Romagnoli (CO 10o Gruppo), Capitano Vincenzo Vanni, Sottotenente Andrea Dalla Pasqua, Sergente Maggiore Leonardo Ferrulli, Sergente Maggiore Natale Fiorito and Sergente Maggiore Giovanni Casero. From 84a Squadriglia came Capitano Luigi Monti, Sottotenente Paolo Berti, Sottotenente Luigi Prati, Sottotenente Bruno Devoto, Sergente Roberto Steppi and Sergente Onorino Crestani.
Sergente Giovanni Battista Ceoletta of the 90a Squadriglia was part of a formation taking off at 11:40 while his squadriglia mates Sergente Maggiore Angelo Savini and Sergente Alfredo Sclavo suffered accidents on take off, which prevented them to take part (and probably wrote off the plane of Sclavo). Tenente Gon and Sergente Gustavo Minelli from the 96a Squadriglia, 9o Gruppo also took part in this action.
Bad weather prevented the discovery of ground targets, so Romagnoli led his fighters to the Bir Enba area where a formation of Gladiators surprised the 84a Squadriglia formation. A long dogfight started after which the CR.42 of Onorino Crestani was missing and the remaining pilots claimed two victories. Crestani was taken prisoner.
According to the squadriglia diaries, the two confirmed victories were shared among the 91a Squadriglia pilots plus Ceoletta (who used 120 rounds of ammunition during the combat) and the pilots from the 9o Gruppo. Gon and Minelli in fact only claimed a shared probable in a combat against a reportedly six Gladiators, while the 10o Gruppo's Diary downgraded the victories to two probables. Monti, Prati and Steppi were credited with a damaged each while Ceoletta also claimed two damaged Gladiators (according to some Italian historians one Gladiator was shared between Monti, Prati and Steppi and the second shared between Gon and Minelli, while one or two other Gladiators were considered probably shot down but there is however no trace of such claims in the official diaries).
They had run into five Gladiators from 3 RAAF Squadron, which had taken off from ALG 74 at 11:25 to carry out an offensive patrol around Sofafi. The patrol intercepted a reported 16 to 18 CR.42 six miles north-west of Sofafi. During the ensuing combat three of the Italian fighters were claimed shot down, one apiece being credited to Flying Officers Alan Boyd, Wilfred Arthur and Alan Gatward, without loss. The Gladiators returned to base at 13:05.

On 14 December, El Adem T3 was abandoned by the two Gruppi of the 4o Stormo because of the presence of British armoured cars in the surroundings of the airfield. The new base for the 9o and the 10o Gruppo was Derna N1.
During the day, the whole 4o Stormo was employed to attack the advancing British forces of Operation Compass. In several attacks more than 123 trucks, 31 armoured cars and 31 other vehicles were destroyed in this single day!
At least seven CR.42s from the 73a Squadriglia (Tenente Valerio De Campo, Tenente Pietro Bonfatti, Sottotenente Giuseppe Oblach, Sergente Maggiore Enrico Dallari, Sergente Maggiore Antonio Valle and Sergente Maggiore Sergio Stauble), four from the 97a Squadriglia (Capitano Antonio Larsimont Pergameni, Tenente Ezio Viglione Borghese, Sergente Maggiore Otello Perotti, Sergente Franco Sarasino) and four from the 96a Squadriglia taking part. They attacked between 13:10 and 15:00 and the 73a Squadriglia pilots claimed five armoured vehicles burned and four stopped. From this period Aldo Gon recorded:
"the period of the retreat was very hard and sad; very few of us were left with very few planes. Our most important task was ground strafing of enemy's armoured vehicles and during one of these missions, I suffered my sixth flying accident. We had to take off from El Adem and land west of it, at Derna. After the ground strafing, while coming back and gaining height I discovered a Hurricane that was aiming at our Squadriglia from superior height and from the left. I was, as often happened to me, the leader of the last vic of three planes; I did immediately a sharp turn zooming and we shot at each other frontally, then I reversed course violently and started following it. In doing so I left behind my wingmen (as usual) that were unable to follow such a sharp manoeuvre and landed back at Derna claiming that I had shot down the enemy; I've never known if this was true, but I didn't want to have the victory credited because the stresses inflicted to my body during the sharp action left me in a state of semi-consciousness.
My wingmen claimed the victory because from distance they saw my plane doing strange aerobatics, turnings and zooming as if I was celebrating a victory in fact I was half unconscious and when I saw the ground closing I pulled the stick to gain height. (…) Feeling I was near to loose consciousness I force land close to El Adem".
The plane was only lightly damaged and Gon was later able to return to Derna, taking off directly from the place where he landed. The main reason for his accident was discovered to be the bad alimentation of the last period that left him in quite bad shape.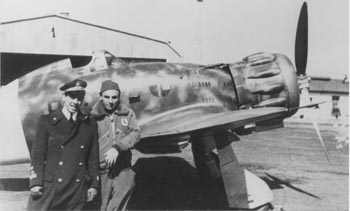 Gorizia, 1941. Gon and Giulio Reiner.
Collezione Annoni.
Image kindly provided by Fulvio Chianese at GORIZIA ed il QUARTO STORMO.

On 17 August 1941, he was promoted to Capitano.
On 23 December 1941, Capitano Gon took command over the 73a Squadriglia after Capitano Carlo Ivaldi.
At 18:45 on 29 April 1942, five Cant Z.1007bis raided Luqa, Malta, but their bombs fell wide, and although six Spitfires went up they failed to make an interception. 4o Stormo Macchis were providing escort, led by Capitano Aldo Gon of the 73a Squadriglia. Intense AA fire followed the formation right across the island, hitting Gon's fighter and causing severe damage, while the pilot was seriously wounded. Nonetheless, despite his wounds, he managed to reach Sicily and force-landed at Agrigento.
Temporarily command of the 73a Squadriglia was taken over by Tenente Giuseppe Oblach.
In 1943, he served in the 9o Gruppo Autonomo.
Gon ended the war with 1 biplane victory.
Aldo Gon died in Padova on 12 July 1994.
Claims:

| | | | | | | | | | |
| --- | --- | --- | --- | --- | --- | --- | --- | --- | --- |
| Kill no. | Date | Time | Number | Type | Result | Plane type | Serial no. | Locality | Unit |
| | 1940 | | | | | | | | |
| 1 | 20/11/40 | 14:40-16:30 | 1 | Gladiator (a) | Destroyed | Fiat CR.42 | | Sidi Barrani area | 96a Squadriglia |
| | 12/12/40 | 11:10- | 1/9 | Gladiator (b) | Shared probable | Fiat CR.42 | | Bir Enba area | 96a Squadriglia |
| | 12/12/40 | 11:10- | 1/9 | Gladiator (b) | Shared probable | Fiat CR.42 | | Bir Enba area | 96a Squadriglia |
Biplane victories: 1 destroyed, 2 shared probably destroyed.
TOTAL: 1 destroyed, 2 shared probably destroyed.
(a) Claimed in combat with Hurricanes from 33 and 274 Squadrons and Gladiators from 112 Squadron. 9o Gruppo claimed seven victories and two probables while losing three CR.42s, getting four more damaged and losing two pilots KIA. 112 Squadron claimed eight victories for no losses, 274 Squadron possibly suffered one damaged Hurricane while 33 Squadron possibly claimed a CR.42 without losses.
(b) Claimed in combat with Gladiators from 3 RAAF Squadron, which claimed 3 CR.42s without suffering losses. The 4o Stormo claimed 2 probables while losing one CR.42 (Sergente Crestani PoW).

Sources:
33 Squadron Operations Record Book
Annuario Ufficiale Delle Forze Armate Del Regno D'Italia Anno 1943. Part III Regia Aeronautica – 1943 Istituto Poligrafico Dello Stato, Roma
Buscaglia e gli Aerosiluranti 278a e 281a Squadriglia dalla costituzione al Marzo 1942 - Orazio Giuffrida, 1994 Ufficio Storico Stato Maggiore Aeronautica, Roma
Desert Prelude: Early clashes June-November 1940 - Håkan Gustavsson and Ludovico Slongo, 2010 MMP books, ISBN 978-83-89450-52-4
Desert Prelude: Operation Compass - Håkan Gustavsson and Ludovico Slongo, 2011 MMP books, ISBN 978-83-61421-18-4
Diario Storico 73a Squadriglia kindly provided by Ludovico Slongo
Diario Storico 97a Squadriglia kindly provided by Ludovico Slongo
Elenco Nominativo dei Militari dell' A. M. Decorati al V. M. Durante it Periodo 1929 - 1945 1 Volume A - L
Fiat CR.42 Aces of World War 2 - Håkan Gustavsson and Ludovico Slongo, 2009 Osprey Publishing, Oxford, ISBN 978-1-84603-427-5
Hurricanes over the sands: Part One - Michel Lavigne and James F. Edwards, 2003 Lavigne Aviation Publications, Victoriaville, ISBN 2-9806879-2-8
Quelli del Cavallino Rampante - Antonio Duma, 1981 Editore Dell'Ateneo, Roma, kindly provided by Ludovico Slongo
The Mediterranean and Middle East, volume I "The early successes against Italy (to May 1941)" - Major-General I. S. O. Playfair, 1954 Her Majesty's Stationery Office, London
Additional information kindly provided by Ian Acworth and Ludovico Slongo.




Last modified 01 June 2023