.
The lower formation seem to have been 238 Squadron (take off 11:45 and landing 13:15), which reported being attacked by 6-7 enemy fighters and suffering losses when 21-years-old Australian Sergeant Robert Arthur Knappett (RAAF no. 400146) (Hurricane Z2355/L) was KIA at 13:15, Flying Officer Kings (G) crash-landed (King removed the overcoat from a dead Italian soldier and then drove an abandoned tank all through the night to reach Tobruk!) while Sergeant Kay (BV170/N) was shot down (Kay returned on foot). Pilot Officer H. G. Currie's Hurricane (Z5222/Y) was wrecked on landing at Tobruk while Sergeant Fairbairn landed at Tobruk wounded and with his Hurricane (E) badly damaged.
It is possible that the RAF units also claimed two additional aircraft damaged in this combat.

At 10:40 on 8 December, eight MC.202s from the 9o Gruppo led by Capitano Ezio Viglione Borghese commenced a patrol of the Gazala-Tobruk area. They were followed by eleven MC.202s from the 17o Gruppo (six from the 71a Squadriglia, two from the 72a Squadriglia and three from the 80a Squadriglia), which took off at 11:30 to protect the coastal road between El Gazala and Tobruk. These Macchis flew in vics disposed in echelon right at the height of 4000 metres.
It seems that both formations encountered the same Allied formation, which comprised 18 Blenheims drawn from two squadrons, escorted by Hurricanes from 274 and 1 SAAF Squadrons.
The situation at this time was very confusing. However, at 10:30, 84 Squadron Blenheims took off, targeting a very important concentration of vehicles in the area of El Adem. Cover was granted by eleven Hurricane IIB from 274 Squadron (take-off at 11:30), together while others from 1 SAAF Squadron (take-off at 11:30) were up to escort 18 Blenheims targeting the area of El Adem. The mission was considered very successful because 53 vehicles (of some 250 reported) were thought to be destroyed.
5-10 miles south-west of El Adem, 274 Squadron pilots saw a reported 30 Axis fighters; Bf 109s, MC.200s and MC.202s, coming from south-east while 1 SAAF Squadron continued to fly towards base with the bombers without seeing the enemy fighters. 274 Squadron even if they thought to be heavily outnumbered, engaged the enemies. The Commonwealth pilots reported that the Macchis preferred to dogfight with the Hurricanes while the Bf 109s dove continuously.
The 9o Gruppo attacked first and back at base, they reported they had met a dozen Hurricanes that were strafing Italian vehicles, claiming two of them shot down (one shared between Capitano Viglione (96a Squadriglia) and Sottotenente Giovanni Barcaro (97a Squadriglia) and the second by Sergente Alfredo Bombardini (97a Squadriglia)). Nine more Hurricanes were claimed as damaged (three by Sottotenente Barcaro, two by Maresciallo Otello Perotti (97a Squadriglia) and four by Sottotenente Frigerio (97a Squadriglia)). Alfredo Bombardini's fighter (MM7739) was damaged and had to land at Ain el Gazala but the airfield had to be evacuated and the Macchi had to be destroyed there.
As 274 Squadron sought to return to base, they were hit by the 17o Gruppo, which reported that they at 12:00 met a formation of fighters claiming six of them shot down (Tenente Renato Talamini (80a Squadriglia) (Hurricane), Sottotenete Renato Bagnoli (80a Squadriglia) (Tomahawk), Tenente Mario Carini (72a Squadriglia) (Hurricane), Sottotenete Vittorio Bacchi Andreoli (71a Squadriglia) (Tomahawk), Maresciallo Achille Martina (71a Squadriglia) (Tomahawk) and Sottotenete Guido Modiano (72a Squadriglia) (Hurricane). Sottotenente Ottorino Capellini (71a Squadriglia) and Sergente Maggiore Mario Host (80a Squadriglia) claimed a probable Tomahawk each. Totally the Gruppo used 1698 round of ammunition. Tenente Carini (MM7758), hit in the cooling system, crash-landed near Bir le Fa while Tenente Talamini's MC.202 was damaged. The Italian fighters were back between 12:50 and 12:55.
The hard-pressed 274 Squadron claimed one Bf 109, one MC.202 (both by Sergeant James Dodds) and two probables (Sergeant Robert Henderson and Sergeant R. H. N. Walsh and five damaged (between Squadron Leader Sidney Linnard (2 MC.200s), Pilot Officer Patrick Moriarty (2 MC.202s) and Pilot Officer George Keefer (1 Bf 109)).
Three Hurricanes were lost with one being seen going down vertically and one in flames. 26-year-old Flight Lieutenant Owen Vincent Tracey (RAF no. 42774) (Hurricane IIb BD885) and Sergeant Haines (Hurricane IIb Z5066) were missing while Sergeant John Paterson McDonnell was hit during the combat and crash-landed at Tobruk writing off his Hurricane IIb BE347. A fourth Hurricane IIb (Z5130) flown by Pilot Officer Thompson was also forced to land in Tobruk. 84 Squadron recorded that the escort lost four aircraft of the twelve present.
It is necessary to point out that the combat area reported in the documents of 274 Squadron and the 17o Gruppo are different, however errors and misidentifications of locations were always possible and there were no matching German claims. For this reasons it seems likely that 274 Squadron fought against the 17o Gruppo. The identification of Italian fighters as the opponents of 274 Squadron during this combat seems to be corroborated also by the account of Squadron Leader Linnard who while engaged by a Bf 109, saw a MC.200 attacking a Hurricane, both aircraft making steep turns and losing height. Linnard shook free from his own combat and tried to shot the Macchi off the other Hurricane's tail, but was too late, bullets from the Italian fighter, which was turning inside the Hurricane, striking the area of the cockpit. The stricken aircraft then turned over at low level and dived into the ground several miles south of El Adem, bursting into flames. A little later squadron personnel met South African soldiers who reported that they had found a grave beside a wrecked Hurricane, and that on this was a flying helmet and the identity disc of Flight Lieutenant Tracey; it therefore seem probable that he had been the victim of the Macchi. The 20o and 153o Gruppi, which flew radial engined fighters, didn't meet any Commonwealth fighter during the day even if they escorted Stukas three times and the MC.202 was a new machine in North Africa skies, easy to be confused with other types. It is interesting that 1 SAAF Squadron wasn't aware of the combat. The number of enemy fighters estimated by 274 Squadron leads to think that probably other axis fighters were up together with the MC.202s, in fact they could had been 15 Bf 109s that at taken off at 11:45 to escort Ju 87 even if they didn't record encounters with enemy fighters.
It is also possibly that 80 Squadron was involved in this combat since Hurricane Is of 80 Squadron had taken off at 10:55 from LG 133 to attack axis vehicles in the Acroma area. 40 of them, going west, were discovered and bombed by all Hurricanes. Afterwards six of these dived for strafing while the rest of the formation remained high to give cover. This high section attacked a formation of twelve enemy fighters (Bf 109s and MC.202s) protecting fighter-bombers that could go on with their action. Back at base the returning pilots were very pleased by the outcome of the action where they had claimed two Bf 109Fs confirmed (Flying Officer R. Reynolds and Sergeant Frank Mason) and a MC.202 probable and two damaged (Sergeant G. H. Whyte) without suffering any loss. It is possible that these were in combat with the 9o Gruppo, which reported ground-strafing Hurricanes.

In the winter of 1941-42 the 9o Gruppo enjoyed a brief rest from fighting, before returning to operations over Malta in the spring and early summer of 1942.

On 19 January 1942, Capitano Roberto Dagasso took command of the 97a Squadriglia after Sottotenente Frigerio.

On 23 April 1942 the 9o Gruppo was back on Sicily and based at Sciacca, for a third tour against Malta.

On 10 May 1942, Sottotenente Frigerio again took command of the 97a Squadriglia after Capitano Roberto Dagasso.
Frigerio was relieved as CO of the 97a Squadriglia by Tenente Fernando Malvezzi on 1 June.

At 09:15 on 15 May 1942, three S.84bis of 4o Gruppo BT, escorted by 30 MC.202s of 4o Stormo CT, were out to attack barracks at St Paul's Bay, Malta (probably Fort Cambell). A dozen Spitfires from 249 and 603 Squadron were scrambled and engaged the formation shortly after it had bombed. Flight Lieutenant N. W. Lee and from 249 Squadron each claimed damaged to one of the Savoias. The Italians reported that five Spitfires attacked over the target and Capitano Franco Lucchini claimed one shot down and one damaged. Other Spitfires then came in over Gozo, and three of these were claimed by Tenente Frigerio, Tenente Ferruccio Zarini and Sergente Maggiore Mario Guerci; the latter and Sottotenente Alvaro Querci also each claimed one probably destroyed. The two pilots from the 73a Squadriglia reported that they fired on two Spitfires, which dived towards the sea, leaving smoke trails. The two pilots were engaged in the battle, and they couldn't follow the Spitfires until the end, so these were considered probably destroyed. None of the Spitfires were however seriously hit. Pilot Officer Lawrie Verrall of 249 Squadron shot down one MC.202, killing the 91a Squadriglia commander Capitano Alberto Argento (MM7813).

On 20 May, the 9o Gruppo, with twenty-eight MC.202s, took off for a third tour of duty in North Africa. After a call in Pantelleria, they reached Castel Benito.
The following day, after intermediate landings at Tamet and Benghasi K3, they reached their new base at Martuba 4.

Following the Axis advance, the 9o Gruppo transferred to El Adem on 23 June, then to Sidi el Barrani two days later and finally to Fuka on 1 July 1942.

He gained back the rank of Tenente (in S. P. E.) on 27 June 1942 while he was in North Africa.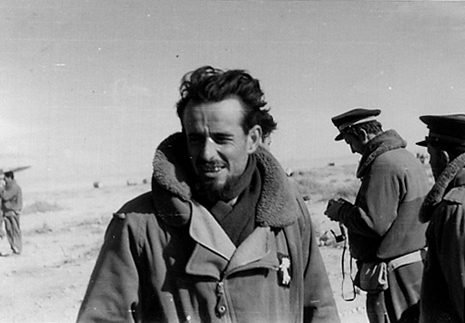 Jacopo Frigerio in North Africa.
Picture kindly provided by Gustavo Frigerio.
The high number of aircraft flying in the area during these days caused such confusion that the German Freya radar personnel had troubles to identify friend or foe aircraft. So, many times the alarm was delayed, and Axis fighters scrambled late.
This happened on 20 October when at 10:55, 14 MC.202s of the 4o Stormo hurriedly scrambled to intercept 24 Bostons and Hudsons above Fuka, escorted by 30 P-40s and 20 Spitfires. The bombers were still releasing their cargo over the airfield when the 73a Squadriglia (Tenente Giuseppe Oblach, Tenente Vittorio Squarcia, Sergente Armando Angelini and Sergente Leonardo Rinaldi), 84a Squadriglia (Capitano Franco Lucchini, Tenente Alessandro Mettimano and Sergente Maggiore Piero Buttazzi), 91a Squadriglia (Capitano Carlo Maurizio Ruspoli di Poggio Suasa, Sergente Maggiore Leonardo Ferrulli and Sergente Maggiore Alessandro Bladelli), and 97a Squadriglia (Tenente Frigerio, Sottotenente Giovanni Barcaro, Sottotenente Leo Boselli and Maresciallo Giovanni Bianchelli), attacked them. The escort intercepted the Italian fighters and a number of claims were made. Ruspoli, Oblach and Ferrulli claimed two P-40s each, Bladelli, Frigerio, Barcaro and Boselli claimed one P-40 each while Bianchelli claimed one Spitfire. Another Spitfire was claimed as a probable by Bladelli. Mettimano, in his first combat mission, damaged four Hudsons and a P-40 while Angelini, Rinaldi and Squarcia jointly claimed four damaged P-40s. Buttazzi claimed three damaged P-40s and Lucchini claimed a Hudson as a damaged. Lucchini's MC.202 was hit when a 20mm shell tore off the aircraft's spinner and he was forced to make an emergency landing.
Totally the 4o Stormo claimed 24 enemy aircraft shot down during the day, but of the 57 fighters (43 of which were combat-ready) on charge in the morning, only eleven were serviceable in the evening.
In 1943, he still served in the 4o Stormo.
In June 1943 he apparently left active service (perhaps for some sort of illness).
During the September 1943-April 1945 period, he was apparently in Northern Italy but didn't join the A. N. R.
Frigerio ended the war with 3 shared biplane victories and a total of 5.
During the war, Frigerio was decorated with three Medaglie d'argento al valor militare, one Medaglia di bronzo al valor militare (in Spain) and the croce di guerra al valor militare (in Spain). He was also decorated with the German Iron cross second class.
In July 1945 he returned to the Italian Air Force and was promoted Capitano in May 1946.
From June 1946 to January 1949 he commanded the 90a Squadriglia C.T.
In October 1955, he was in the United States, Nellis airbase in Nevada, to train on the North American F-86D.
During a shooting training session on 3 October (alternatively on 30 October), at high height and very far from the base, the engine of his fighter stopped and he tried to bring it back to base without jumping with parachute. During the last stages of the force-landing the commands of the plane apparently ceased to work and the plane crashed, killing him.
For this act of valor he was decorated with a posthumous Medaglia d'oro al valor aeronautico.
Claims: