in the tail.

The mission was repeated two days later when Pluda led eight aircraft. Bonfatti, Oblach and Gino attacked the seaplanes while Pluda and the rest of the squadriglia strafed AA sites. Three seaplanes were burned and two were severely damaged.

On 13 April, while escorting a Fiat BR.20 on a reconnaissance mission at 1500 m over Zara (now Zadar), Sebenico and Divulje, Tenente Pietro Bonfatti spotted a flying boat riding at anchor at Divulje. Capitano Mario Pluda ordered him, Sottotenente Oblach and Sergente Antonio Valle to dive and strafe it, while Pluda, Alvaro Querci, Tenente Giulio Reiner and Sergente Santo Gino stayed beside the Fiat. The flying boat was sunk.
During the return flight the BR.20 lowered to 500 m while the escort remained at 1500m. Over Sebenico the BR.20 was shot down by AA fire but the escort returned unhurt.

In July 1941, they re-equipped again with MC.202s.

On 27 September the whole 9o Gruppo left Gorizia and flew to Rome-Ciampino, where they two days later met Il Duce, Benito Mussolini, which greeted them. Later the same day they went to Comiso (Sicily) for a new tour of duty, this time against Malta.
At this time the 73a Squadriglia was composed of Capitano Mario Pluda (CO), Capitano Carlo Ivaldi, Tenente Pietro Bonfatti, Sottotenente Oblach, Sottotenente Felice Bussolin, Sottotenente Alvaro Querci, Sergente Maggiore Enrico Dallari, Sergente Santo Gino, Sergente Rossi, Sergente Mario Guerci, Sergente Maggiore Teresio Martinoli and Sergente Armando Angelini.

In the morning of 10 October, Oblach flew a solo reconnaissance mission over Malta.

With daylight on 17 October, six Blenheims of the on Malta newly-arrived 18 Squadron flew their first mission, an attack on Syracuse seaplane base, which they bombed from 12,500 feet shortly before 10:00.
Sottotenente Giuseppe Oblach, Sergente Santo Gino and Sergente Mario Guerci were on readiness and scrambled. They were shortly after followed by Sottotenente Felice Bussolin and Sergente Maggiore Teresio Martinoli.
Once in air, they separate to better search for the enemy. 40 km off Malta, Oblach spotted six Blenheims that were flying low over the sea, heading south. He soon attacked one until its right engine caught fire and it crashed into the sea. When he was aiming on another, his MC.202 (MM7721) was hit by return fire in an oil pipe. He was forced to head home, but, some 40 km off the Sicilian coast, the engine stopped and he had to ditch his aircraft suffering a fractured nose, some wounds and bruises.
He took to his dinghy and rowed northbound with his hands for twenty-seven hours, until he was rescued the following day, at 13:00, a few nautical miles off Cape Scaramia by a Regia Marina torpedo-boat.
He was hospitalized at Sciacca; his conditions were fairly good, but the nose fracture compelled him to rest for a period. He was awarded his second Medaglia d'argento al valor militare for this mission.
No Blenheims were actually lost during this attack. The Blenheims had been escorted by Hurricanes from 249 Squadron and these reportedly engaged three MC.202s inconclusively.

On 22 November the 9o Gruppo's 96a and 97a Squadriglie (eighteen fighters in all) were hurriedly ordered to transfer to Martuba, North Africa, to counter the British advance. The 73a Squadriglia remained at Comiso to perform photo reconnaissance missions over Malta.

On 3 December the 73a flew to Udine to re-equip with brand new MC.202s.
They were joined by the 96a and 97a Squadriglie in the last days of December.

Around this period, Oblach was promoted to Tenente. The career of a Reserve Officer was considerably slower than that of an Academy Officer.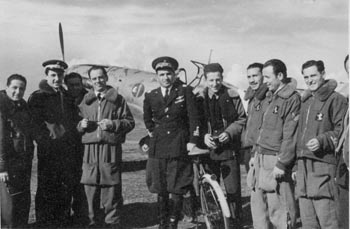 Campoformido in February - March 1942.
From left: Petrosellini, Oblach, Tenente Vittorio Squarcia, Aldo Gon, Generale Piacentini (who had flown S.79s in the Italian East Africa (A.O.I.)), Sergente Maggiore Rossi, Teresio Martinoli, Gino and Alvaro Querci.
Image kindly provided by Fulvio Chianese at GORIZIA ed il QUARTO STORMO.
On 23 April 1942 the 9o Gruppo was back on Sicily and based at Sciacca, for a third tour against Malta.
On 29 April 1942 the new CO of 73a, Capitano Aldo Gon made an emergency landing near Agrigento after a mission over Malta during which his MC.202 was damaged and he was badly injured.
Tenente Oblach temporarily held the command of the Squadriglia until 11 May, when he had to leave it to Sottotenente Alvaro Querci due to illness.
On 20 May the 9o Gruppo, with twenty-eight MC.202s, took off for a third tour of duty in North Africa. After a call in Pantelleria, they reached Castel Benito.
The following day, after intermediate landings at Tamet and Benghasi K3, they reached their new base at Martuba 4.
Following the Axis advance the 9o Gruppo transferred to El Adem on 23 June, then to Sidi el Barrani two days later and finally to Fuka on 1 July.
In a mission between 15:30-17:10 on 18 September, Maggiore Simeone Marsan led 16 MC.202s from the 9o Gruppo (eight each from the 73a and 96a Squadriglie) on a free sweep south of El Alamein. They met Spitfires over El Alamein, with ten Spitfires at 7 000 meters altitude and ten more flying 2 000 meters lower. The 73a Squadriglia claimed three shot down without losses. One was claimed by Sergente Teresio Martinoli. The second was shared by Sergente Armando Angelini, Maresciallo Paolo Perno and Sergente Leonardo Rinaldi. The third was shared by Maggiore Simeone Marsan, Maresciallo Salvatore Mechelli, Tenente Oblach, Tenente Giulio Reiner and Tenente Vittorio Squarcia.
It seems that they had been in combat with Spitfires from 145 and 610 Squadrons, which reported meeting eight fighters identified as Bf 109s over Burg el Arab at 16:55. 145 Squadron made three claims when Flight Sergeant Edgar Andrew Kerr (Spitfire Vb AR287/ZX-K) claimed a probable, Flight Lieutenant John Stuart Taylor (AB147/ZX-Y) claimed a damaged and Sergeant P. G. C. Thomas (BP986/ZX-X) claimed a probable. Flight Lieutenant Mervin Robert Bruce Ingram (Spitfire Vc AR289/P) from 601 Squadron also claimed a probable. The Spitfires returned without losses.
At 09:00 on 9 October 1942, ten MC.202s from the 9o Gruppo took off to escort a formation of German Ju 87s. Six of the MC.202s were from the 73a Squadriglia led by Tenente Giulio Reiner and four were from the 96a Squadriglia led by Tenente Emanuele Annoni.
Near Qotaifiya at 09:15, nine of the Italian fighters engaged a formation of Bostons, escorted by Kittyhawks and Spitfires. Tenente Reiner attacked the bombers whilst Tenente Annoni took care of the Kittyhawks. A 20-minute combat followed, reportedly very successful for the Italian pilots. Tenente Reiner (73a Squadriglia) claimed one Boston and one P-40 as destroyed, one probable P-40 and one damaged Boston. Tenente Vittorio Squarcia (73a Squadriglia) claimed one Spitfire and a probable P-40. Sergente Maggiore Armando Angelini (73a Squadriglia) claimed one P-40 as did Maresciallo Paolo Perno (73a Squadriglia) while Sergente Teresio Martinoli (73a Squadriglia) claimed a Spitfire. Tenente Oblach (73a Squadriglia) claimed one P-40 and one as a probable. One probable P-40 was also claimed by an unknown pilot from (73a Squadriglia). Tenente Emanuele Annoni (96a Squadriglia) claimed one P-40 and one as a probable. Tenente Enrico Moretto (96a Squadriglia) claimed one P-40, Sergente Maggiore Bruno Biagini (96a Squadriglia) claimed one P-40 and Sergente Maggiore Giuseppe Zardini (96a Squadriglia) claimed two P-40s. The combat seems to have been intense since four MC.202s from the 73a Squadriglia returned damaged but with the pilots safe; Tenente Reiner, Tenente Oblach, Sergente Maggiore Angelini and Sergente Martinoli.
Luftwaffe carried out their initial sorties at 09:00, when six Bf 109s of II./JG 27, 12 from III.Gruppe and eight from III./JG 53 took off to escort a Stuka raid. These units wee just forming up when 20 Allied fighters swept in to strafe, followed by a second, larger, formation. Five minutes later the bombers appeared. Ten Bf 109s of the Fuka Detachment had already taken off on a Freie Jagd and two more were at once scrambled so that all 38 Messerschmitts in the air were able to concentrate on the raiders, the Stuka mission being abandoned. The German pilots claimed heavily with Leutnant Jürgen Harder from 7./JG 53 claiming two P-40s at 0:15 and 09:25. Hauptmann Gustav Rödel of Stab II./JG 27 claimed one P-39 north of Turbiya at 09:23, a second P-39 north-north-east of El Daba 09:27 and a Spitfire north-west of Sanyet Qotaifiya at 09:35. Unteroffizier Otto Monska of 6./JG 27 claimed a P-40 north-west of El Daba at 09:25 and Hauptmann Erich Woitke of Stab II./JG 27 claimed a P-39 north-north-east of El Daba at 09:27. Finally, Leutnant Werner Schroer of 8./JG 27 claimed a Boston north-east of El Daba at 09:25. Luftwaffe losses in air combat for the day is difficult to examine as to when they occurred. Four Bf 109s were lost during the day:
Bf 109 F-4 trop WNr 8598 White 9 from 6./JG 27 was shot down by P-40s over Fuka – Qotaifiya. The aircraft was destroyed and Oberfeldwebel Hans Wurschunger was KiA.
Bf 109 F-4 trop WNr 8572 from 7./JG 27 crashed at Fuka due to combat with the pilot baling out safely.
Bf 109 F-4 trop WNr 13019 White 6 from 7./JG 27 was shot down in combat with P-40s 20-25km south-east of El Alamein. Feldwebel Werner Fingerhuth baled out to become a PoW.
Bf 109 F-4 trop WNr 8648 from 7./JG 27 crash-landed after combat at Bir el Abd and was destroyed. The pilot was safe.
Within few minutes 23 victories had been claimed, the German units seven fighters and one bomber, the Italians 11 fighters and one bomber, plus five more as probables.
Twelve Kittyhawks of 4 SAAF Squadron, seven of 2 SAAF Squadron, 12 of 112 Squadron, 12 of 250 Squadron and P-40Fs of the US 66th FS escorted 18 Bostons and six Baltimores to attack LG.104, nine Spitfires of 92 Squadron and seven of 601 Squadron providing top cover to these units and to Hurricanes strafing Daba. Receiving a report that the latter were under attack, the 601 Squadron pilots dived on Axis fighters so engaged and drove them off. Allied claims during this initial attack would amount to six shot down and five damaged.
92 Squadron claimed three Bf 109s between 09:40-11:00 without losses when Flight Lieutenant C. J. 'Sammay Samouelle (Spitfire Vc BR479/QJ-E) claimed one Bf 109 E west of Fuka as did Squadron Leader J. H. 'Jeff' Wedgwood (BR476/QJ-J). Squadron Leader Wedgwood claimed a second Bf 109 5km east of Duba.
4 SAAF Squadron claimed one damaged when Lieutenant R. W. "Chummy" Rowan (Kittyhawk Ia ET864/KJ-C) claimed one MC.202 damaged over LG.104 at 10:35 but lost Kittyhawk EV321/KJ-G, which was shot down west of Daba, possibly by MC.202 with 2nd Lieutenant A. R. Schulz becoming a PoW.
250 and 2 SAAF Squadrons, operating together, claimed one and three damaged at 10:20. The three damaged were claimed over LG.104 by 2 SAAF Squadron, one Bf 109 F and one MC.202 by Captain J. E. "Jack" Parsonson (Kittyhawk Ia DB-R) and one Bf 109 by Lieutenant H. J. Lourens. Flight Sergeant A. E. Roberts (Kittyhawk III FR898) from 250 Squadron claimed one Bf 109 F destroyed over Fuka. Kittyhawks ET1019/Q and EV356 from 2 SAAF Squadron were badly damaged (pilots unknown) at 10:15 but reportedly by Flak.
Twelve Kittyhawks of 3 RAAF Squadron covered 12 more of 450 Squadron to strafe LG.21 after the airfield had been bombed. Pilot Officer Chisholm of 3 RAAF Squadron was attacked out of the sun by five Bf 109s, but Pilot Officer D. V. Ritchie (Kittyhawk Ia EV346/O) claimed one shot down which he reported fell into the sea off Daba after he had shot the tail off at 10:20.
The first official USAAF claim for a squadron operating in its own right, not as a part of a RAF unit, occurred when 13 aircraft of the 64th FS (P-40F) were attacked by ten Axis fighters after the American pilots had strafed LG.104 1st Lieutenant William J. Mount chased one of these out to sea, reporting that he had shot its tail off at 10:20. Since this claim is virtually identical to that submitted by Pilot Officer Ritchie, and since only one Bf 109 was reported lost over the sea, it is very likely that these pilots had double-claimed one the same aircraft. 1st Lieutenant George D. Mobbs meanwhile claimed one Bf 109 damaged.
450 Squadron, meanwhile, reported strafing four Bf 109s or Ju 87s, a Ju 88 and a Ju 52/3m, but lost one pilot when Sergeant R. O. Holloway (Kittyhawk III FR239) was shot down by Flak over LG.104 to become a PoW.
Although the Germans and Italians claimed Bostons shot down during this engagement, the only WDAF loss of such an aircraft did not occur until the late afternoon.
On 19 October the pilots of the 9o Gruppo scrambled to intercept a formation of eighteen Hudson escorted by 25 Spitfires. Having no time to join and plan an attack, Tenente Oblach, Sergente Armando, Tenente Mario Mecatti (73a Squadriglia), Sottotenente Antonio Canfora (97a Squadriglia), Sergente Leonardo Rinaldi (73a Squadriglia), Sergente Teresio Martinoli and others chased and scattered the bombers, which jettisoned their bombs and escaped home. The Spitfires intervened in a harsh melee, which was so confusing that no results were claimed but all the MC.202s returned to base even if Oblach's and Angelini's aircraft were slightly damaged.
Later in that same day, 16 fighters (eight from the 73a Squadriglia and eight from the 91a Squadriglia), led by Oblach, fought against four Spitfires over El Quteifiya. As a result one Spitfire was hit and one MC.202 was badly damaged.
The high number of aircraft flying in the area during these days caused such confusion that the German Freya radar personnel had troubles to identify friend or foe aircraft. So, many times the alarm was delayed, and Axis fighters scrambled late.
This happened on 20 October when at 10:55, 14 MC.202s of the 4o Stormo hurriedly scrambled to intercept 24 Bostons and Hudsons above Fuka, escorted by 30 P-40s and 20 Spitfires. The bombers were still releasing their cargo over the airfield when the 73a Squadriglia (Tenente Oblach, Tenente Vittorio Squarcia, Sergente Armando Angelini and Sergente Leonardo Rinaldi), 84a Squadriglia (Capitano Franco Lucchini, Tenente Alessandro Mettimano and Sergente Maggiore Piero Buttazzi), 91a Squadriglia (Capitano Carlo Maurizio Ruspoli di Poggio Suasa, Sergente Maggiore Leonardo Ferrulli and Sergente Maggiore Alessandro Bladelli), and 97a Squadriglia (Tenente Jacopo Frigerio, Tenente Giovanni Barcaro, Sottotenente Leo Boselli and Maresciallo Giovanni Bianchelli), attacked them. The escort intercepted the Italian fighters, and a number of claims were made. Ruspoli, Oblach and Ferrulli claimed two P-40s each, Bladelli, Frigerio, Barcaro and Boselli claimed one P-40 each while Bianchelli claimed one Spitfire. Another Spitfire was claimed as a probable by Bladelli. Mettimano, in his first combat mission, damaged four Hudsons and a P-40 while Angelini, Rinaldi and Squarcia jointly claimed four damaged P-40s. Buttazzi claimed three damaged P-40s and Lucchini claimed a Hudson as a damaged. Lucchini's MC.202 (MM7905/84-4) was hit when a 20mm shell tore off the aircraft's spinner and he was forced to make an emergency landing at 11:30.
Totally the 4o Stormo claimed 25 enemy aircraft shot down during the day, but of the 57 fighters (43 of which were combat-ready) on charge in the morning, only eleven were serviceable in the evening. The 9o Gruppo reported the mission as between 10:55 and 12:20 while the 10o Gruppo reported it as between 11:00 and 12:30
The 23o Gruppo also scrambled (11:00-12:30) and they also made a number of claims. From 70a Squadriglia, Sottotenente Luigi Bandini and Sergente Maggiore Celso Zemella each claimed a P-40 over El Daba while Tenente Antonio Maccanti claimed a probable P-40 in the same area. 74a Squadriglia was in combat south of El Alamein, and Sergente Maggiore Felice Papini claimed a Boston and Sergente Maggiore Emilio Stafano claimed a Spitfire while Tenente Giorgio Solaroli claimed a shared Spitfire together with Sergente Maurizio Mandolesi (75a Squadriglia). Tenente Carlo Moruzzi claimed a probable P-40.
During the morning on 23 October, after an uneventful scramble with six MC.202s, Tenente Giulio Reiner took off again with ten Macchis and, being radio-guided by Freya radar, met thirty P-40s heading west at 5500 meters north-east of Ras Gibeisa. The Italian fighters attacked them head-on and Sergente Armando Angelini (73a Squadriglia) and Sergente Leonardo Rinaldi (73a Squadriglia) claimed one each, which both exploded when hitting the ground north El Sawany el Samalus. Three more were claimed probably destroyed by Tenente Vittorio Squarcia (73a Squadriglia) and Angelini (two). All MC.202s returned to Fuka, those of Sergente Teresio Martinoli and Rinaldi slightly damaged.
There was just time to refuel and rearm the fighters before Reiner scrambled again with twelve Macchis. This time they had the opportunity to surprise the enemy and attack them out of the sun from behind over El Daba. They surprised twenty P-40s and five P-39s (probably P-40Fs) heading west at 4000 meters, escorted by ten Spitfires, coming from Sidi Abd el Raman. When attacked the P-40s and P-39s scattered while the Spitfires tried to intervene but were chased by Tenente Oblach and his three wingmen. The fight moved over El Daba and Reiner and Squarcia claimed a Spitfire each while Sergente Teresio Martinoli claimed a P-39 and Tenente Mario Mecatti (91a Squadriglia) a P-40. Two Spitfires were claimed as probables by Reiner and Mecatti while a P-40 was claimed as a probable by Squarcia together with Rinaldi. Oblach, Rinaldi, Angelini, Sergente Maggiore Natale Molteni (90a Squadriglia) and others damaged several enemy fighters. Two of the MC.202s were damaged in this combat.
This was Martinoli's final victory in North Africa.
Between 12:10-13:40 on 25 October, Capitano Ruspoli led a patrol of the 10o Gruppo to intercept some raiders. Shortly after (12:30-13:40), five MC.202 from 73a Squadriglia scrambled from Fuka led by Tenente Giulio Reiner and including Tenente Oblach, Tenente Vittorio Squarcia, Tenente Mario Mecatti and Sergente Armando Angelini scrambled from Fuka, under the falling bombs.
They intercepted a reported 21 Bostons, that were escorted by 25 P-40s and ten Spitfires. They hit the enemy 15 kilometers south-east of Fuka. Reiner led the attack on the bombers and damaged four plus the bombers' leader, which was hit in the left engine. Realizing that he had a Spitfire at his six-o'-clock, Reiner maneuvered and opened fire on it, hitting it in the cockpit and seeing it falling away. Oblach claimed a P-40 and Tenente Mecatti claimed another P-40 while some MC.202s from the 91a Squadriglia arrived to help. Reiner, Squarcia and Angelini jointly claimed a Spitfire (not credited to them), while Mecatti, Sergente Ferruccio Terrabuio (91a Squadriglia in MM7933), Sergente Maggiore Alessandro Bladelli (91a Squadriglia) and Oblach shared a Spitfire. During the return flight Reiner spotted a Spitfire below, heading opposite, that seemed to have some trouble. He dived and fired at it with the few remaining rounds in his SAFATs. The Spitfire made an emergency wheels-up landing 60 kilometers south-east of Fuka. No losses were suffered by the Italians.
Once back at base Reiner and Capitano Ranieri Piccolomini hurriedly took off with the Stormo's Storch and went to the rescue, but when they arrived, they found to their surprised another Storch, this time a Luftwaffe machine, with the British pilot still aboard. In a brief conversation the RAF pilot, Sergeant A. F. Richardson, admitted that he'd been shot down by a Macchi. Notwithstanding this Piccolomini didn't press to obtain back the prisoner from the Germans.
RAF records shows that twelve Kittyhawks of 3 RAAF Squadron were up escorting 21 bombers at 13:30. They were attacked by four fighters that shot down the Kittyhawk (EV319/X) of Sergeant A. J. Richardson, who became a PoW. Pilot Officer B. H. Harris (Kittyhawk I AL205/S) claimed to have damaged a MC.202 over Fuka at 14:20. Obviously, Reiner had mistaken his opponent for a Spitfire. For the Italian pilots the misidentification of P-40s and even Hurricanes for Spitfires was as frequent as the misidentification of Macchis for Bf 109s made by their opponents.
On 1 December, four MC.202s of the 73a Squadriglia and four of the 96a Squadriglia, led respectively by Capitano Giulio Reiner and Capitano Emanuele Annoni, were scheduled to escort four (or eight) MC.200s of the 8o Gruppo, 2o Stormo, led by Capitano Orfeo Cecchet (CO of the 94a Squadriglia) and armed with 50 kg and 15 kg bombs, to strike enemy vehicles south-west of El Ahmar.
The fighter-bombers took off around 06:50 and joined their escort at 3000 meters above Ara dei Fileni before heading east to El Gtafia, with the escort 500 m above the fighter-bombers. The MC.200s dive-bombed and then strafed the targets, destroying or damaging more than thirty vehicles, while the Folgores stayed at 800 m to cover. They then returned home, with the MC.200s at 2000 m and the escort 1000 m above. It seemed all quiet, but Reiner saw Tenente Oblach (MC.202 MM9085) and his wingman Sottotenente Omero Alesi climbing, without giving any sign of alarm. When they passed Marsa el Brega, Reiner realized that Tenente Oblach and Alesi were missing, so he waved the wings to alert his pilots and turned back, but he could not see any aircraft. When he returned at the base, around 08:30, he found Alesi, who told him that Tenente Oblach had spotted twelve P-40Fs that were going to attack the Macchis, and, having no time to give the alarm, immediately jumped them. The Curtiss counterattacked the two MC.202s, but while Alesi escaped and returned home, Oblach was surrounded, shot down and killed. Regio Esercito infantry troops watched the combat, and witnessed that a Macchi shot down an enemy aircraft before being overwhelmed.
In his last North Africa duty tour, Oblach had performed 67 missions, with ten combats.
He was awarded a posthumously Medaglia d'oro al valor militare.
At the time of his death, Oblach was credited with 1 biplane victory and a total of 7.
Claims: