and Sergente Martinoli were transferred from the 13o Gruppo to the 84a Squadriglia, 10o Gruppo.

On 5 January 1941, it is reported that Sergente Maggiore Martinoli claimed his third individual victory when he claimed a Bristol Blenheim over Bardia at an unknown time. The identity of his opponent remains unknown.
This was the last claim by the 4o Stormo during the first North African Campaign.

He didn't claim any more victories during his first African tour.

In early 1941, his unit returned to Italy for re-equipment with the Macchi MC.200.
He didn't claim any victories with this type and in the autumn the 73a Squadriglia, 9o Gruppo, 4o Stormo, to which he had been transferred, converted to the MC.202.

On 27 September the whole 9o Gruppo, now equipped with brand new Macchi MC.202s, left Gorizia and flew to Rome-Ciampino, where they two days later met Il Duce, Benito Mussolini, which greeted them. Later the same day they went to Comiso (Sicily) for a new tour of duty, this time against Malta.
At this time the 73a Squadriglia was composed of Capitano Mario Pluda (CO), Capitano Carlo Ivaldi, Tenente Pietro Bonfatti, Sottotenente Giuseppe Oblach, Sottotenente Felice Bussolin, Sottotenente Alvaro Querci, Sergente Maggiore Enrico Dallari, Sergente Santo Gino, Sergente Rossi, Sergente Mario Guerci, Sergente Maggiore Martinoli and Sergente Armando Angelini.

During the afternoon on 19 October, five Hurricanes attacked Comiso with bombs. As they returned to Malta five MC.202s attacked the escort, which had been drawn from 126 Squadron, and managed to inflict damage on two of the Hurricanes. The Macchis were from 9o Gruppo, Sergente Martinoli claiming two Hurricanes shot down while two more were claimed damaged by Tenente Bussolin and Sergente Maggiore Rossi.


During the afternoon on 22 October, six 73a Squadriglia MC.202s, escorted by eight more, strafed Luqa twice. Nine Hurricanes of 249 Squadron were sent off to intercepts, the Macchis diving on them as they were climbing up over St. Paul's Island. Sergeant Dave Owen ('GN-R'), was shot down in flames, but managed to bale out before the fighter hit the sea. Pilot Officer R. H. 'Bob' Matthews (Z3756) was also hit, the wing of his Hurricane and the fuselage near the glycol tank suffering damage. Sergeant Alf Branch (Z4016) noted in his logbook: "Sgt Owen shot down into sea – circled him until picked up. Gave two short bursts head-on at a 202 – did not claim anything."
The 73a Squadriglia pilots claimed heavily; two Hurricanes were credited to Tenente Pietro Bonfatti and one each to Capitano Mario Pluda, Sottotenente Alvaro Querci (according to some sources he was credited with two victories), Sergente Maggiore Martinoli and Sergente Mario Guerci, while probables went to Maggiore Antonio Larsimont and Capitano Carlo Ivaldi. One Macchi was damaged in the combat.

On 1 November, three Blenheims from 18 Squadron and three more from 107 Squadron attacked an Axis convoy. Twelve MC.202s of the 9o Gruppo, led by the 4o Stormo's new temporary commander, Tenente Colonello Marco Minio Paulello, intercepted the bombers, Sergente Martinoli claiming one shot down while Sergente Mario Guerci claimed a second, which he reported fell with one engine on fire.
In fact, the Blenheim's crews saw only six Macchis, which carried on a running fight with them, but did not really press home their attacks. One Blenheim flown by Sergeant H. R. Leven was damaged, and the observer, Sergenat M. J. Nolan, was wounded, but one of the gunners was able to claim and attacking fighter probably destroyed. His victim was Tenente Felice Bussolin, who did in fact fail to return.

9o Gruppo then enjoyed a brief winter rest from fighting, before returning to operations over Malta in the spring and early summer of 1942.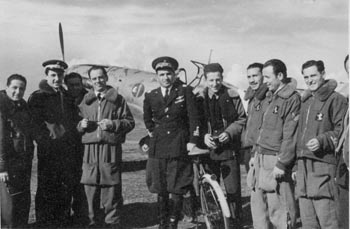 Campoformido in February - March 1942.
From left: Petrosellini, Giuseppe Oblach, Tenente Vittorio Squarcia, Aldo Gon, Generale Piacentini (who had flown S.79s in the Italian East Africa (A.O.I.)), Sergente Maggiore Rossi, Martinoli, Gino and Alvaro Querci.
Image kindly provided by Fulvio Chianese at GORIZIA ed il QUARTO STORMO.
Seeing action on a near daily basis, Martinoli was credited with three Spitfires and one probable between 4 and 12 May.
In the afternoon on 4 May 1942 five Cant Z.1007bis from 211a Squadriglia, escorted by five 9o Gruppo MC.202s and ten Bf 109s, bomber Grand Harbour.
The Italians reported that three Spitfires attempted to attack the bombers, and that two of these were claimed shot down by Sottotenente Alvaro Querci and Sergente Martinoli of 73a Squadriglia, one of which they believed crashed into the sea. They may have attacked Sergeant J. N. McConnell's BR187/O, one of four 601 Squadron Spitfires which had taken off. McConnell crash-landed at Luqa after the radiator of his aircraft sustained damage – though reportedly following an attack by a Messerschmitt.
At 17:45 on 9 May 1942, five Z.1007bis from the 210a Squadriglia BT were out to attack Malta. They were escorted by 16 MC.200s, eight from each 9o Gruppo and 10o Gruppo. To meet this threat, 33 Spitfires were scrambled, and eleven of these from 126 Squadron intercepted, led by Squadron Leader A. R. H. Barton. Barton's single section engaged the escort while Pilot Officer M. A. Graves led the rest to attack the bombers. During the following combat Spitfires were claimed by Capitano Franco Lucchini (10o Gruppo), Sergente Ambrogio Rusconi (91a Squadriglia) and Sergente Martinoli, while Maggiore Antonio Larsimont (9o Gruppo) claimed one damaged. No RAF aircraft was even damaged. RAF claimed three Z.1007s (two by Flight Sergeant Schade and one by Sergeant Goldsmith), one MC.202 (by Pilot Officer Bisley) and three damaged (claimed by Flight Sergeant Schade, Squadron Leader Barton and Pilot Officer Graves). Regia Aeronautica only got one Z.1007bis and one MC.202 damaged when Tenente Luigi Giannella's Macchi was hit by a 20mm shell.
At 18:10 on 10 May 1942, five Z.1007bis again were out to attack Malta. The Italian bombers, which came from 50o Gruppo B.T., were escorted by twenty MC.202s from 4o Stormo and ten Re.2001s from 2o Gruppo (making their combat debut over Malta). Twenty Ju 87s of III/StG3 and Ju 88s followed the Italian aircraft with a large escort of Bf 109s.
At 17:40 ten Spitfires from 601 Squadron had been scrambled to intercept the incoming raid and these aircraft attacked the Italian aircraft.
In the ensuing melee, Squadron Leader Bisdee leading an attack on Tenente Domenico Robillotta's 211a Squadriglia bomber (MM23417), which blew up, the wreckage crashing into a field near Kalkara; three of the crew were killed and one injured, whilst a fifth was seen to bale out and fall into Grand Harbour when his parachute failed to open properly. Sergeant Farfan claimed a second bomber as probably destroyed, and Sergeant Jim Innes damaged a third; one of these, MM23400, was hit hard and landed at Gela airfield with two members of the crew wounded, one dying later in hospital. One of the Macchis was shot down by Pilot Officer Wally Caldwell (BR344/4-H), in which Capitano Roberto Dagasso, commander of 97a Squadriglia lost his life. Two Re.2001s sustained combat damage but were able to return to Sicily. 601 Squadron suffered no losses despite claims by the Italian pilots for six enemy fighters shot down.
The Italian aircraft claimed six fighters, two probables and two damaged as well as one Beaufighter. Pilots of 4o Stormo claimed three, one by Sergente Martinoli, another by Tenente Mario Massa (identified as a Defiant!), the third (also identified as a Defiant) jointly by Sottotenente Alvaro Querci (73a Squadriglia), Tenente Emanuele Annoni (96a Squadriglia), Sottotenente Leo Boselli (97a Squadriglia) and Sergente Maggiore Massimo Salvatore (97a Squadriglia). According to some sources is Capitano Dagasso also included in this shared. 2o Gruppo pilots claimed the remainder. Tenente Remo Cazzolli and Maresciallo Olindo Simionato each claimed one, while a third was shared by Capitano Roberto Fassi and Maresciallo Antonio Patriarca, the latter also claiming a probable; Tenente Carlo Seganti claimed the Beaufighter (probably a transit aircraft encountered over the sea) while two Spitfires were reported damaged by Capitano Salvatore Teja and Sergente Giuseppe Baraldi, and another pilot was awarded a probable.
In the afternoon on 12 May 1942 fifteen MC.202s from 4o Stormo and fifteen Re.2001s from 2o Gruppo provided escort for S.84s of 4o Gruppo Autonomo AS, which were out to bomb Takali were two Spitfires were damaged and two airmen wounded.
36 Spitfires and six Hurricanes were scrambled. During the ensuing combat Sergente Mario Veronesi attacked a Spitfire, which was following a damaged Savoia and reported that it force-landed at Luqa. This was possibly Sergeant C. F. Bush of 126 Squadron in Spitfire Mk.Vc BR346, who was wounded in both legs and belly-landed at Luqa, crashing through some stonewalls at the perimeter of the airfield. Sergente Martinoli's Macchi was hit in the tail by a Spitfire, although he was able to claim another shot down (this claim isn't included in his logbook).
Italian fighters claimed five Spitfires, three probables and two damaged. RAF seems to have lost only two Spitfires in this combat.
On 16 May, Martinoli claimed a probable Spitfire over Malta.
On 20 May, the 9o Gruppo, with 28 MC.202s, took off for a third tour of duty in North Africa. After a call in Pantelleria, they reached Castel Benito.
The following day, after intermediate landings at Tamet and Benghasi K3, they reached their new base at Martuba 4.
On 29 May, Sergente Martinoli claimed a P-40 and Sottotenente Alvaro Querci claimed a P-40 badly damaged over Acroma.
On 9 June, Sergente Martinoli claimed two P-40s and Sottotenente Alvaro Querci claimed a P-40 destroyed and another one badly damaged over Bir Hacheim.
Following the Axis advance, the 9o Gruppo transferred to El Adem on 23 June, then to Sidi el Barrani two days later and finally to Fuka on 1 July.
The aces of the 4o Stormo - Franco Lucchini, Leonardo Ferrulli, Luigi Giannella, Mario Veronesi, Fernando Malvezzi, Giulio Reiner, Emanuele Annoni and Giovanni Barcaro, along with Martinoli - claimed the lion's share of their victories during this period of near-constant retreat for the Allies.
Martinoli claimed a probable P-40 over Mersa Matruh on 26 June.
On 29 June, four MC.202s from the 9o Gruppo, led by Sottotenente Alvaro Querci (73a Squadriglia), were on "caccia libera" (free sweep) to the south-east of Mersa Matruh between 10:15-11:30. They sighted twelve P-40s at an altitude of 3,500m and attacked them. They were credited with three victories and several planes machine-gunned. The victories were credited to Sottotenente Querci, Sergente Maggiore Teresio Martinoli (73a Squadriglia) and Sergente Bruno Biagini (96a Squadriglia; he also fired on four more P-40s). The MC.202s returned without losses.
They had been in combat with nine Hurricane IIcs of 213 Squadron that were on a free sweep over Mersa Matruh between 11:45-13:45. 'A' Flight was top cover at 10,000ft while 'B' Flight was at 6,000ft. At 12:40 an enemy formation was observed descending the escarpment five miles west of Fuka. Intense light anti-aircraft fire was experienced over Pin Point 782313. 'B' Flight was heading west at 12:45 when it observed two Bf 109s diving down onto the port section; their attention was probably drawn because the Hurricanes were being aimed at by anti-aircraft fire. Two more Bf 109s then joined in and individual combats resulted. After fifteen minutes the engagement was broken off.
Pilot Officer D. V. Beedham (BN359/V) reported the attack of three Bf l09s from an altitude of 10,000ft. He was attacked by one and went into a circle but the enemy aircraft gained on him, firing at a constant rate. He was down at 500ft when the enemy aircraft overshot him, coming in within a 50-yard range. Unfortunately, a gun began to fail after the first burst, shortly followed by two more. Still he continued firing with the remaining final gun (totally using 48 Ball, 47 He/I), seeing bits breaking off and the enemy aircraft diving straight to the deck, bursting into flames and blowing up (he was credited with one destroyed Bf 109F). Bedham's Hurricane sustained severe damage (Cat. II). There was a bullet behind the port petrol tank and one in the gravity petrol tank. A bullet struck the ammunition in the starboard wing but did not cause it to explode. The mirror was shot away. The propeller was damaged by a bullet and needed to be replaced. Because of the damage, he had to land at LG 106. The Hurricane was subsequently lost on evacuation of the landing ground.
Flight Lieutenant Peter Olver (BN139/U) claimed a second Bf 109F damaged (40 Ball, 40 He/I).
BN117/X flown by Pilot Officer D. F. Chadwick was also damaged (Cat. I) after that an explosive bullet had struck the starboard tailplane. There was also damage to the trailing edge and stringers on the rudder as well as damage to the port main plane where a bullet had struck the cannon magazine. In this case the Hurricanes were armed with four cannons.
Twelve Hurricane IIcs of 73 Squadron with others of 33 Squadron, departed at 12:30 on 3 July to patrol over El Alamein. In a fight with fighters (identified as Bf 109s) over the El Alamein box, two Hurricanes of 73 Squadron (BN546 flown by Sergeant H. Hill (KiA) and BN538 flown by Flight Sergeant H. W. E. Packham (safe)) and one of 33 Squadron (BE643 flown by Sergeant B. O. Woollard (parachuted WiA)) were shot down. The 73 Squadron pilots claimed three Bf 109s shot down, one probable and four damaged. The five first claims were reported at 12:50:
1 destroyed Bf 109 by Sergeant Michael Jones (BE183)
1 damaged Bf 109F by Sergeant 'Ron' Baker (BN402)
1 destroyed Bf 109 and 1 damaged Bf 109 by Flight Sergeant E. L. Joyce (BP177/OQ-L)
1 destroyed Bf 109 by Flying Officer J. F. Pain (BN566)
The last three claims were made at 13:00:
1 Bf 109 damaged by Flight Lieutenant I. J. Badger (BN403)
1 Bf 109 damaged by Flight Lieutenant S. P. V. Bird (BP175)
1 Bf 109F probably destroyed by Sergeant H. W. E. Packham (BE372/OQ-H)
At much the same time four Bf 109F-4trops of III./JG 27 on a Freie Jagd reported intercepting two formations. One of eight and one of 12 British fighters – possibly the 73/33 Squadron aircraft – claiming three of them shot down by Leutnant Werner Schroer of 8./JG 27, who claimed one Hurricane at 14:40 south of El Imayid, a second Hurricane at 14:47 south-east of El Hammam and a P-40 at 14:50 also south-east of El Hammam.
However, 12 Hurricane IIcs of 274 Squadron were off again from 14:40 on a patrol over El Alamein, the pilots of these reporting that four MC.202s had attacked the top cover, two of which were claimed damaged including Hurricane IIc BG494/Y (Cat. II) flown by Sergeant S. Lerche (safe). Flight Sergeant J. W. Neil (BP326/T) claimed two MC.202 damaged south of Burg el Arab. The 274 Squadron returned to base at 16:00.
A free sweep was carried between 13:15-14:45 by 16 MC.202s of the 9o Gruppo, led by Capitano Luigi Mariotti. Over El Hammam the pilots of these engaged a reported 12 Bostons and 22 P-40s, claiming two P-40s and a Boston shot down as shared between Capitano Mariotti, Sottotenente Alvaro Querci and Sergente Martinoli. Several others were claimed damaged.
During a second mission on 10 July, the 9o Gruppo again was over the front with ten MC.202s from the three squadriglie in the Gruppo. They sighted around 20 P-40s and Spitfires 1,500 meters higher. The Allied fighters didn't spot the Italian formation, which unobserved climbed and manoeuvred themselves into position for a surprise attack. A short combat followed.
Only Sergente Martinoli, who as usual flew as tail-end Charlie due to his awareness and reactions, was able to use the situation and shot down an enemy fighter in flames. He fired on other enemy aircraft but without being able to claim anything more. Over Italian-German troops, a total of two enemy fighters were claimed, which both fell within Axis territory and six more fighters were damaged.
Two MC.202s returned to base slightly damaged.
Between 12:00-13:30 on 13 July, Capitano Luigi Mariotti led eleven MC.202s from the 9o Gruppo to cover five CR.42s from the 159o Gruppo, led by Capitano Carlo Robboni, bound for an attack on El Alamein railway station. The Macchis engaged ten Hurricanes at 15,000 feet, claiming three probables by Sergente Martinoli, Sottotenente Alvaro Querci and Sergente Leonardo Rinaldi (all three from the 73a Squadriglia).
On 19 August, Martinoli claimed a Spitfire over El Alamein.
In the morning of 31 August, Tenente Giulio Reiner led seven MC.202s from the 9o Gruppo and four from the 10o Gruppo on a free hunt mission over the Qaret el Shirab area. At 7000 m they were jumped by twenty-five Spitfires diving out of the sun from above. The Italians split their formation and counter-attacked; Sergente Maggiore Alessandro Bladelli and Sergente Martinoli claimed a Spitfire each while Tenente Mario Mecatti (73a Squadriglia) claimed one probable. Reiner and Sergente Mario Guerci (73a Squadriglia) together with the pilots from the 10o Gruppo damaged five. Reiner's and Guerci's fighters were both slightly damaged in this combat.
The RAF reported the loss of three Hurricanes during the morning's fights (one of them to AA fire), plus a Spitfire in the evening and a Hurricane and a Spitfire at an unknown time during the day. It is known that the German pilots claimed four Hurricanes in the morning and a Spitfire plus two fighters of unrecorded type in the evening, additionally Capitano Franco Lucchini claimed a Spitfire over Dein El Hima in the afternoon during an escort mission to CR.42s on an assault sortie. So it is not clear if Reiner's formation obtained concrete results during his combat.
On 16 September, sixteen aircraft of the 9o Gruppo (seven from the 73a Squadriglia, one from the 96a Squadriglia and eight from the 97a Squadriglia) led by the CO Maggiore Roberto Fassi were flying a free hunt mission at 6500 meters east of El Alamein when they spotted a huge formation of P-40s. As they were manoeuvring for an advantageous position they were jumped from above by twenty Spitfires. In the following dogfight, which lasted about ten minutes, Sergente Maggiore Salvatore Mechelli (73a Squadriglia) claimed a Spitfire destroyed, Maresciallo Paolo Perno (96a Squadriglia) another probable and Sergente Maggiore Martinoli severely damaged a P-40. Tenente Giuseppe Oblach, Tenente Vittorio Squarcia (73a Squadriglia), Maresciallo Rodolfo Stoppani (73a Squadriglia) and other pilots claimed several Spitfires and P-40s damaged. Four MC.202s were damaged in this combat but all returned to base.
At 09:00 on 9 October, 18 fighters of the 73a and the 96a Squadriglie, led respectively by Tenente Giulio Reiner and Capitano Emanuele Annoni (CO of the 96a Squadriglia), took off to escort some Ju 87s.
The weather was cloudy and at 09:15, at 5500 m over the El Quteifiya area (the Italian name of the airfield base of the Stab and II/JG 27 in the Daba area), they spotted eighteen Bostons escorted by 20 P-40s and 20 Spitfires. The 73a Squadriglia initially attacked the Bostons, but was chased by the P-40s, while the 96a Squadriglia engaged the Spitfires. After a hard and long combat, the fighters disengaged low on ammunition. Reiner claimed a Boston in flames and a P-40 while Tenente Vittorio Squarcia (73a Squadriglia), Sergente Martinoli (who claimed one additional as a shared) and Maresciallo Paolo Perno (96a Squadriglia) claimed a Spitfire each. Seven more P-40s were credited to Sergente Armando Angelini (73a Squadriglia), Tenente Giuseppe Oblach, Annoni, Tenente Enrico Moretto (96a Squadriglia), Sergente Bruno Biagini (96a Squadriglia) and Sergente Maggiore Giuseppe Zardini (96a Squadriglia) (two). Four more P-40s were claimed probably destroyed by Reiner, Oblach, Squarcia and Annoni, who also claimed a Spitfire was probably shot down. Five enemy bombers and nine fighters were damaged. The Italian fighters didn't suffer any losses but the aircraft of Reiner, Oblach, Angelini, Martinoli and three of the 96a Squadriglia were damaged (one of them made a wheels-up landing).
German claims in the morning's combats were the following: Hauptman Erich Woitke (5./JG 27) one Airacobra south-east of El Daba at 09:25, Hauptman Gustav Rödel (Stab II/JG 27) three Airacobras (one 09:23 north of Türbiya, one 09:27 north north-east El Daba and one 09:35 at 4000 m 25 km north-west of Sanyet Quotaifiya), Unteroffizier Otto Monska (5./JG 27) one Curtiss P-36 at 09:24 north-west of El Daba. Leutnant Werner Schroer (8./JG 27) one Boston at 09:25 north-east of El Daba, Unteroffizier Erich Krainik (8./JG 27) a Hurricane II north of El Daba, Leutnant Erich Schöfböck (7./JG 27) one Hurricane north-east of El Daba, Leutnant Jürgen Harder (7./JG 53) two P-40s at 09:15 and 09:25. Totally nine fighters and one bomber were clamed by the Luftwaffe for the loss of three fighters, one pilot killed, one POW and one wounded.
The RAF formations were composed of 67 Kittyhawks of 112, 250,450, 3 RAAF, 2 SAAF and 4 SAAF Squadrons plus an unknown number of Tomahawks of 5 SAAF Squadron, backed by P-40Fs of 66th US FS, 16 Spitfires Mk Vc of 601 and 92 Squadrons and Hurricanes. They escorted a formation of 18 Bostons and six Baltimores of 223 Squadron in an all-out effort to destroy the Axis air forces on the ground.
The Allied formation lost one Baltimore (victim of Reiner, Schroer or both?), two Kittyhawks and two Tomahawks with two more Kittyhawks badly damaged. The RAF fighters claimed "only" nine victories in the morning, which considering the four actual losses was a quite accurate assessment.
This was the day of the so called "Daba Prang"; a day of heavy overclaiming with at least 28 victories claimed by the Luftwaffe and 20 victories claimed by the Regia Aeronautica (nineteen by the 4o Stormo and one by the 23o Gruppo of the 3o Stormo). In exchange only 16 RAF planes were lost, mostly fighters. During the morning, in particular, against ten claims made by the Luftwaffe and twelve by the Regia Aeronautica, only four fighters and a bomber were reported lost by the Desert Air Force. The Desert Air Force claimed ten victories during the day and at least 50 aircraft destroyed on the ground. The Luftwaffe reported that four aircraft were lost in combat, ten aircraft was destroyed on the ground and 20 damaged.
On 19 October the pilots of the 9o Gruppo scrambled to intercept a formation of eighteen Hudson escorted by 25 Spitfires. Having no time to join and plan an attack, Tenente Giuseppe Oblach, Sergente Armando, Tenente Mario Mecatti (73a Squadriglia), Sottotenente Antonio Canfora (97a Squadriglia), Sergente Leonardo Rinaldi (73a Squadriglia), Sergente Martinoli and others chased and scattered the bombers, which jettisoned their bombs and escaped home. The Spitfires intervened in a harsh melee, which was so confusing that no results were claimed but all the MC.202s returned to base even if Oblach's and Angelini's aircraft were slightly damaged.
Later in that same day, 16 fighters (eight from the 73a Squadriglia and eight from the 91a Squadriglia), led by Oblach, fought against four Spitfires over El Quteifiya. As a result, one Spitfire was hit and one MC.202 was badly damaged.
On 22 October, Martinoli claimed a shared Spitfire over Bir Sarahat.
During the morning on 23 October, after an uneventful scramble with six MC.202s, Tenente Giulio Reiner took off again with ten Macchis and, being radio-guided by Freya radar, met thirty P-40s heading west at 5500 meters north-east of Ras Gibeisa. The Italian fighters attacked them head-on and Sergente Armando Angelini (73a Squadriglia) and Sergente Leonardo Rinaldi (73a Squadriglia) claimed one each, which both exploded when hitting the ground north El Sawany el Samalus. Three more were claimed probably destroyed by Tenente Vittorio Squarcia (73a Squadriglia) and Angelini (two). All MC.202s returned to Fuka, those of Sergente Martinoli and Rinaldi slightly damaged.
There was just time to refuel and rearm the fighters before Reiner scrambled again with twelve Macchis. This time they had the opportunity to surprise the enemy and attack them out of the sun from behind. They surprised twenty P-40s and five P-39s heading west at 4000 meters, escorted by ten Spitfires, coming from Sidi Abd el Raman. When attacked the P-40s and P-39s scattered while the Spitfires tried to intervene, but were chased by Tenente Giuseppe Oblach and his three wingmen. The fight moved over El Dabà and Reiner and Squarcia claimed a Spitfire each while Martinoli claimed a P-39 and Tenente Mario Mecatti (91a Squadriglia) a P-40. Two Spitfires were claimed as probables by Reiner and Mecatti while a P-40 was claimed as a probable by Squarcia together with Rinaldi. Oblach, Rinaldi, Angelini, Sergente Maggiore Natale Molteni (90a Squadriglia) and others damaged several enemy fighters. Two of the MC.202s were damaged in this combat.
Martinoli's claim was probably a Kittyhawk from 260 Squadron, although it was officially, and incorrectly, identified as a P-39 Airacobra.
It seems that the 9o Gruppo formation intercepted a mixed group of twelve Kittyhawks of 260 Squadron that were covering Tomahawks of 5 SAAF Squadron with a top cover of nine Spitfires of 145 and nine Spitfires of 601 Squadrons doing a sweep over El Daba around midday. They were reportedly intercepted by four Bf 109s. Flight Lieutenant Curry claiming to have damaged one while Warrant Officer Tomlinson of 260 Squadron failed to return and Sergeant Colley force-landed. No Luftwaffe records seem to correlate with this combat.
This was Martinoli's final victory in North Africa.
During 1943, he took part in the defence of Sicily and Italy.
On 4 July, he claimed a P-38 and a shared B-17 over Sicily.
In the morning on 6 July, in spite of the intense activity and the losses of the previous days, a good number of Macchis from the 4o Stormo were combat ready. After some scrambles from the three airstrips without contact with the enemy, Capitano Luigi Giannella (CO of the 84a Squadriglia) together with five others pilots of the 84a and the 90a Squadriglie scrambled. One of the pilots had to return due to a failing engine but the remaining intercepted a formation of bombers, which they attacked. Capitano Giannella, Sottotenente Ugo Picchiottini and Sottotenente Francesco Palma (84a Squadriglia) together attacked a four-engined bomber and jointly claimed it probably shot down when they saw it leaving its formation streaming smoke. Another four-engined bomber was claimed as a probable shared victory by Tenente Fabio Clauser (90a Squadriglia) and Sergente Maggiore Giovanni Battista Ceoletta.
While the Italian fighters were up, the airstrip at S. Salvatore was attacked.
Later in the morning, Capitano Giulio Reiner scrambled from Finocchiara with five MC.202s and four MC.205s from the 73a and the 96a Squadriglie and intercepted an estimated 60 aircraft (two formations of four-engined bombers and one of Marauders) over Scordia escorted by many Spitfires and P-38s.
The Macchis attacked and Reiner, while firing on a damaged four-engined bomber, was hit in an oil pipe by return fire and he was forced to return to base. Tenente Alvaro Querci claimed a four-engined bomber, Sottotenente Pier Ugo Gobbato (73a Squadriglia) and Sergente Ettore Chimeri (73a Squadriglia) damaged two others, while Sergente Martinoli and pilots of the 96a Squadriglia damaged two P-38s and two Spitfires.
When the Macchis from the 73a and 96a Squadriglie returned to base, it had been attacked by Marauders, which due to the strong wind fortunately hasn't hit the centre of the airstrip at Finocchiara.
In the evening there was another scramble from Finocchiara and Tenente Querci, Sottotenente Bruno Paolazzi, Sottotenente Gabbato took off followed by Capitano Reiner, Tenente Vittorio Squarcia (73a Squadriglia) and Sergente Martinoli. The fighters, however didn't make contact with any enemy bombers and Reiner, Martinoli and Squarcia were first to return and land. They have just landed when the airfield was attacked again and Reiner and Martinoli dived into a trench together with the ground crew with bombs exploding nearby. Reiner's Macchi was hit by falling debris from the bombers and the engine was torn away while two more Macchis also were damaged. Squarci managed to land clear of danger. The three remaining pilots returned after a few minutes and Paolazzi and Gobbato landed in the area hit during the morning's raid but managed to stay away from any damage to the airstrip. Querci, however, hit a bomb crater in speed while landing and his aircraft turned over. Gobbato and Paolazzi extracted the unconscious Querci from the wreck and he was taken to hospital.
On 8 July the 73a Squadriglia was still at Finocchiara. At this time the pilots (Capitano Giulio Reiner, Sottotenente Pier Ugo Gobbato, Sottotenente Paolo Voltan, Sottotenente Armando Dal Molin, Sergente Martinoli, Sergente Ettore Chimeri, Sergente Leonardo Rinaldi, and Sottotenente Enrico Dallari) had just two Macchis serviceable!
Shortly after 09:00 on the morning of the invasion of Sicily, 10 July 1943, a flight of seven MC.202s from 73a Squadriglia led by Tenente Vittorio Squarcia took off from Finocchiara and reported meeting 40 Spitfires, of which two were claimed by the combined fire of Tenente Squarcia, Sottotenente Arnando Dal Molin and Sergente Martinoli. The Spitfires had also shortly before been engaged by more fighters from 4o Stormo. Three Macchis sustained damage in the combat.
It seems that 4o Stormo claimed four Spitfires in this combat while losing one MC.202. One Spitfire from 40 SAAF Squadron was lost while Spitfires from 93 Squadron claimed one MC.202.
The lost Spitfire (EP690) was flown by Captain G. C. le Roux DFC.
On 15 August, Capitano Emanuele Annoni led ten MC.205Vs from 4o Stormo to patrol over the Messina Straits. A mixed force identified as Spitfires, 'P-46s' and P-38s were sighted in company with two Beaufighters, and of these four Spitfires were claimed by Tenente Vittorio Squarcia, Sottotenente Dal Molin, Sergente Alfredo Bombardini and Sergente Martinoli. A fifth was claimed jointly by Capitano Annoni and Sottotenente Ferdinando Cima, and a sixth by Sottotenente Piero Gobbato, whose aircraft was damaged in the action and crash-landed near San Ferdinando. Three of the 'P-46s' were claimed as probably destroyed, two being credited to Annoni and the other to Squarcia. Despite the number of claims for Spitfires, this action was apparently fought with US P-40s.
After the Italian surrender in September 1943 he joined, together with most of the pilots from 4o Stormo, the Aeronautica Co-Belligerante.
On 1 November he claimed a German Ju 52/3m over Podgorcia, Yugoslavia, after a dogfight with two escorting Bf 109s. Involved in this combat was also nine-kill ace Emanuele Annoni.
On 25 August 1944, he was killed during a training accident while converting from the MC.205V to the P-39 Airacobra, which had been delivered to the Aeronautica Co-Belligerante.
He was posthumously decorated with the Medaglia d'oro al valor militare.
Also during the war he had been decorated with two Medaglie d'argento al valor militare and the German Iron Cross Second Class.
At the time of his death Martinoli was credited with 3 biplane victories and a total of 22 destroyed.
Claims: